Pencil Pet Portraits by Melanie Phillips
Welcome to my pencil pet portraits gallery! My name is Melanie and I am a professional pencil portrait artist. All of the pencil portraits in my pet portraits gallery are traditionally hand drawn by myself. I work from my garden studio drawing dogs, cats and horses every day. I work with clients from all over the world, so where ever you are, if you would like to commission me, you are more than welcome!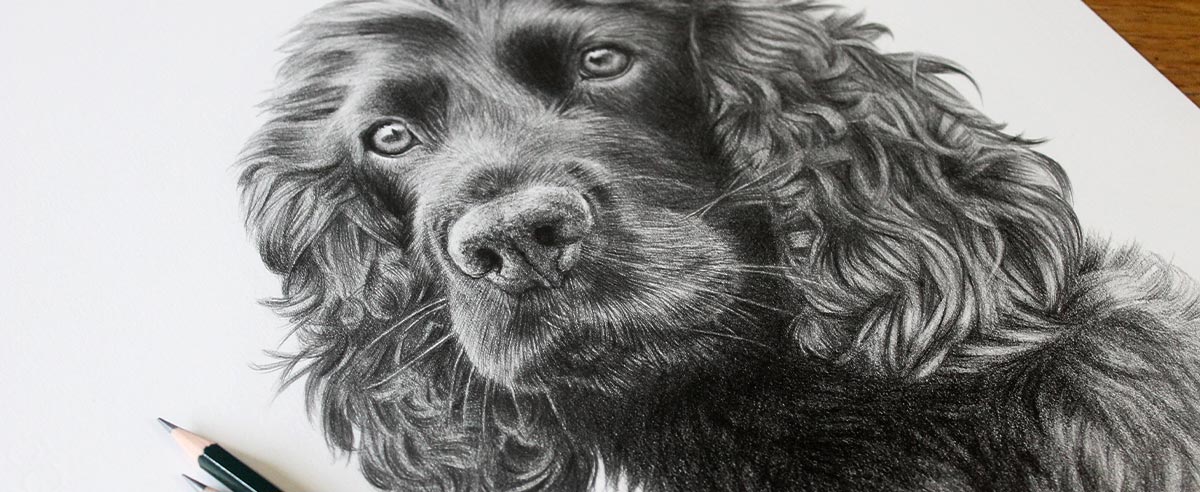 I work from clients own photos of their pets, using one main photo for the pencil pet portrait. Photos are key, so try to send clear in focus photos taken in natural light if possible.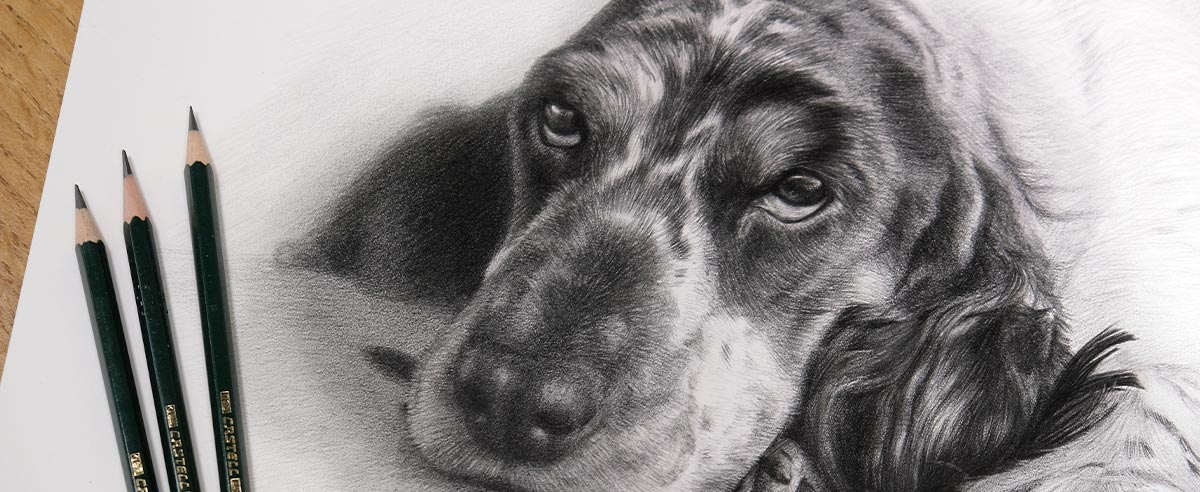 Graphite pencil is my favourite medium, allows for great delicacy and softness in my portraits. It has been my go to medium throughout my career and I feel very fortunate to solely use it for my pet portraits.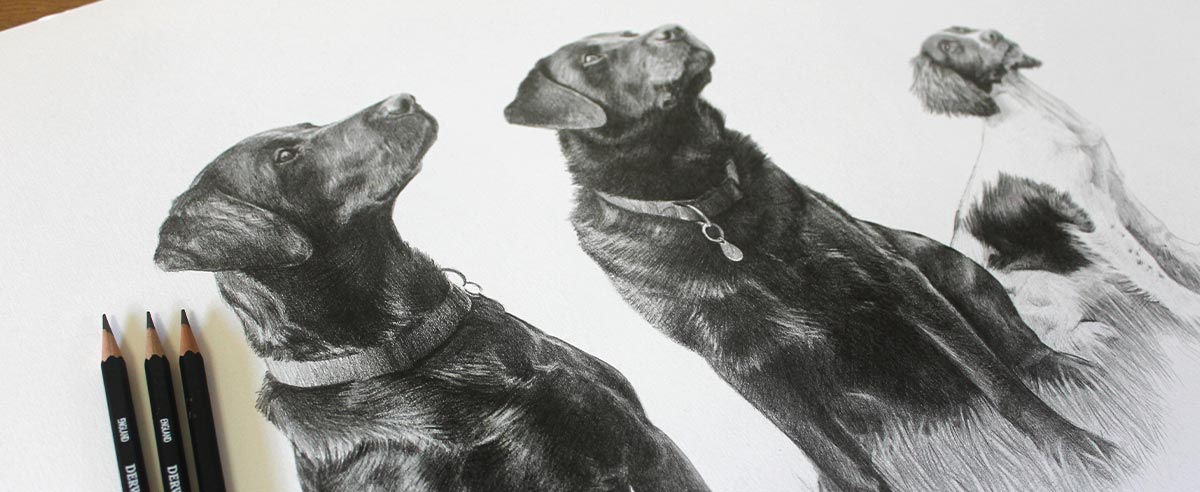 The most important aspect of my pencil pet portraits is to capture a perfect likeness between the photo of your pet and my drawing. This is something I work very hard to achieve and you can read my testimonials to hear from all of my happy clients in how I have achieved this with their pencil pet portraits.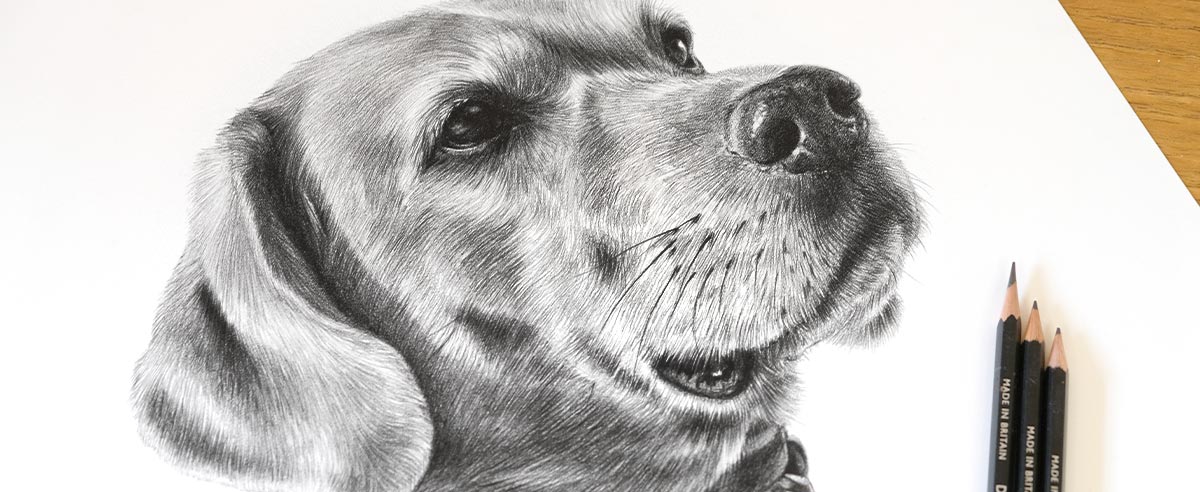 WhatsApp or email with any questions or if you would like a quote. I'm always happy to chat with no obligation to order. If you decide to go ahead, you can send photos and we can discuss exactly how you would like your portrait to appear.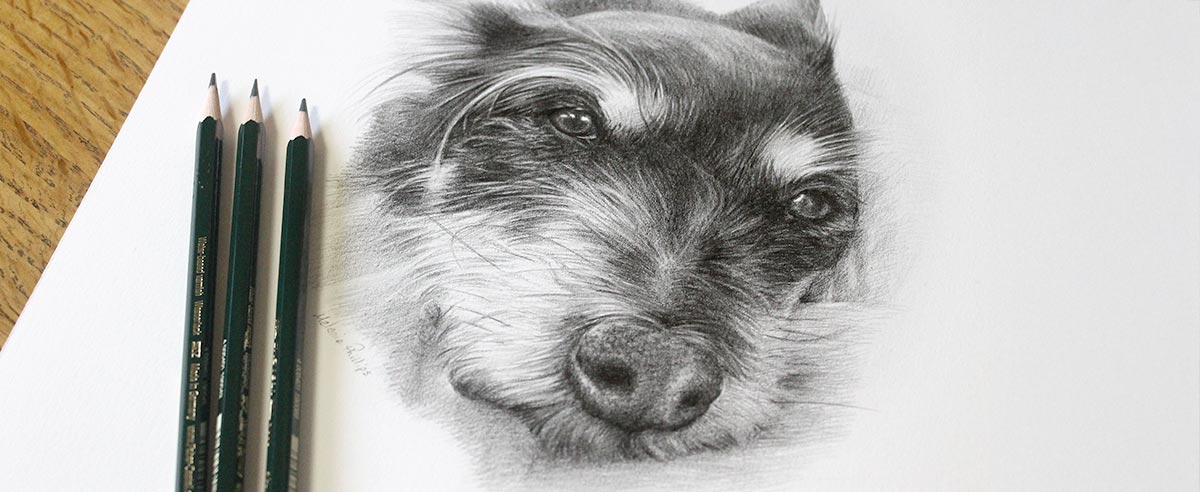 I work closely with my clients, not only to guide them in taking photos, but once the drawing is complete, I will send you a number of photos of the drawing for you to check before it's packed and sent, to make sure the likeness is spot. If you would like me to make amendments I am always happy to.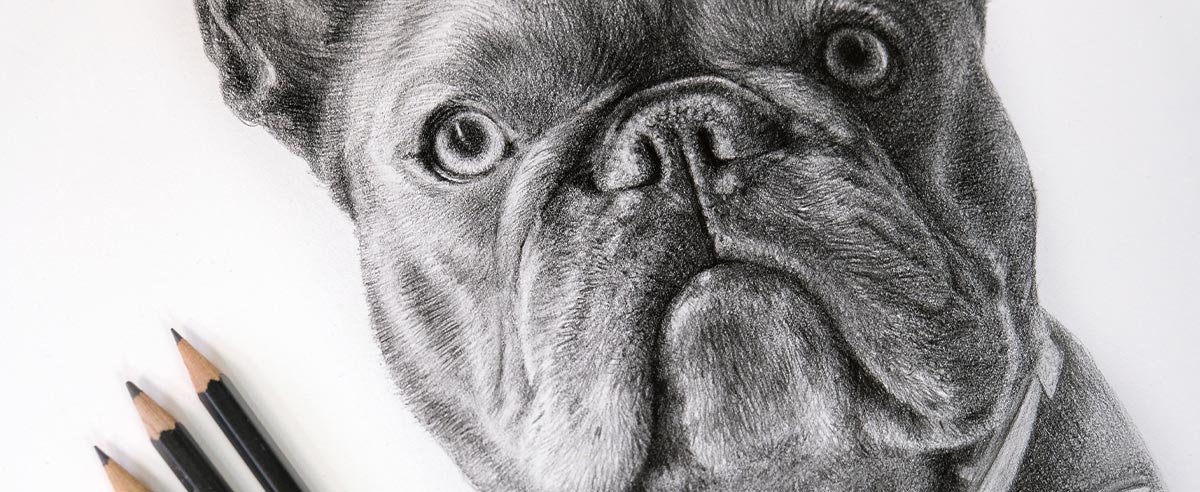 It can often take a number of conversations to sort out the right photograph to use for the basis of the pet portrait, however it is all part of the process and getting the right photos to use will be worth all the effort.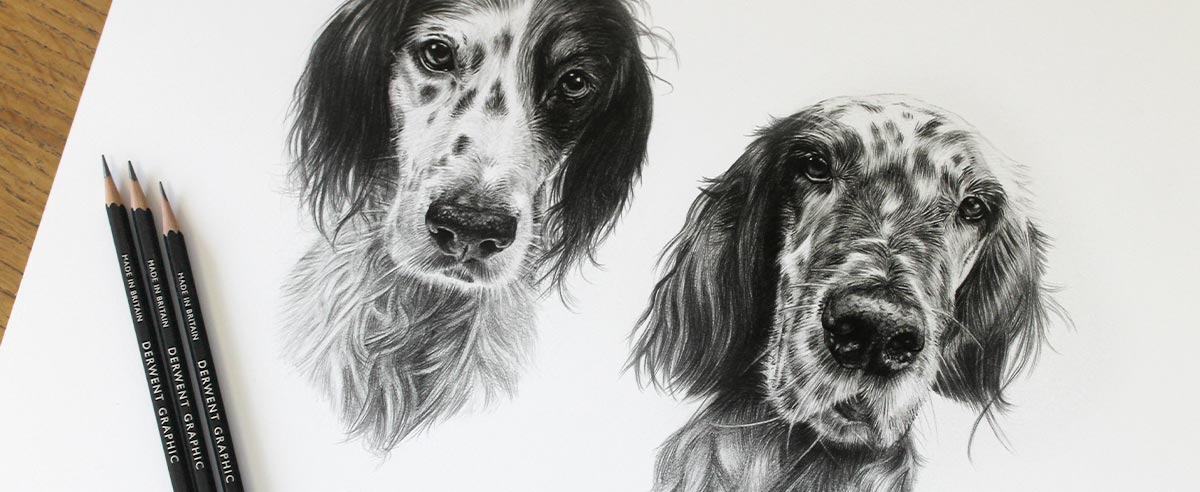 If you have a deadline that you would like to give the pencil portrait by, let me know as soon as possible to that I can make the special date. I'll keep in regular contact with you, and you can email me at any time, so you know that your portrait will be completed in good time.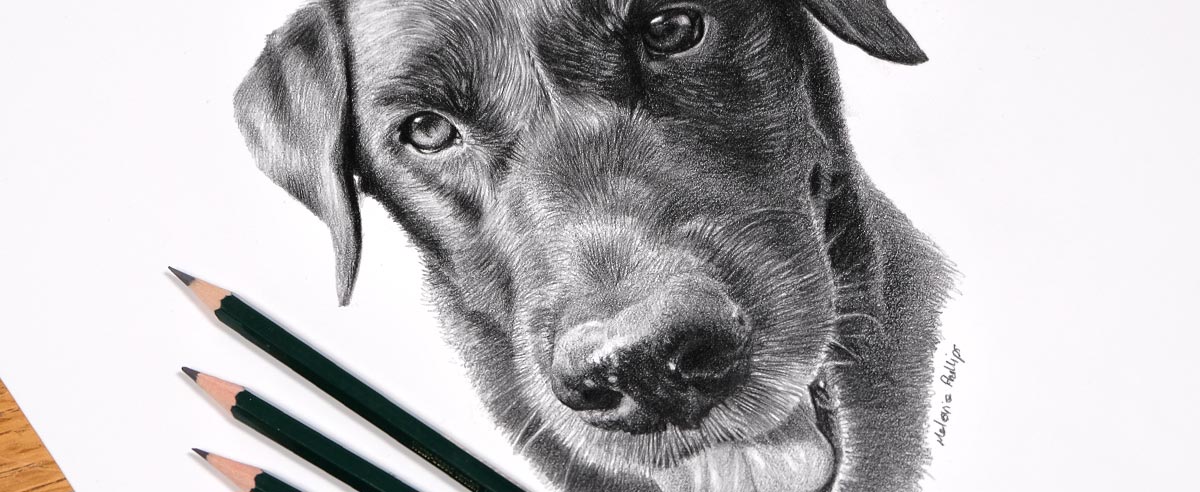 My pencil pet portraits are packed very carefully and the artwork is sandwiched between custom cut recyclable hardboard so that the drawing can't be bent or creased in transit.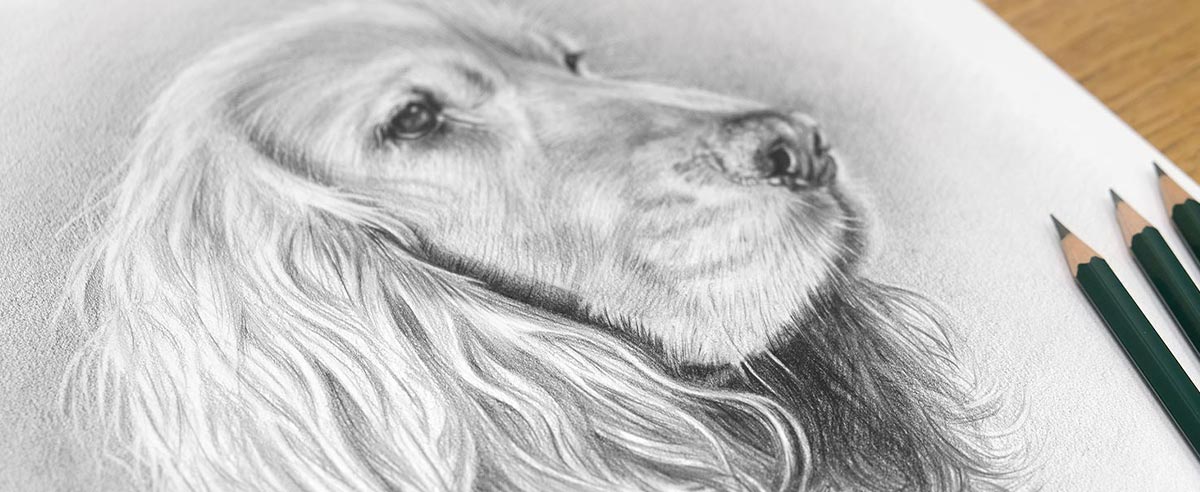 I do have a waiting list for my pencil drawings and my schedule varies a lot depending on the time of year. Message me to find out my current schedule.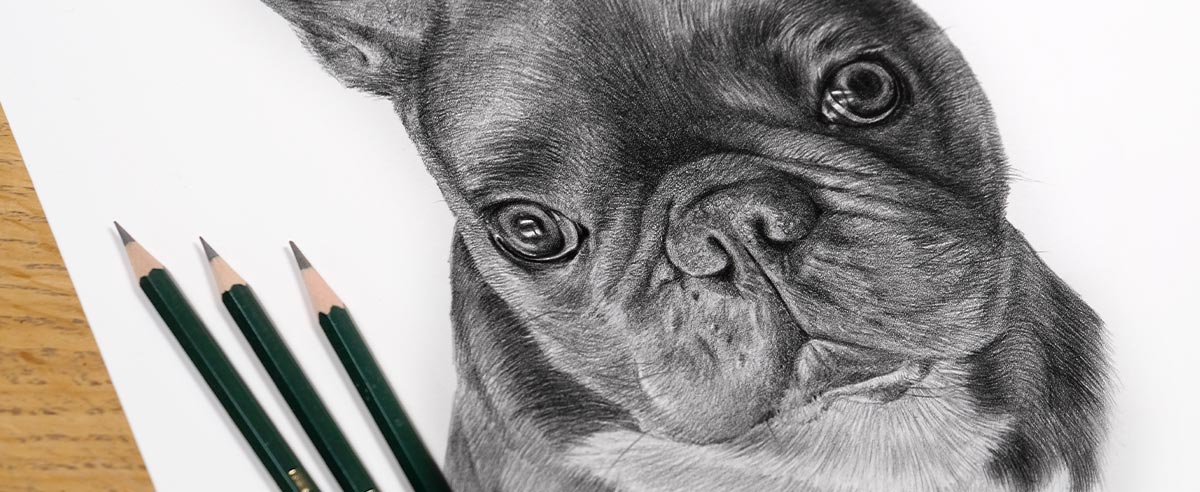 My pencil pet portraits are packaged in double walled cardboard boxes especially designed for artwork to be transported in. Safe and secure until they arrive at their destination.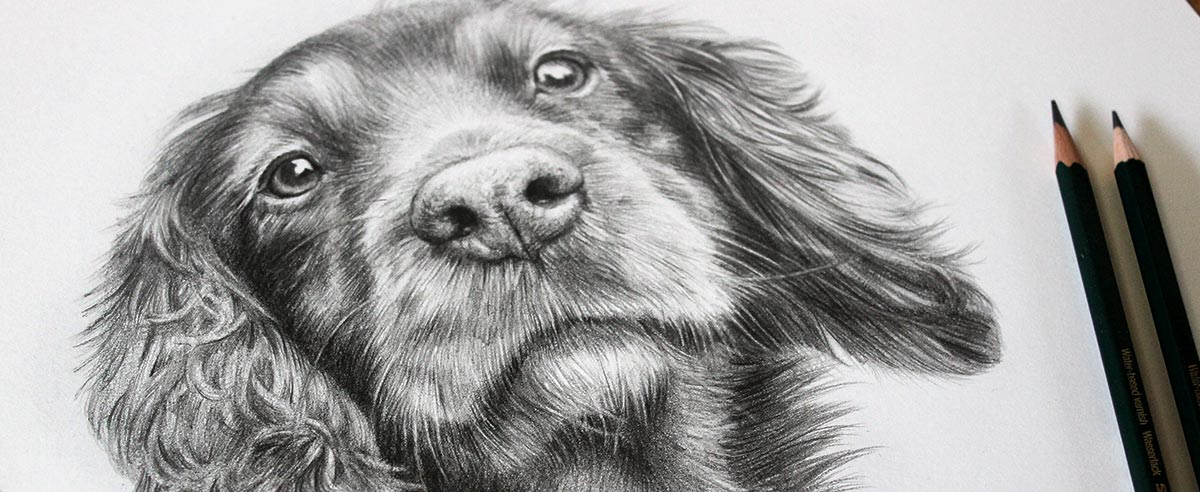 You can view a list of sizes on my prices page which will give you a guide to the cost of a pencil pet portrait. However I am able to work to bespoke sizes, if you have a specific place in mind in your home, just let me know the size and I can provide you a quote.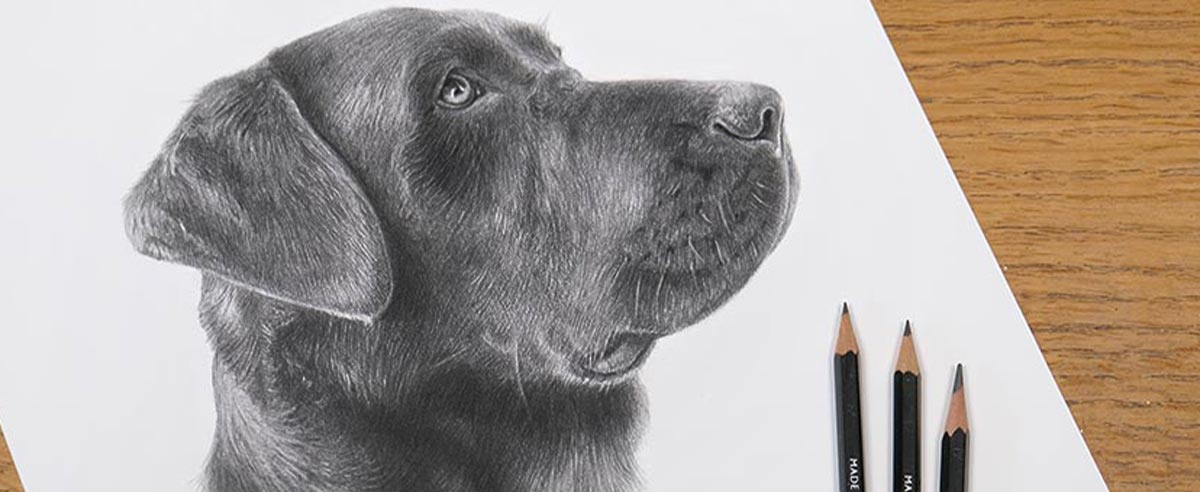 My pencil pet portraits are packaged in double walled cardboard boxes especially designed for artwork to be transported in. Safe and secure until they arrive at their destination.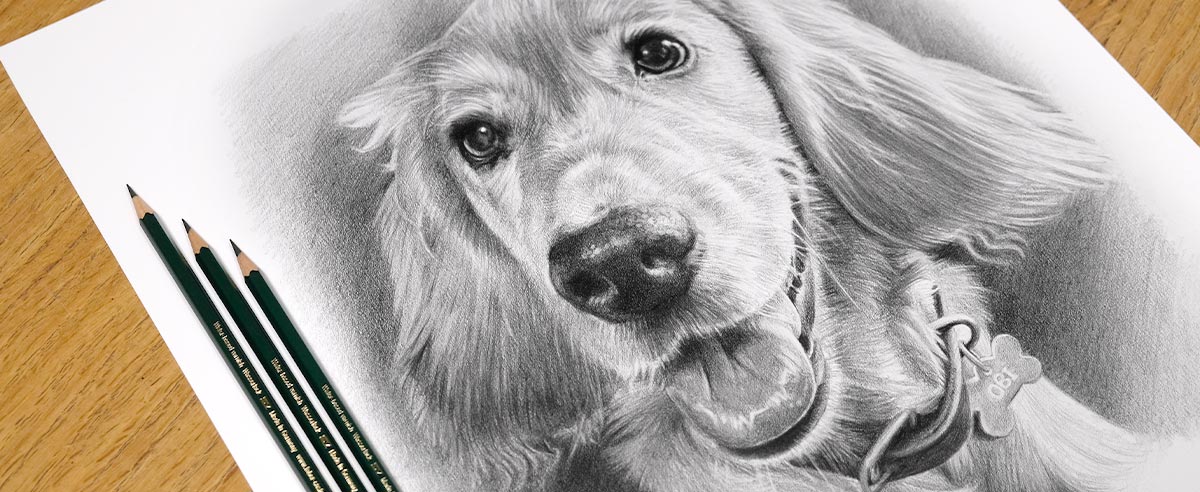 To create an accurate likeness of a dog, cat or horse, using my creativity and skill, I work closely from one key photo. I work closely with my clients to choose the best photo for the main reference image, one that really captures your pets personality and character well.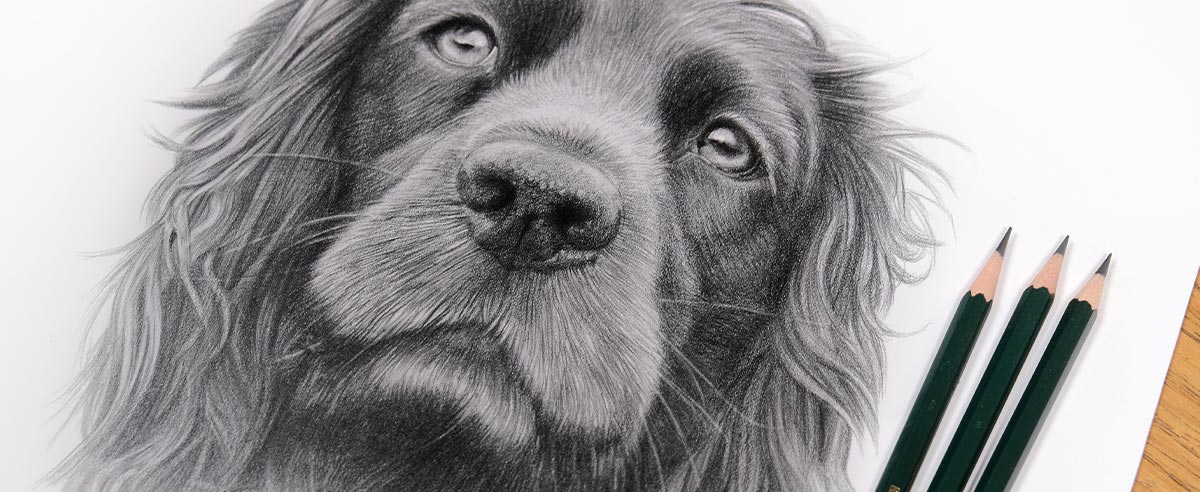 Photographing pets is not easy! I have photographed many dogs for clients over the years and end up taking around 50 photos to make sure I have a few decent good photos to choose from. If you don't get a good photo right away, keep your camera handy for a few days and take snaps every now and again when they are in different poses, this really helps to get the perfect shot for the drawing.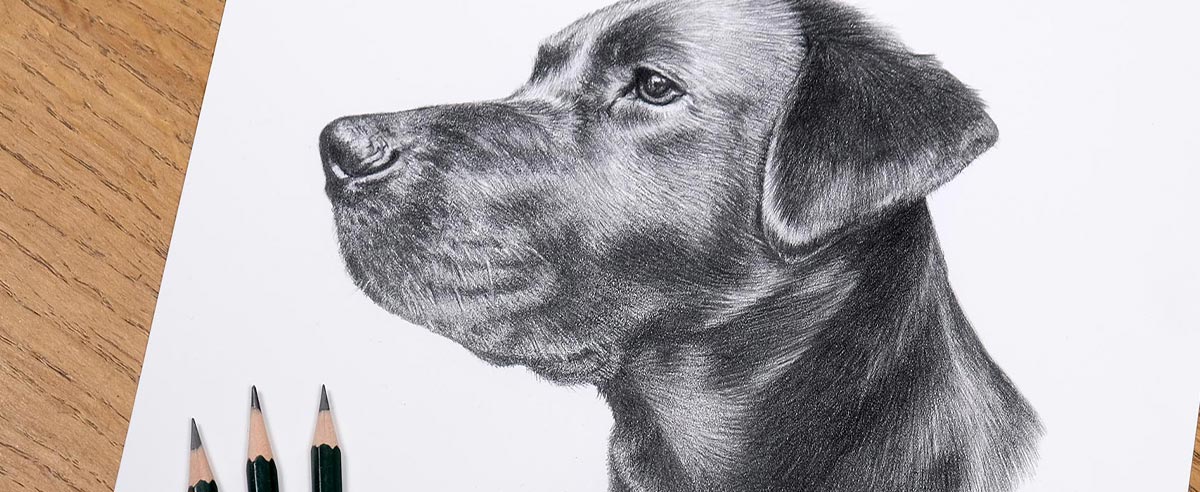 I can create pencil pet portraits of all types of pets and exotic animals. All I require are a few good quality, in focus photographs. I can create multiple pets within one pet portrait too. If you would like to send your photos to me to check if they are good enough for a portrait, WhatsApp me at anytime.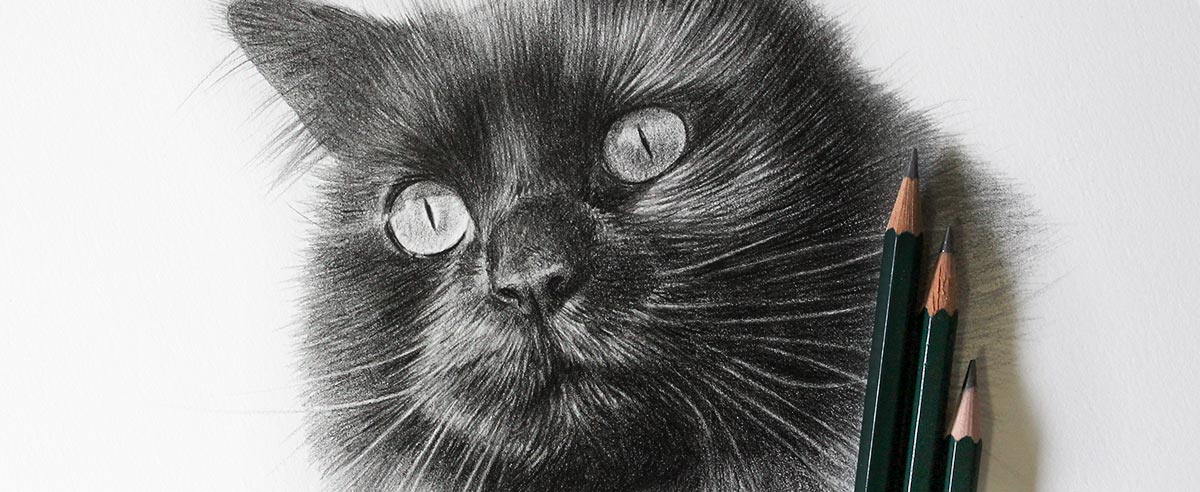 I can combine photos to draw two dogs together in the same scene and do prefer single photos of the pets to work from as it gives me plenty of information within the photo to draw from. However it is often helpful to take photos of the two pets together. I can mix and match photos of the pets from different photos to gain the best poses and it allows me to see the size relationship between them. Also it helps to keep the lighting the same to help create the realism within in the piece.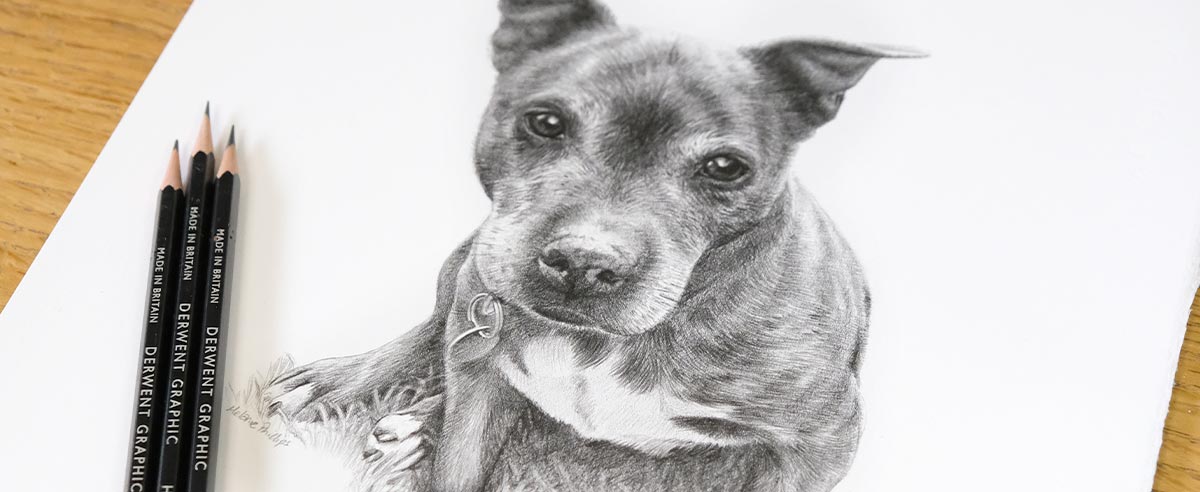 My custom pencil pet portraits make a perfect gift for any pet owner. From birthdays and Christmas gifts to anniversaries and other special occasions, my pencil drawings will create a focal point in any room.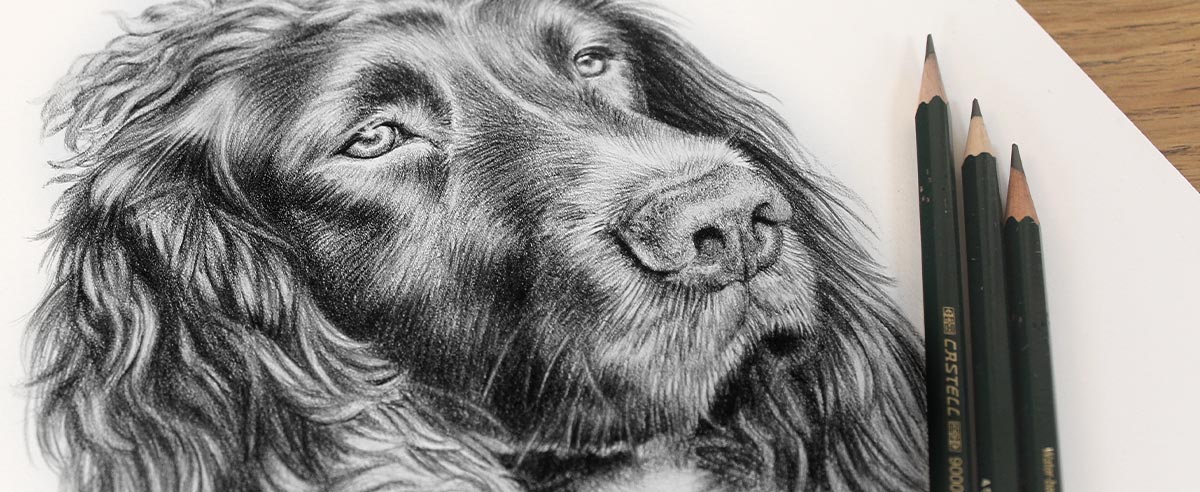 I understand just how heart breaking it can be to lose a much loved companion. I have lost a number of cherished and loved pets over the years and it never gets any easier. They become true members of the family. This is why I take such care to help my clients bring back the memories of their pets within my pencil drawings for them to cherish.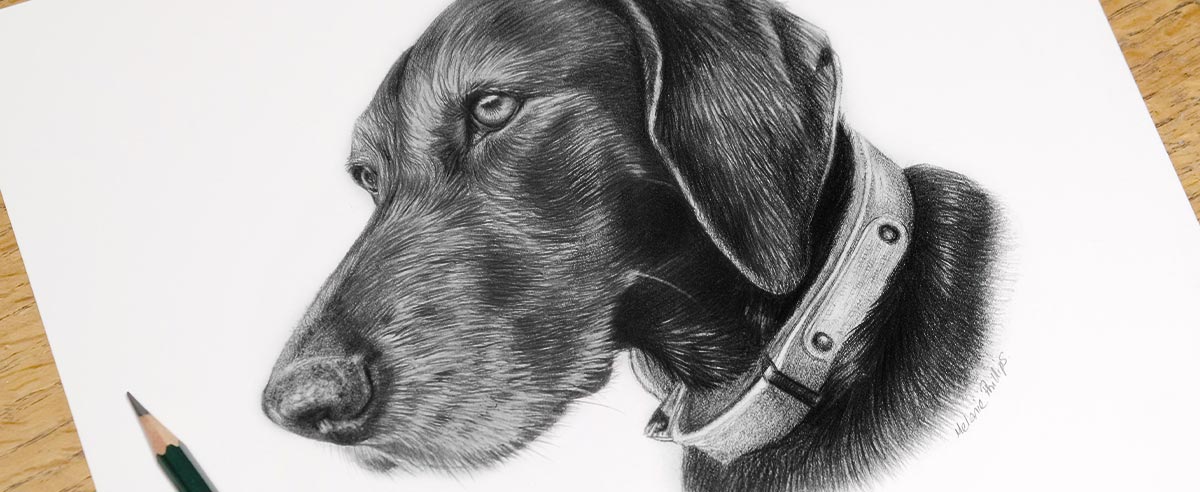 My pencil portraits are bespoke, hand drawn drawn portraits, traditionally hand drawn by myself. Every pencil drawing is unique and I work with clients to design the portraits to their specifications. With my montage drawings they are a collation of studies, often one main study in the center and either 1 to 4 or more studies around the edge. My clients love my pencil montages as I am able to depict their pet in various poses and in different stages through their lives from puppy hood to adult. My montage drawings are also fabulous to show your dog doing different actives like agility, fly-ball and field work to show poses and relaxing in lots of different poses.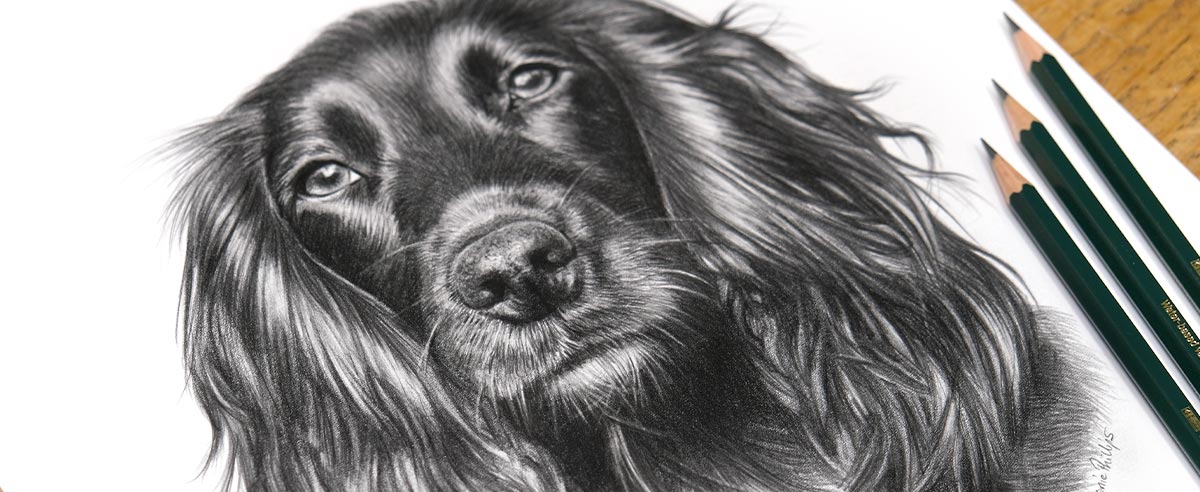 Photographs are key for the basis of a good portrait, one of the most important parts of the process. The best way to take photos is outside getting close to your subject. Get down on their level taking as many photos as you possibly can. Don't be afraid to take an abundance of photos!Message or email them to me at anytime.
Get in touch
If you are interested in commissioning a pencil drawing, you are more than welcome to email me photos of your pet at anytime. I am very much looking forward to working with you soon!