Pencil Pet Portraits Commission Information
Welcome! Commissioning a pencil portrait with me is really easy and I am always here to guide you, or answer any questions you may have. I accept commission worldwide and have been for 25 years. Hopefully this page should give you all the info you need... but if you need help, just drop me a line!
Step 1 - Choose Your Size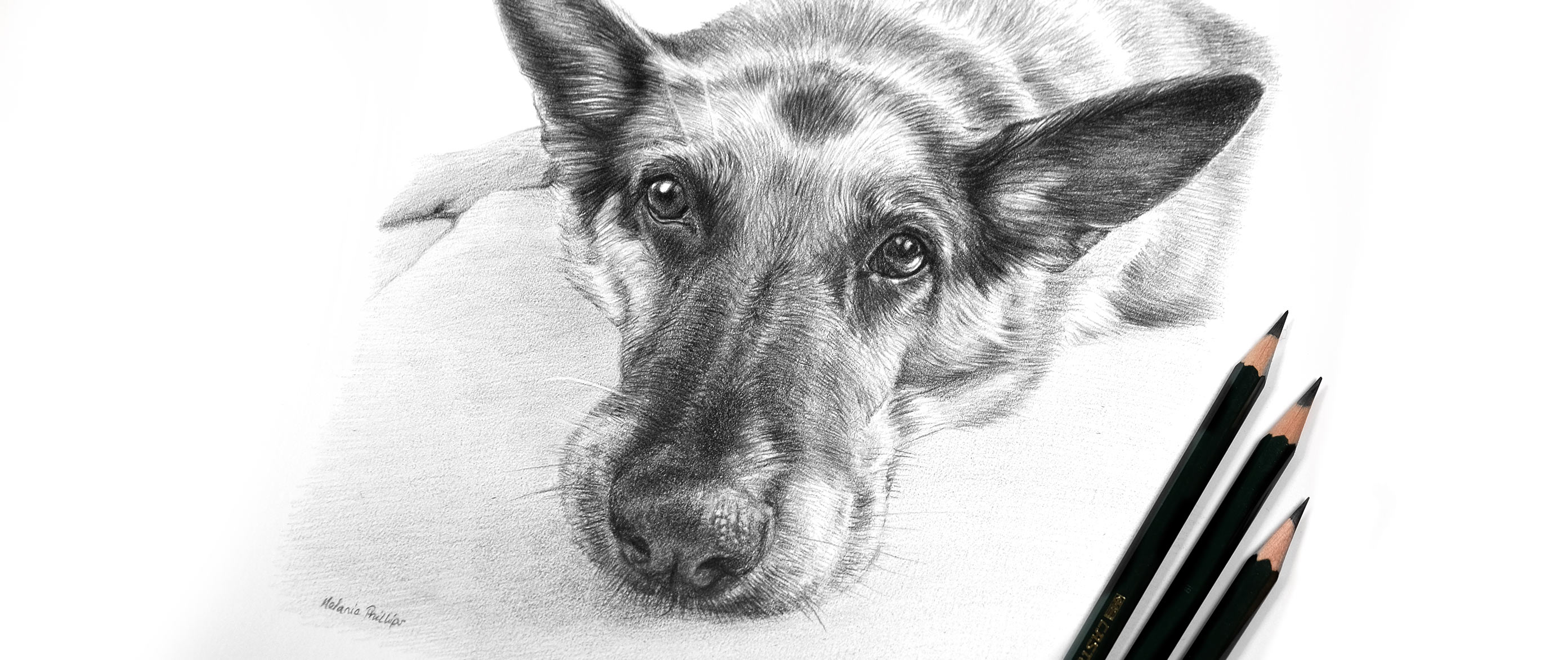 The first step is to view the sizes and prices below. I offer plenty of choice and offer bespoke sizes. You can find lots more information about my prices and gift vouchers on my main prices page - Pencil Pet Portrait Prices
Convert to Your Currency


8x6" (20x15cm) = £400
10x8" (25x20cm) = £600
12x10" (25x30cm)= £700
14x11" (35x28cm)= £800
16x12" (40x30cm)= £900
18x14" (45x35cm)= £1000
20x16" (50x40cm)= £1200
24x18" (61x45cm)= £1400

Step 2 - Gather Photos
The next step is to send photos of your pets. Photos are Key! Why not take a look at my Pencil Portraits Photography Tips page as it gives plenty of information about how to take the perfect photo for your portrait. It really will be worth all of the effort as this stage is the most important. Treats always come in handy!
If your pet has sadly passed, try to gather all of the photos you have of them so that we have plenty of choice when it comes to deciding which photo would be the most suitable. Not forgetting that although I usually work from one main photo for the pose, others can come in very handy. For instance, I can often add a different head onto a different neck or body, add in tails, ears, paws etc. It's ideal also at this stage to think about the size of portrait and let me know your ideas.
Step 3 - Contact Me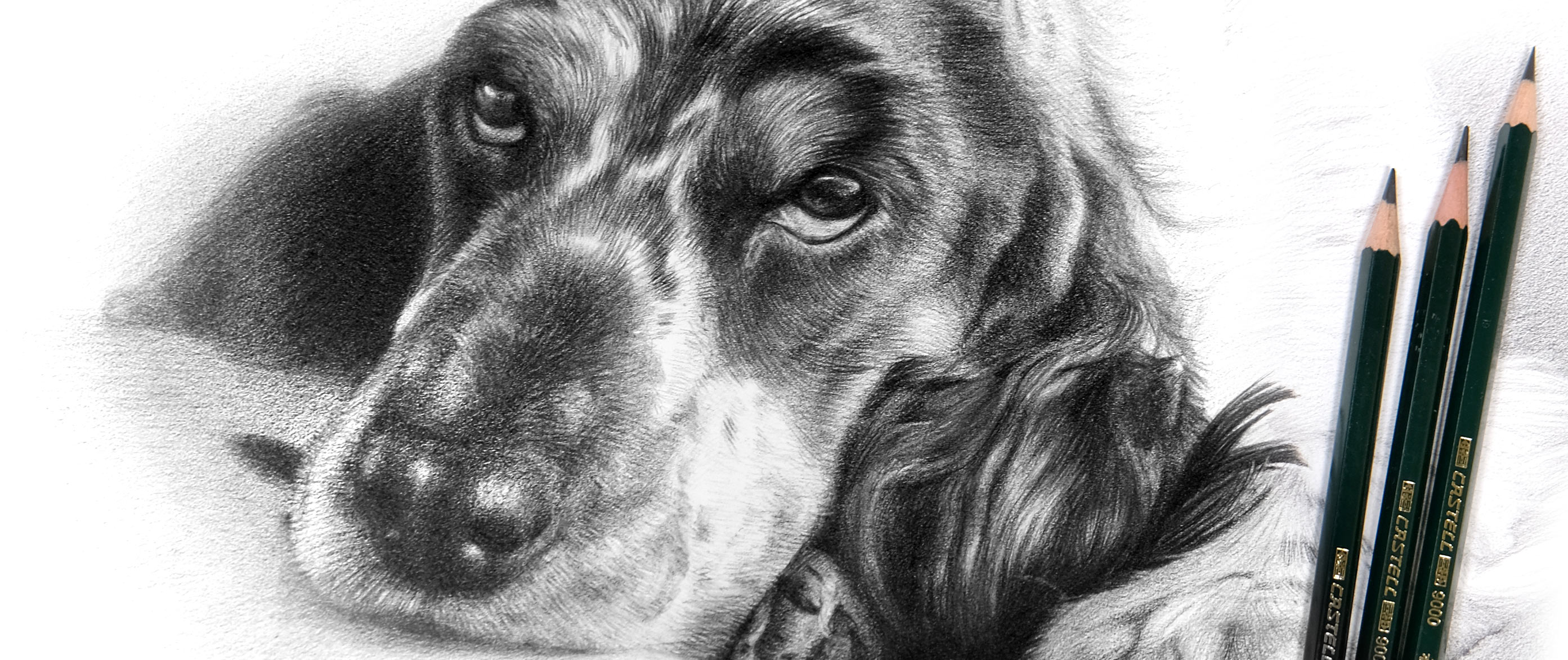 Once you have gathered all of your photos send them all to me via email, WhatsApp or Messenger. I will then create you a mock-up of how your portrait might look. Using your photos I can erase the background and turn it into black and white to show you how, for instance, a head study using that photo might look. This helps us both to visualize what the end result might look like. This is really helpful if you have two or more pets within the scene and or background etc.
Step 4 - Place a Deposit to Save your Space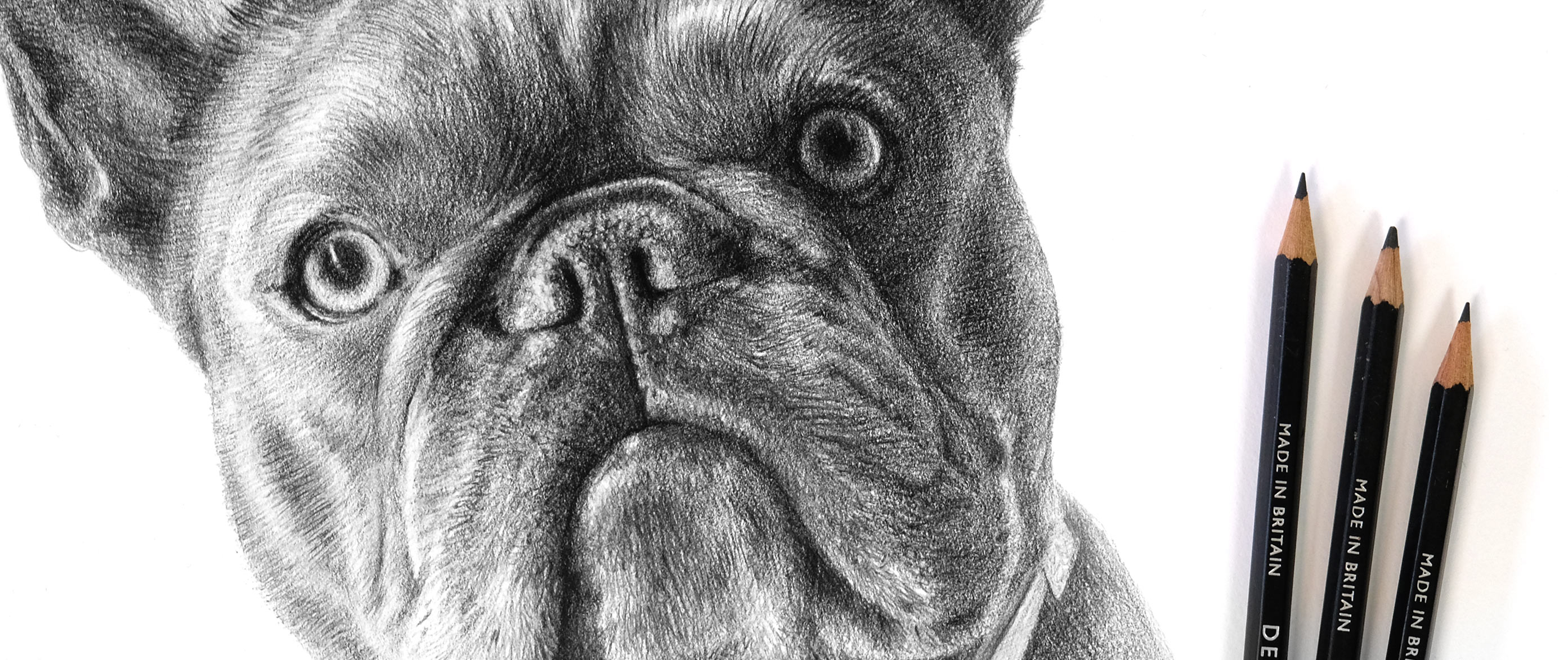 When the design of the portrait has been agreed, the next stage is for you to place a deposit and for me to add you to my commissions list. My commissions list is a private page only for my clients to view and you can watch your portrait rise in the list over the coming weeks.
I accept most forms of payment including debit, credit card and Amex. My preferred method of payment for my UK clients is bank transfer. All overseas clients will receive an invoice with an integral payment button, completely safe and secure.
Step 5 - Final Payment / Start your Drawing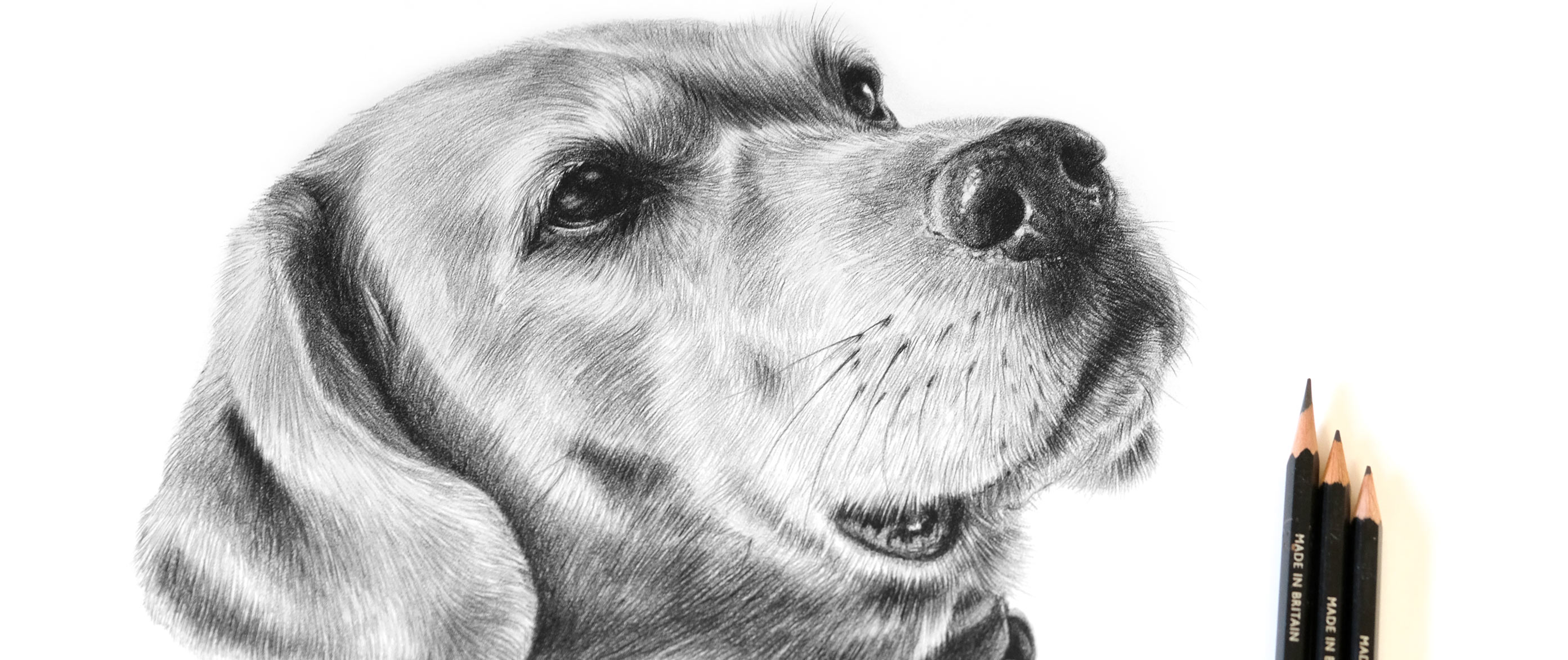 Once the final payment has been made, usually in the same way as you placed the deposit, I will then start your drawing. I work full time as an artist and draw every day and have done for the last 24 years! My drawings take between 1 to 3 weeks to create depending on the scale and complexity. Obviously the larger the drawing and the more pets within the scene the longer it will take.
Once the pencil drawing is complete I email you a range of photos for your approval. I like to take photos from different angles so that you can really get a feel for what the drawing is like. If there is anything your would like tweaked or changed, things can be slightly altered at this point. From the feedback I receive from clients they always say the drawings are better in the flesh than the photos - which is wonderful news!
Step 6 - Pack Your Portrait Beautifully!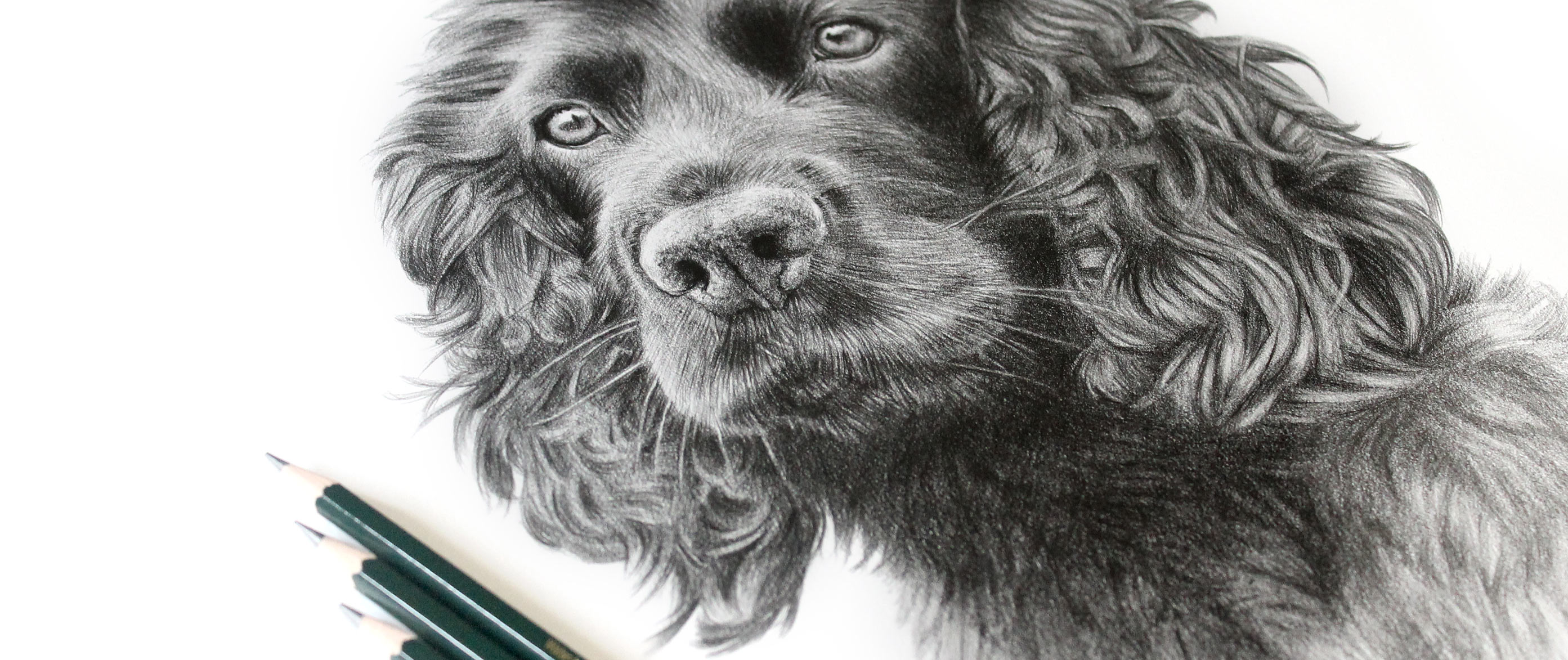 Once everything is complete my pencil pet portraits are packed securely. They travel far and wide, so they need to be packed extremely well for their journey. I always start by wrapping them in cellophane and tissue paper.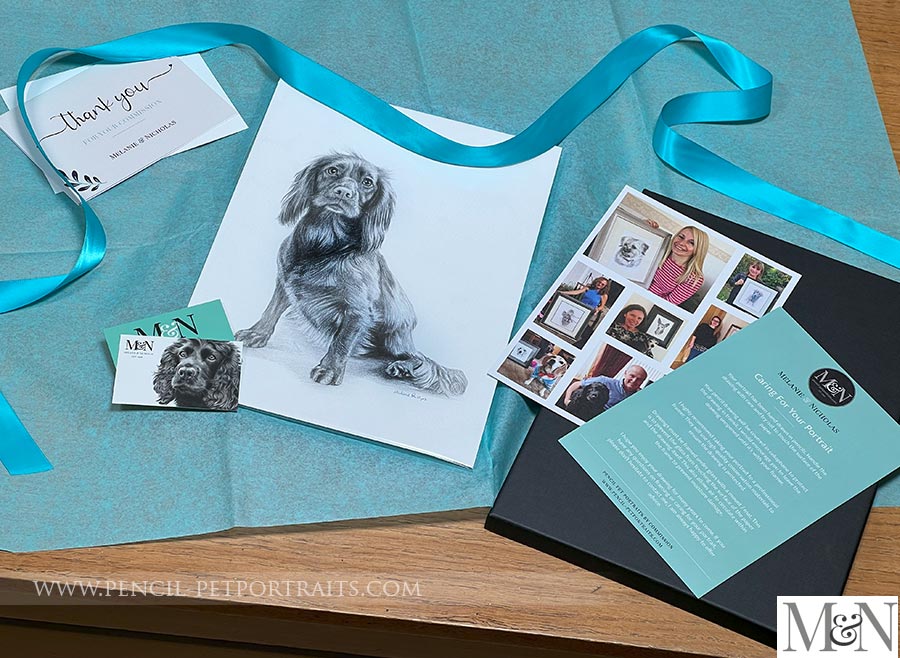 As you can see in the photos they are beautifully presented, which is perfect if you are commissioning a portrait as a gift.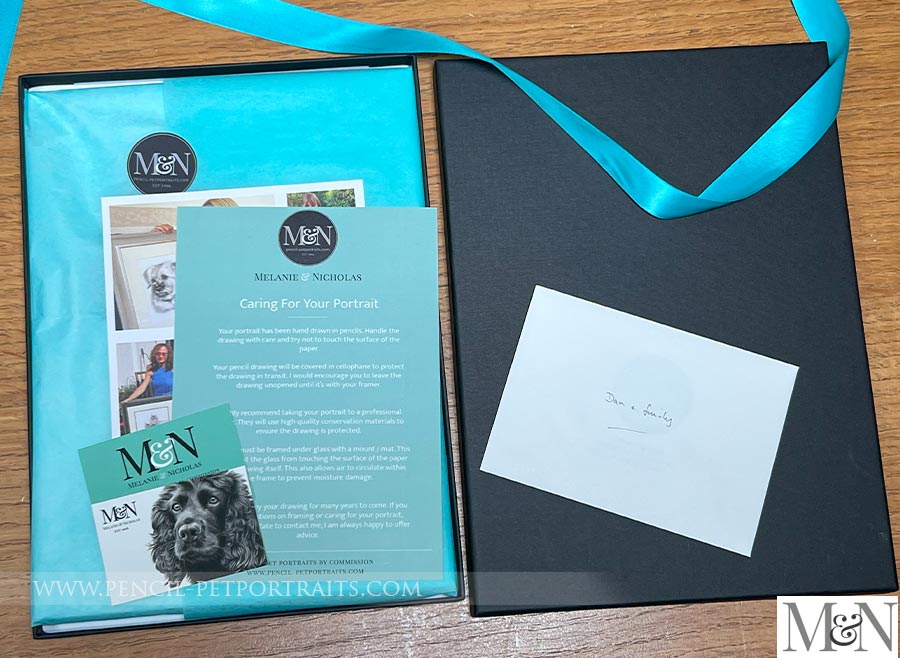 The portraits are placed into a specialist photography box and tied in ribbon. This is all wrapped in foam wrap and placed in a double walled cardboard box. I then book the portrait in with the courier on an expedited tracked service. Tracking is always available to see where your parcel is at all times!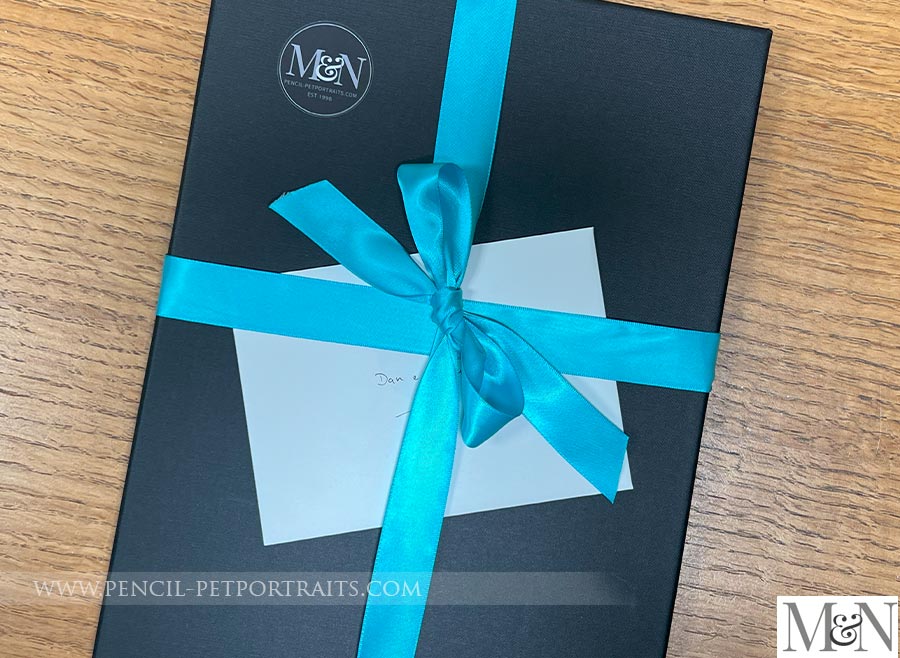 Step 6 - Happy Customer Pet Portraits!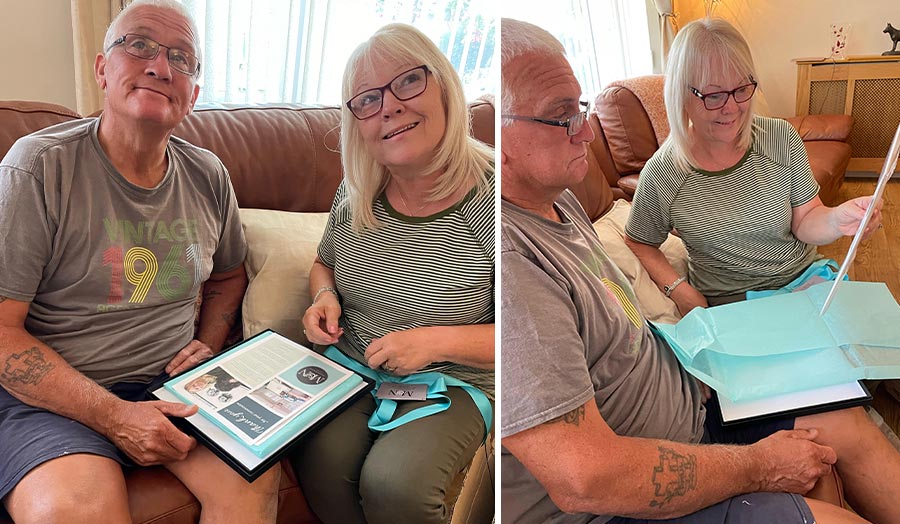 As soon as your portrait arrives and you give it to that someone special, I would dearly love to see photos. It really makes my day to be part of your special day. The photos above were taken by my client Daisy of her parents when they were opening their portrait of Kegan. Tears were just about to fall in the second photo. I hope that you are able to let me be part of your special day when you open your portrait, or you gift it to a loved one, just like Daisy did.
Pencil Pet Portraits - FAQ's
I have lots of prices and sizes available and I can also create bespoke sizes too. Have a look on my dedicated Pencil Pet Portrait Prices page.
I have a continual waiting list for my pencil portraits all year round. If you are hoping to commission a pencil drawing as a gift for friends and family, contact me as soon as you can so that we can discuss your deadline and options.
I have been commissioned to create pencil portraits from many places all around the world over the last 24 years. I find it fascinating to chat to clients from all walks of life.
I use one main photo for the pose for my pencil portraits. I am unable to look at a range of photos and create your pet in a pose. So it's important to find or take a photo that really captures your pet well. Photos are key and it is imperative to provide me with the best possible quality photo you can. My pencil portraits are fairly realistic so I need to see plenty of detail and I am unable to work from low resolution photos or any that are blurred or out of focus. Try not to send photos that have been uploaded to facebook or screenshots from your phone. Why not have a look at my Photography Tips page to see the kind of photos I prefer to work with.
As many good ones that you have! Most of the time I am unable to meet the pets I draw. Having lots of lovely photos to see of them can be really helpful for me to get a rounded picture of what they are or were like. I also love to hear any funny stories about them. If you can it's always lovely to have something to share on my blog and pencil portraits website to go along with the portrait.
All UK cleints pay via Bank Transfer. Overseas cleints recieve an invoice with a secure payment button to pay the deposit or final payment. I accept most debit and credit cards including American Express.
The final payment is made just prior to me starting your pencil portrait in the same way as you paid the deposit.
I can set this up for you, for any amount on any set date each month. You can also send instalments via bank transfer. Once you have paid for the pencil portrait in full, I will then start the drawing once you have risen to the top of my commissions list.
My drawings arrive unframed however I can guide you on framing if required.
I work with my clients closely in the early stages to design their pencil portrait using their photos and Photoshop. I create a mock up so that we all know what the drawing will look like before I put pencil to paper.
Yes, in fact I prefer to work from individual photos of each pet as it means they are closer in the frame giving more detail in the photo to work with. As long as photos of the pets have been taken on the same eye level, I should be able to add multiple pets within a scene together. Good quality photos are key.
I am only drawing animals and birds at this time.
I can cut my paper to any size, and can create my pencil portraits to any size. Just let me know - small or large - the size you are looking for and I will be able to send you a quote.
All clients will receive a range of photos of their portrait for approval before shipping. Tweaks and minor changes can be made to the drawing at this stage too.
All of my pencil portraits are flat packed safely using foam wrap, hardboard and a double walled cardboard box for the outer packaging, in line with worldwide packaging rules from courier services. I send my pencil portraits either DHL or Parcelforce on expedited services.
You might like to visit my Prices page which gives all of the infromation about my Gift Vouchers. Message or email to make the arrangments.
You are more than welcome to come and collect your pencil portrait, or even visit me at the start with your dogs to be photographed or bring your photos to my studio. I am always delighted to meet my clients. Visits by apointment only.
Once my clients have received their portraits I often add my pencil portraits to my website and blog, however if you would prefer not to have your drawing displayed, please let me know.
If you would like to find out more about me, where I live, my studio, hobbies, pets and old welsh cottage, why not head over to my about me section - Melanie Phillips.
Get In Touch!
I really enjoy communicating with my clients. If you would like to Get in Touch, you are absolutely more than welcome at any time. I am looking forward to hearing from you and working with you soon.
Hi Melanie,
Gianni's drawing looks amazing!!!
I wanted to let you know that the portrait arrived yesterday and it's absolutely amazing!!! Thank you so much for being so very talented and for making the drawings so "real life". You have created Gianni's gorgeous little face perfectly.
I certainly was emotional when I opened it… I could just cry picturing his beautiful little face that I miss so much.
Thank you again for the fabulous work you do…
Best regards,
Kelly