Welcome to my Pencil drawing Art Studio!
As you may already know, my name is Melanie and I am a pencil pet portrait artist. I work alongside my husband Nicholas Beall who is also a professional pet portrait artist, he specialises in pet painting in oils. We have a dedicated art studio at the bottom of our woodland garden. The photo below shows the start of my morning commute down the garden, through the gate......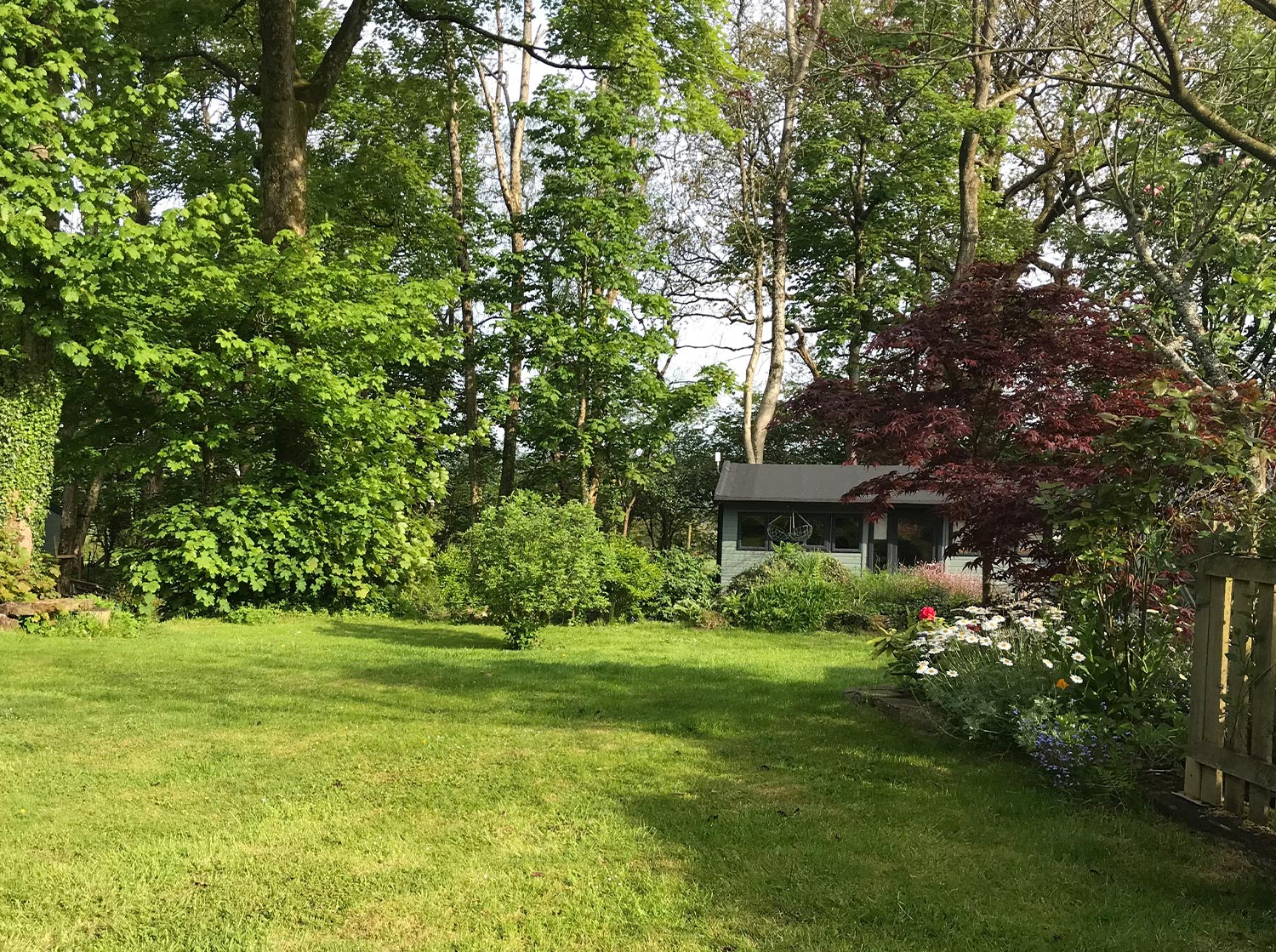 Once you go through the gate, a hidden studio is revealed nestling in between the trees. The studio is fully insulated with heating 24 / 7 so that it's lovely and cosy for us to work, morning, noon and night if we wish.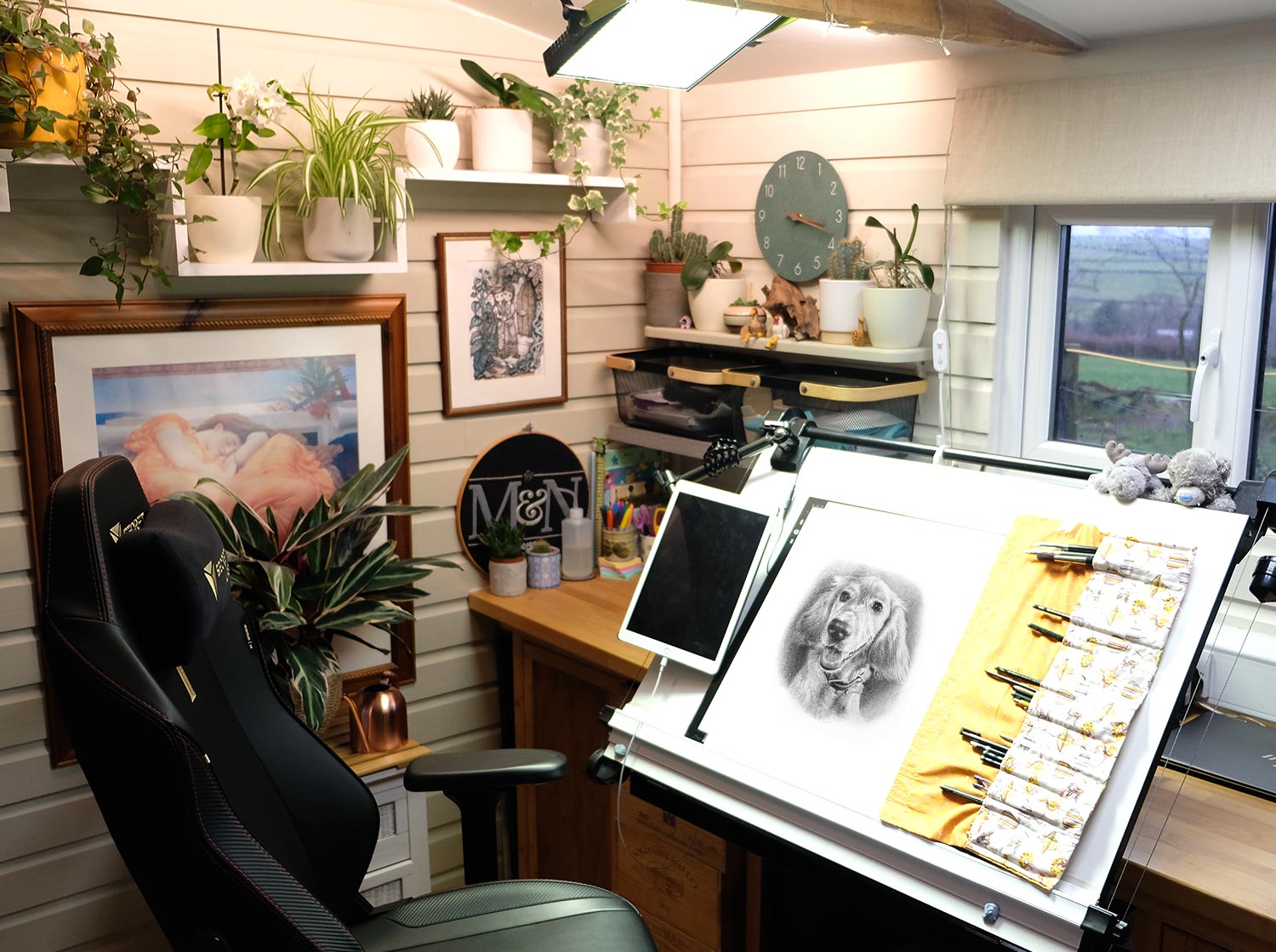 Once into the studio, it is roughly divided in to two areas, my side and Nicholas' side. I also have the client entertaining area which you can see in the photo below. I don't have clients visiting all that often as people commission me from all over the world, however some clients do manage to! I have had clients pop in from Singapore to collect their framed pencil portrait as well as travel from the other side of the UK just to bring their dogs for me to photograph which is wonderful! I love it when clients visit.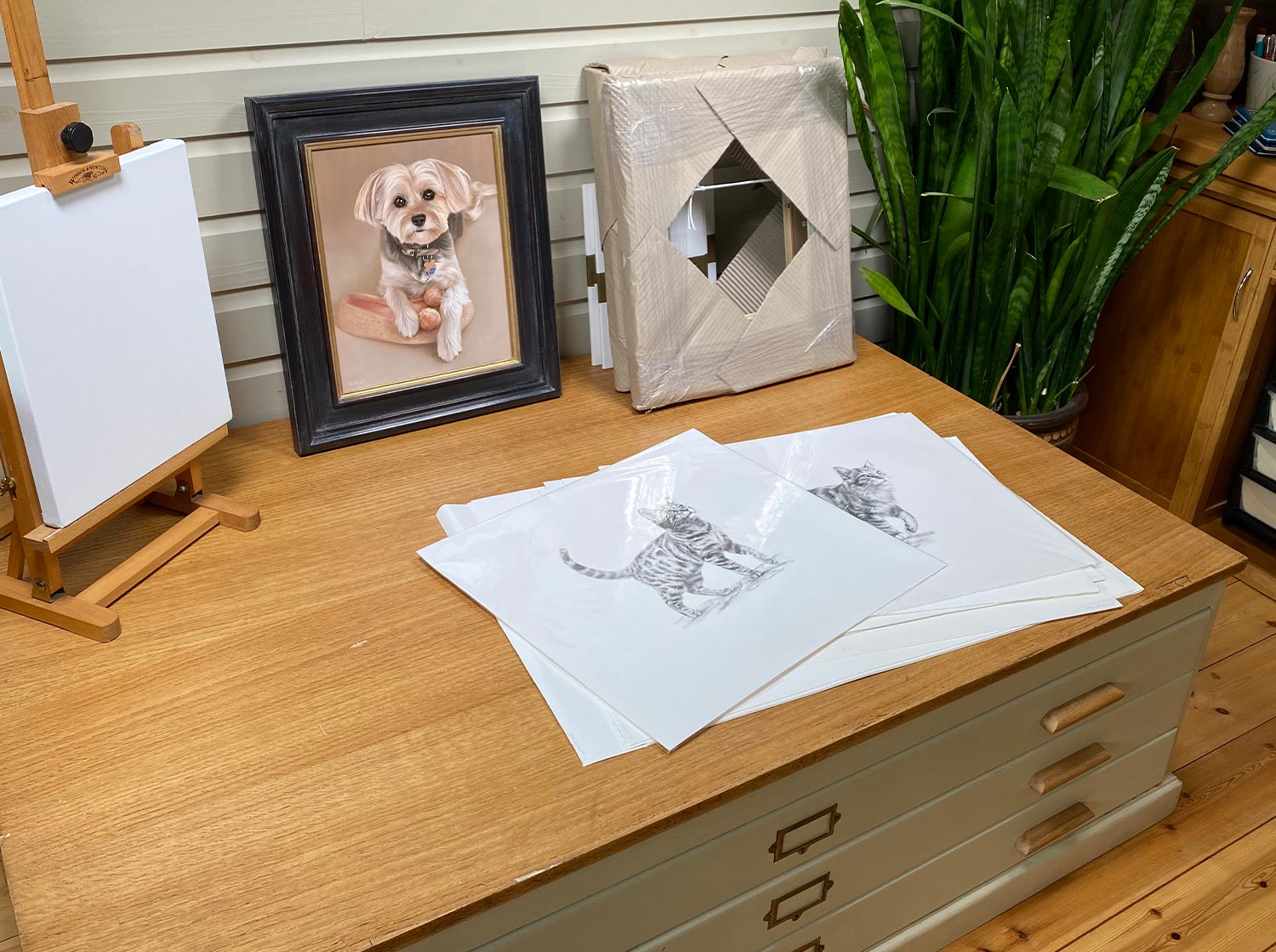 This is my work area, you can see my drawing desk, storage unit and a space for the foam wrap I use to pack up the pencil portraits. You can also see my iMac and a large space around my scanner which is useful when scanning the large paintings that Nicholas produces.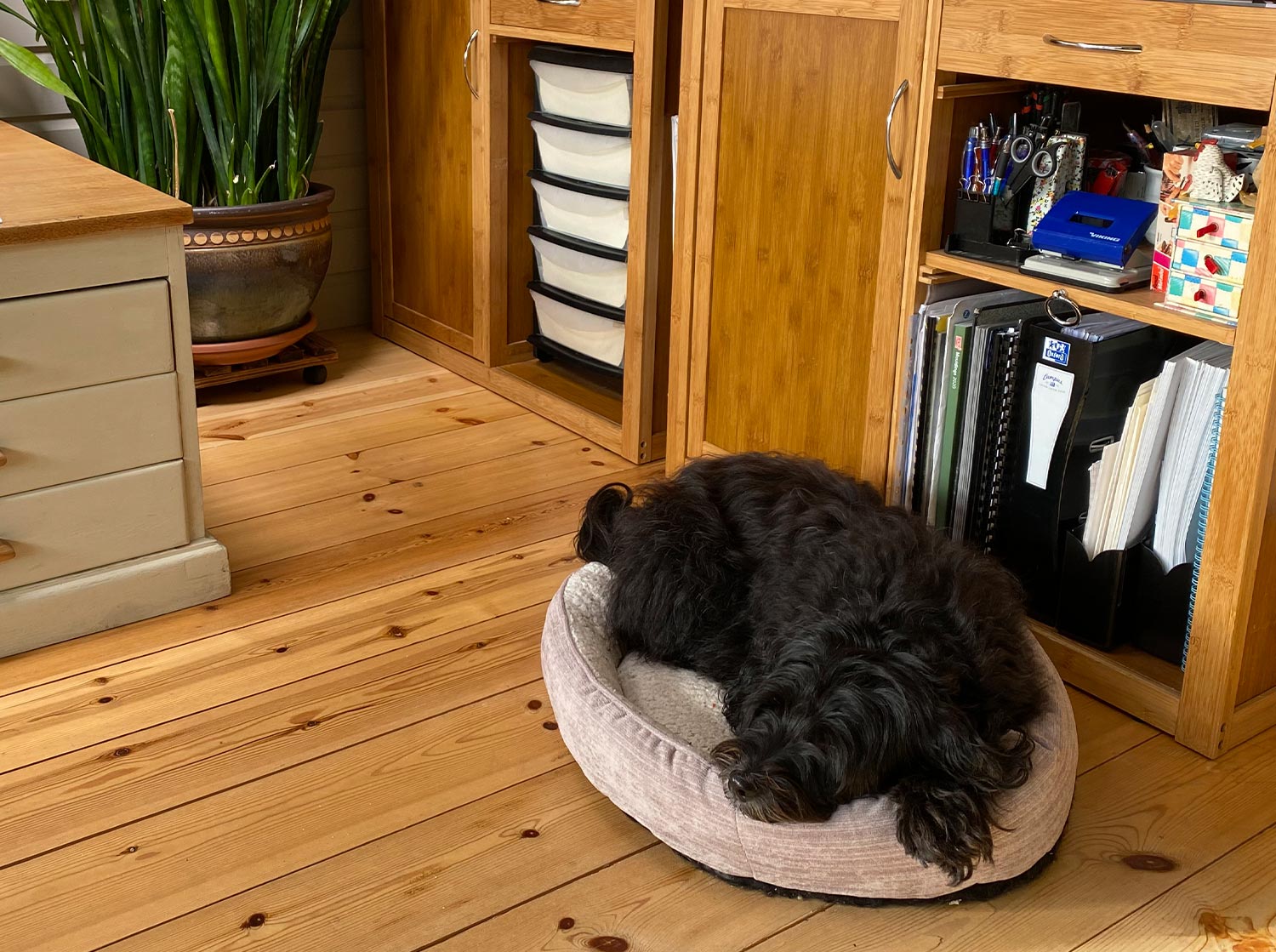 Here I am below working on a cat pencil portrait montage for a client based in Hong Kong.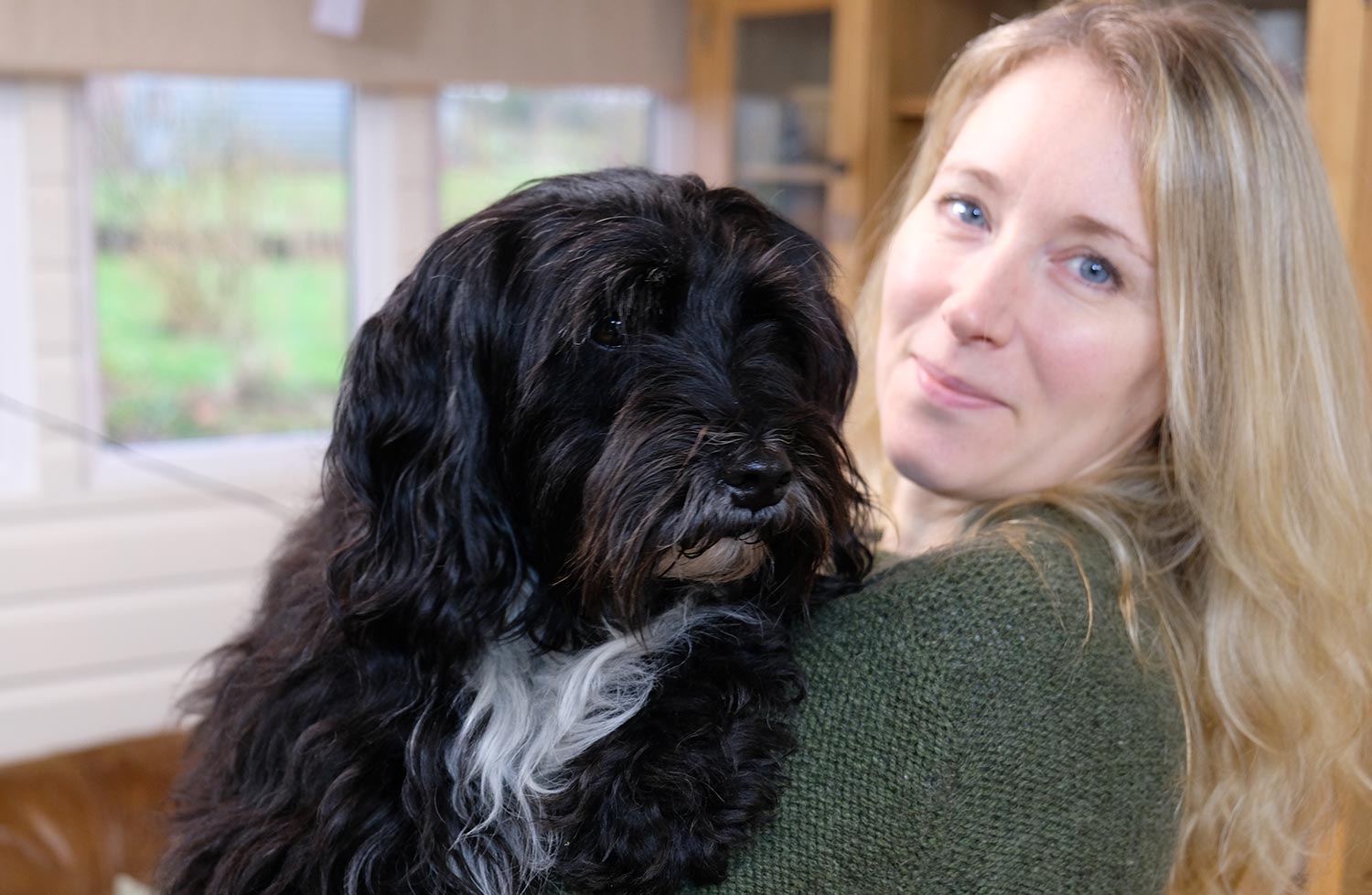 Both Nicholas and myself need professional lighting and we both use LED lighting systems. not cheap by any means, but the best lights we have ever used in our 20 years as professional artists. It is essential to have the correct equipment, whatever the costs.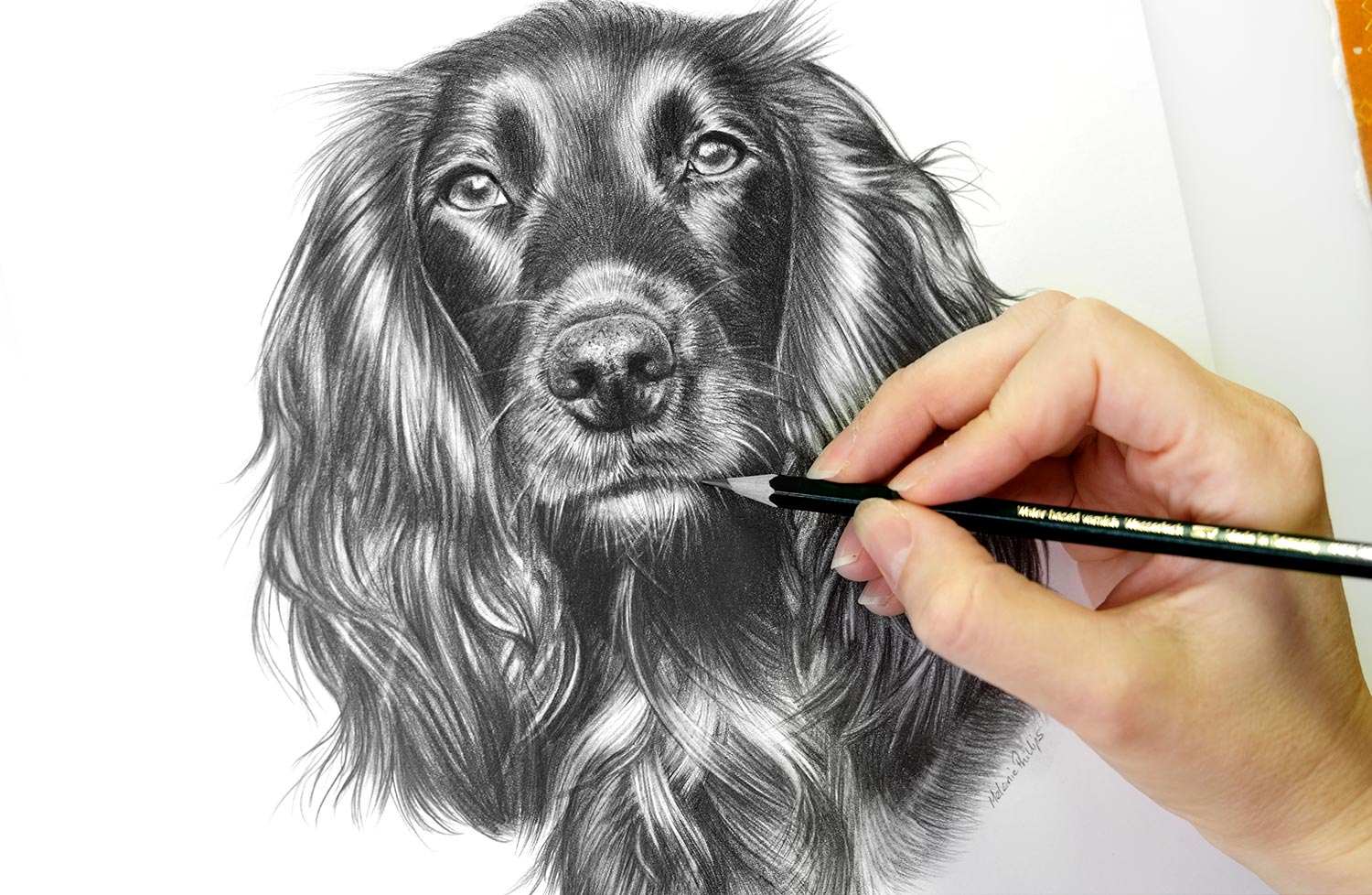 We work in the studio all year round and have a very warm and convenient heating system. It also serves as an air conditioner, not that we use it very often as our summers don't really get that warm. All of the windows open which is fabulous in the summer months. In the winter though we do have to work long hours and Wales is renowned for its rainy days and dark mornings and evenings. So I have installed fairy lights on our beams to give a lovely ambience when working down here when its dark and rainy outside.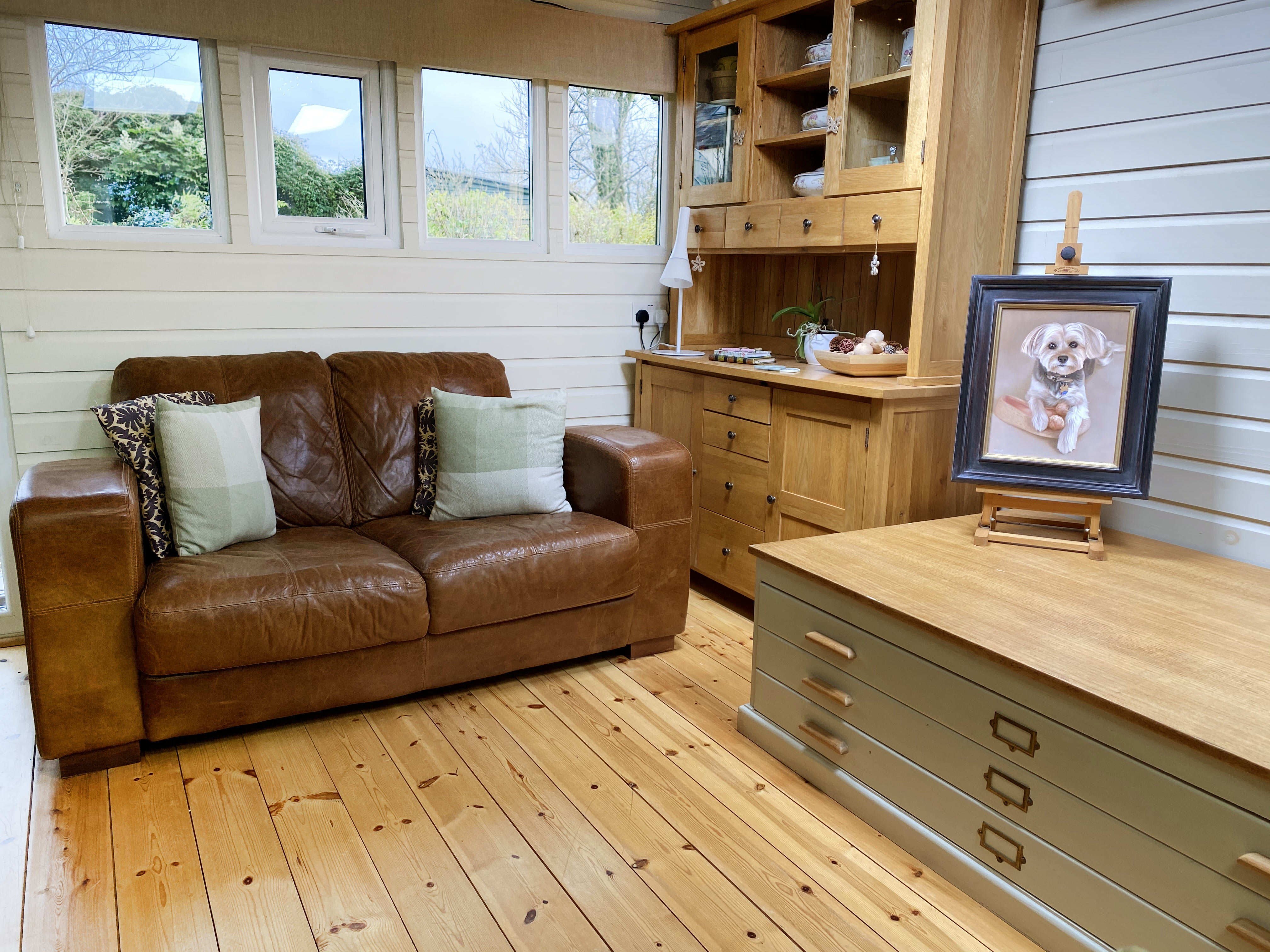 Here you can see my work area with a montage drawing of a horse. You can also see my dog Lily. She is a Tibetan Terrier and has a bed under my desk which she sleeps in for the most part. Having said that she has lots of other areas in the studio she likes to commandeer. If I get up from my chair she is in the habit of sitting in the drivers seat as you can see in the photo below!
I hope that you have enjoyed viewing my studio. If you would like to find out about the materials I use, why not pop over to my Pencil Drawing Materials page and take a closer look at how I create my portraits in my studio.