About Melanie Phillips
Welcome to my about me page. As you probably know by now, having looked around my website and seen my artwork, my name is Melanie Phillips and I am a professional pet portrait artist. I specialise in drawing dogs, cats and horses for clients worldwide. I have been drawing animals and wildlife for over 20 years and hopefully this page will give you a quick overview of my little world!
I grew up on a smallholding in west Wales, UK which was very idyllic and it was perfect for a child who loved animals, playing out doors, climbing trees, damming up streams and running in the fields. My father ran a small holding, eventually a small farm, with suckler cows, pigs, goats and sheep. It was fantastic for me as I befriended them. I named all of the chickens and one in particular would wait for me to come home from school. The sheep would follow me in the fields and would run over to see what lovely treats I had in my pocket, they all had names too. All sheep are individual, they all have their own personality and character and I loved them! I bottle fed the baby lambs and piglets and even had my name in the local newspaper as our goat Heidi had quads. I had a love for animals form a very early age and that's all I wanted to draw.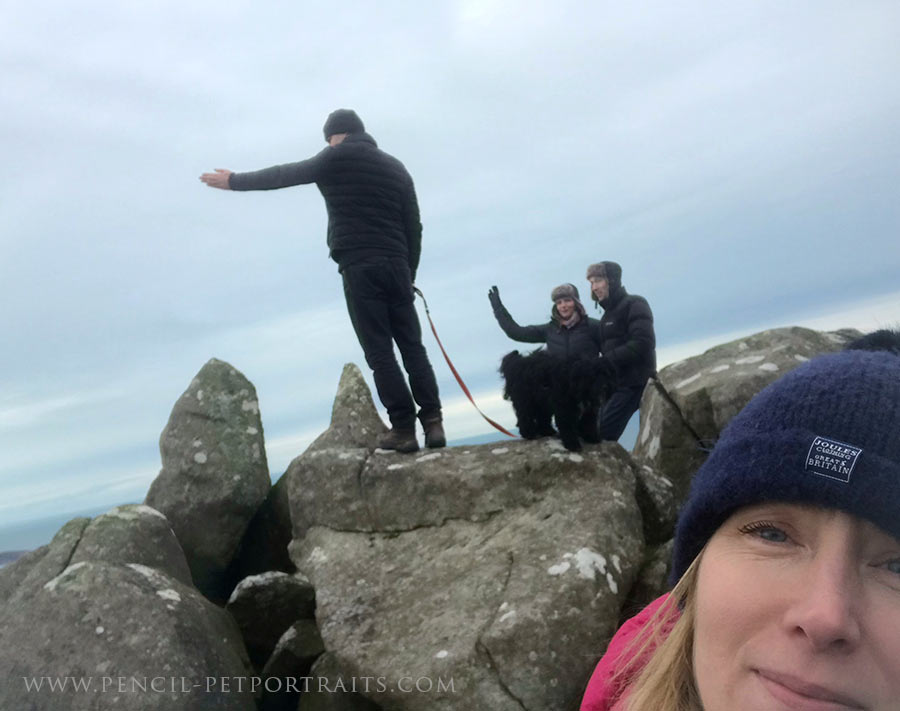 In the mid 1980's on our family small holding in Wales. I was about 13 or 14 with pet piglets, cows & calves and ducks outside our front door.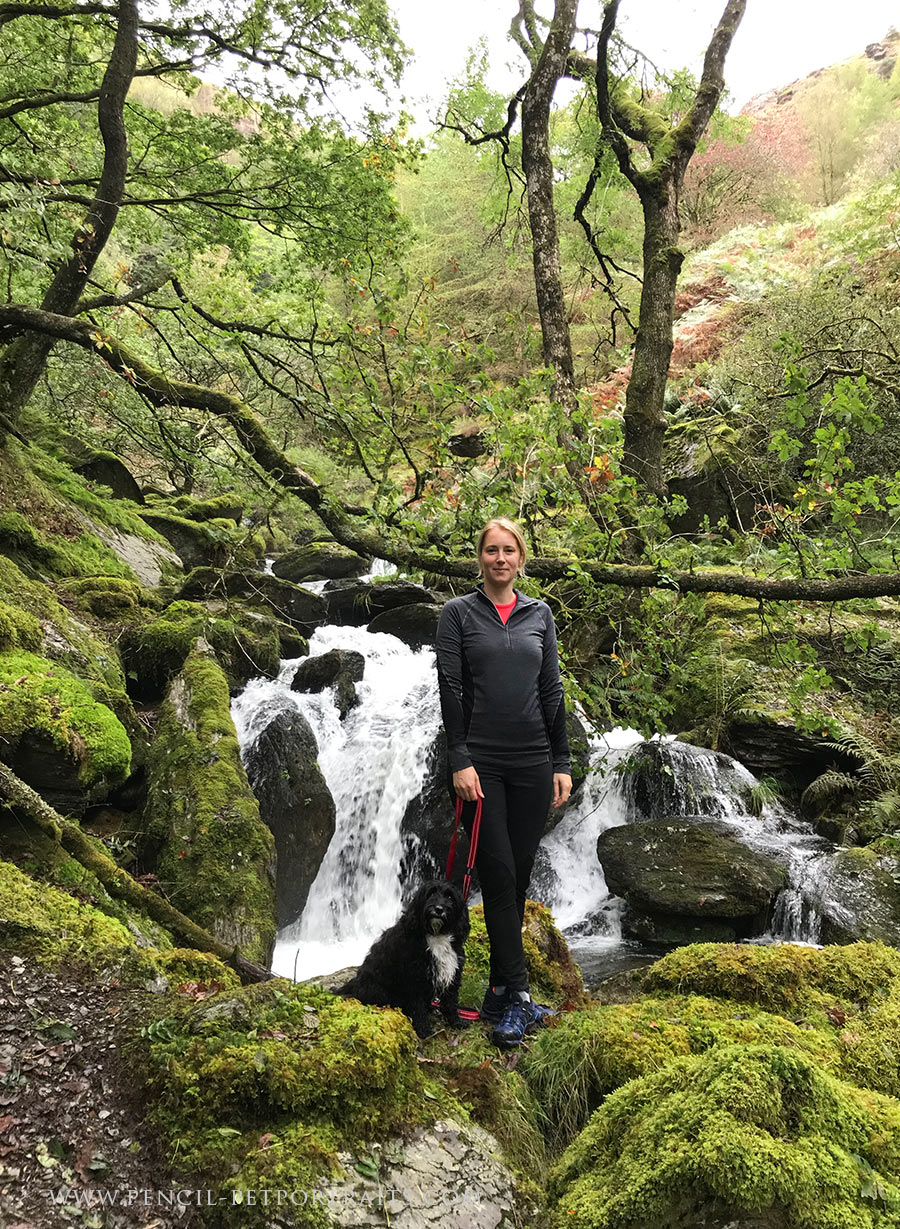 In the early 1990's on our small holding with my pet lambs
I met my husband Nicholas Beall at Bournemouth and Poole College of Art and Design, he was studying the same course as me - Natural History Illustration. Once we had completed the course we decided that neither of us liked the hustle and bustle of town life so we came back to Wales to set up home. Nicholas is from Cornwall, which is very similar to Wales so we both loved the rural outdoor life.
We live in a very pretty rural welsh cottage which is around 300 years old with huge oak beams and a massive inglenook fireplace. We have been renovating our cottage since we moved in 8 years ago and have one more room to go which we are planning on doing in 2017.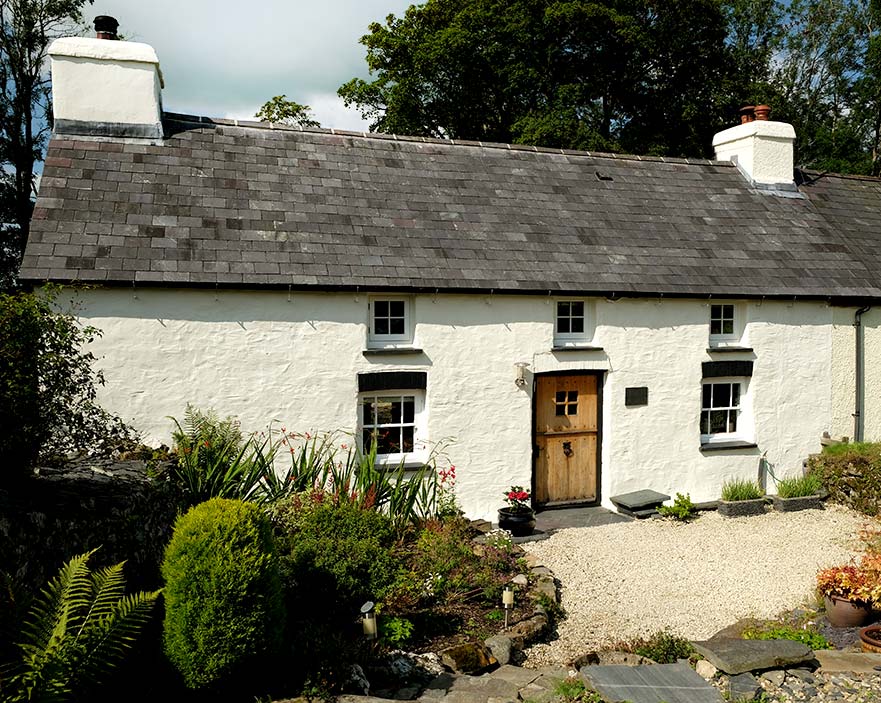 The front of our little welsh cottage dating back to around 1750
We share our home with the most comical Tibetan Terrier called Lily. We have looked after a number of dogs for family and fried while they go on holiday and some of them had Tibetan terriers. We are use to the breed and their traits and so when we were choosing which breed to have, it just had to be a Tibetan terrier - or TT as they are known. Tibetan terriers don't moult, we take Lily to the groomers every 8 weeks and keep her brushed every other day. The photo below is on the day we collected Lily, she was so tiny and cuddly. She is still very cuddly, but she has grown a lot since then! Scroll down for more photos.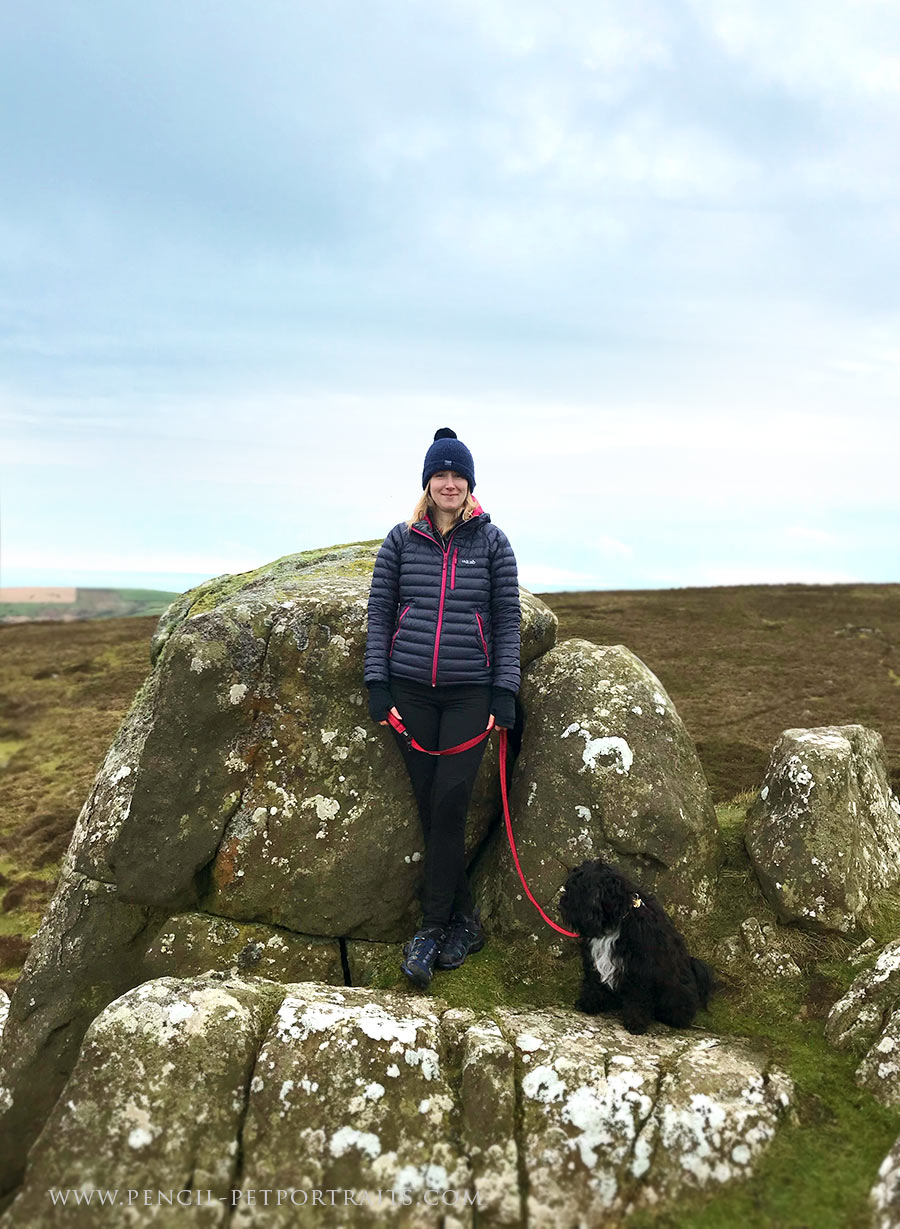 Lily does like to get into mischief as all Tibetan terrier do. They have such amazing personalities. Any Tibetan terrier owner will tell you its like having a toddler around the house at all times. The photo below shows her covered in grass from probably trying to chase a rabbit in the hedgerow!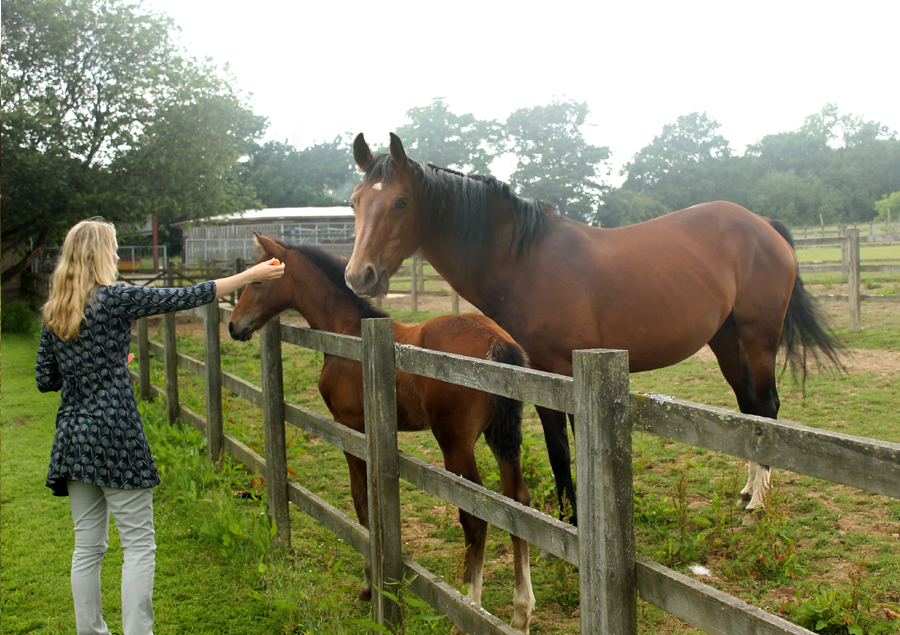 Lily loves our chickens and is fascinated by them, if they have escaped form their pen, she very gently helps me to round them up to put them back. She tries to sniff them on many occasions and they just walk forward a little doing their own thing, they really don't mind her which is great. The chickens keep us in a good supply of eggs all year round. We have rescued 'farmed' hens and also have 5 Buff Orpingtons who are very big and fluffy. Our rooster Boris rules the roost and you can see a photo of him below.
We love coastal walks and the photo below shows us out and about in Pembrokeshire. Lily can walk for miles and miles and loves to meet other dogs on her travels. her favourite place in the beach where she can outrun most other dogs. She loves to be chased!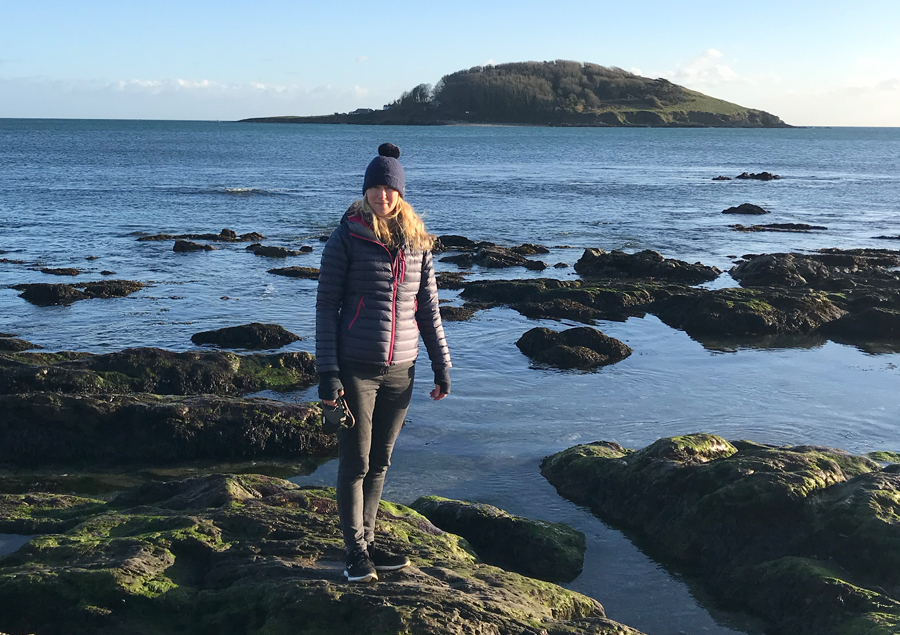 This is Lily and myself in Pembrokeshire.
I love to garden and enjoy growing flowers. When we moved in our garden was a very simple patch of lawn. We purchase a section of woodland at the bottom of the garden and we have been designing and growing plants, shrubs and bushes to make it our own. I guess being an artists helps to be creative when it comes to designing a garden with colours and textures. Our garden is simply a slice of heaven in the summertime, its very quiet here and because we are surrounded by trees we have lots of wildlife and birds. The woodpecker is pecking away at the trees as I type!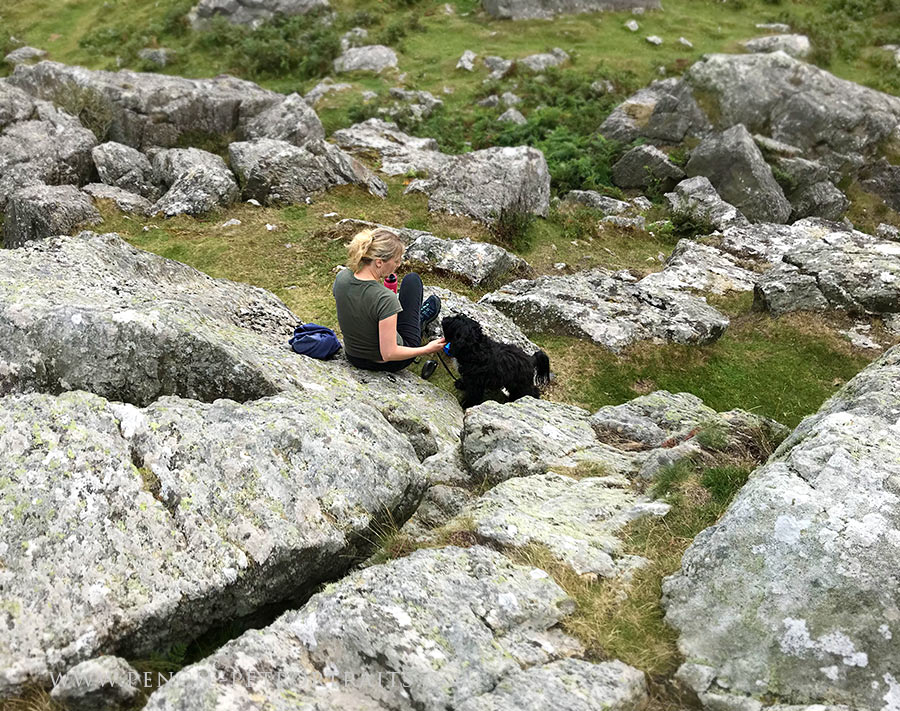 The photo above shows the little path that goes down to the studio from the top cottage garden.
I hope that you enjoy the photos on my page and feel you have got to know me a little better. If you would like to ask me any questions you are more than welcome to email me at any time for a chat. Also if you are heading to west Wales and would like to visit with your dog, the kettle is always on, give me a call to arrange a time to visit, both Nicholas I myself would love to meet you! Pop over to our main website about us page to meet Nicholas and more about our cottage and where we live.
I love growing flowers and I have been developing my garden over the last 8 years. Its still in development!