Pet Portraits Testimonials
I have collected below some of the wonderful Pet Portraits Testimonials that my very happy clients have emailed me in the last few years as testimonial to the happy clients who have received my pencil drawings to date. I can't thank my clients enough for having photos of themselves taken with their portraits, it really does make my website unique - and it also makes our visitors smile when they view them.
Teasel
View Teasels Portrait and the lovely testimonial from Paula on Teasels page in my Pencil Portraits Gallery >>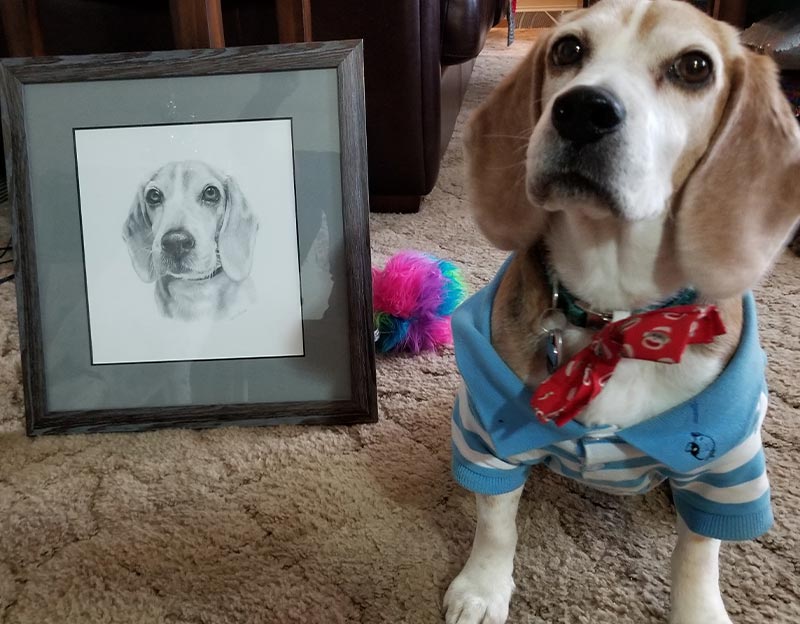 ---
Lily
Hi Melanie, A great success lily loves it and so does Josephine! Sue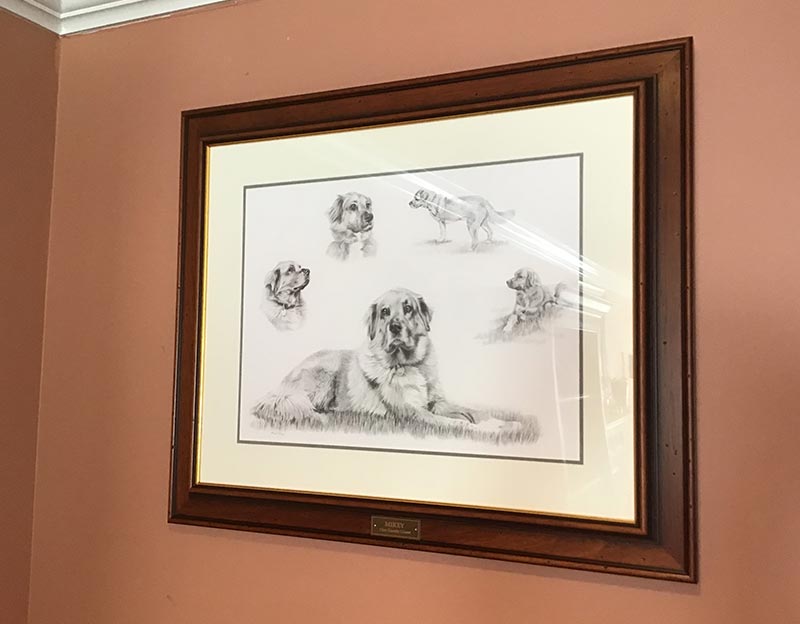 ---
Tyson
View Tyson's Portrait and the lovely testimonial from Kim, along with more photos of the portrait in situ, on my Cat Portraits Gallery >>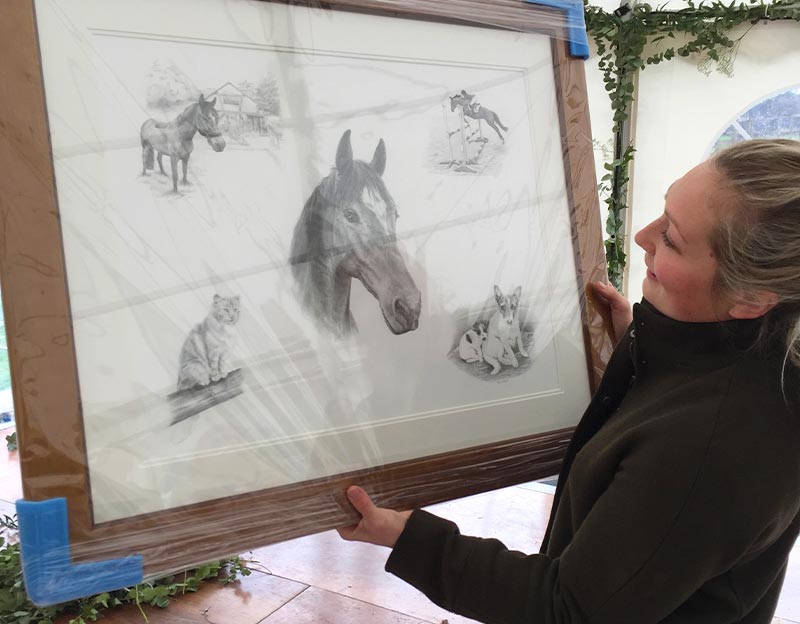 ---
Cassanova
View Cassanova's Portrait and the lovely testimonial from Olivia, along with more photos of the portrait in situ, on my Horse Portraits Gallery >>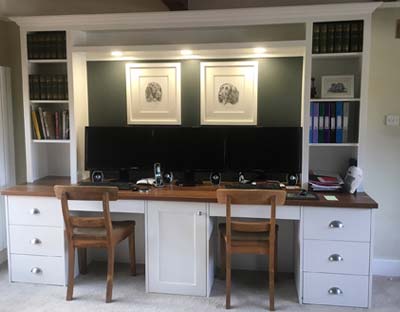 ---
Pixie and Boots
View Pixie and Boots' Portrait and the lovely testimonial on their page in my Pencil Portraits Gallery >>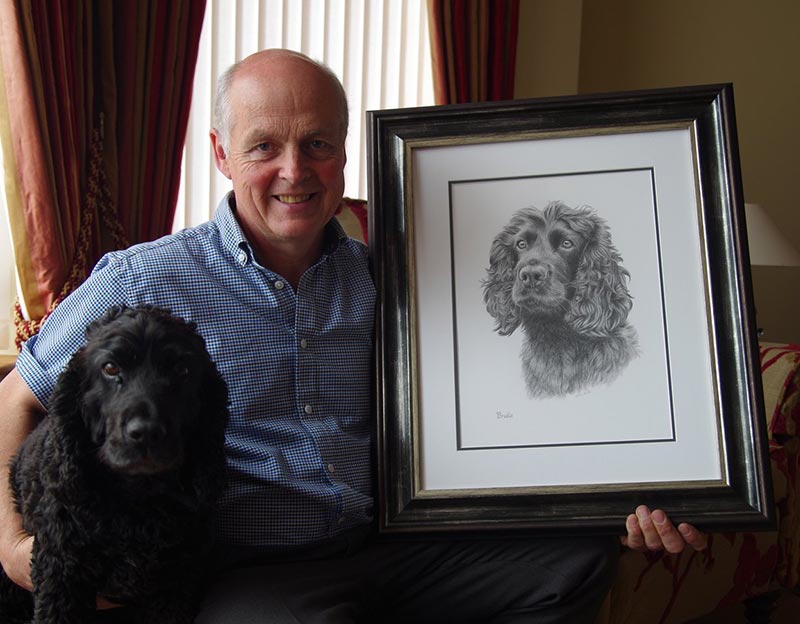 ---
Hollie
See Hollie, the Tibetan Terrier, in my Pencil Portraits Gallery >>
Hi Melanie! My mum picked Hollie up today from the framing shop! She's so happy, thank you so much. I'll get a picture of us standing next to her when I'm next round and I'll send it to you. :D Caroline X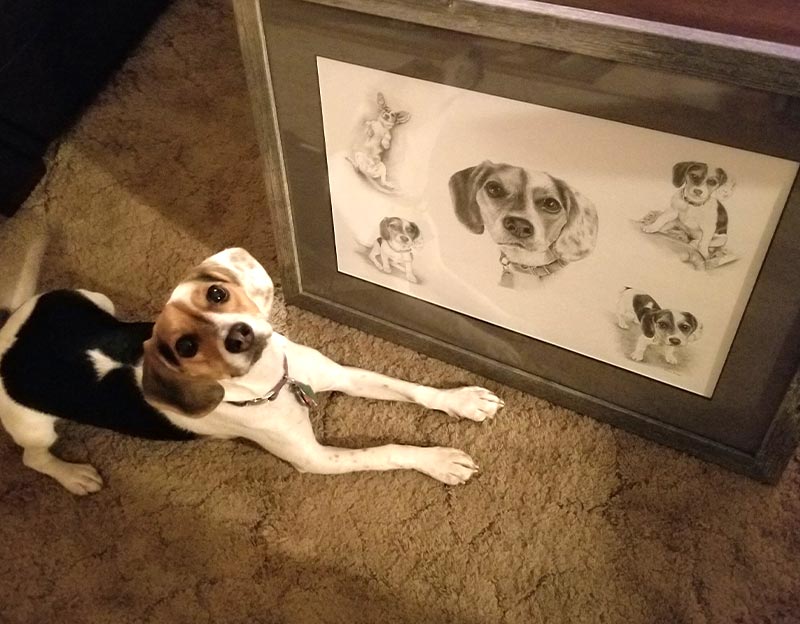 ---
Daisy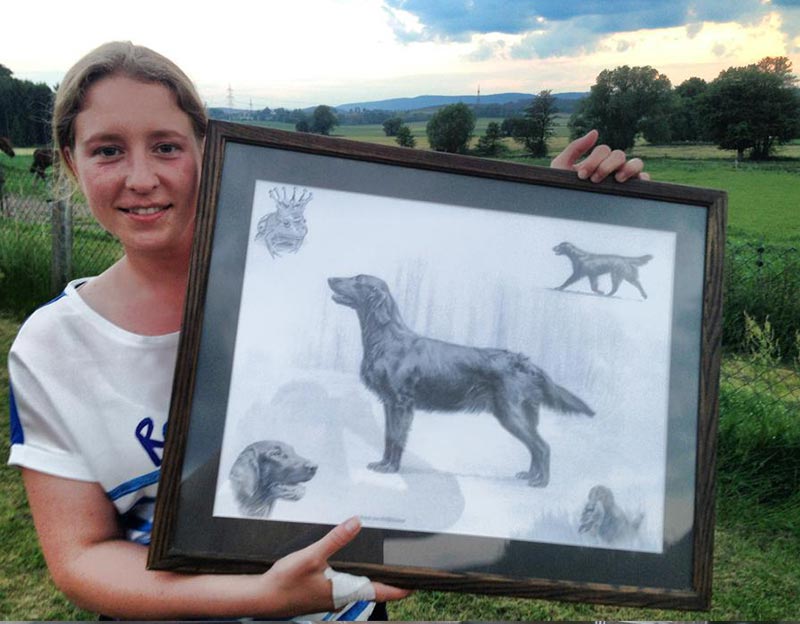 Read the Testimonials from Daisy's owner on her webpage here - Daisy's Pencil Pet Portrait >>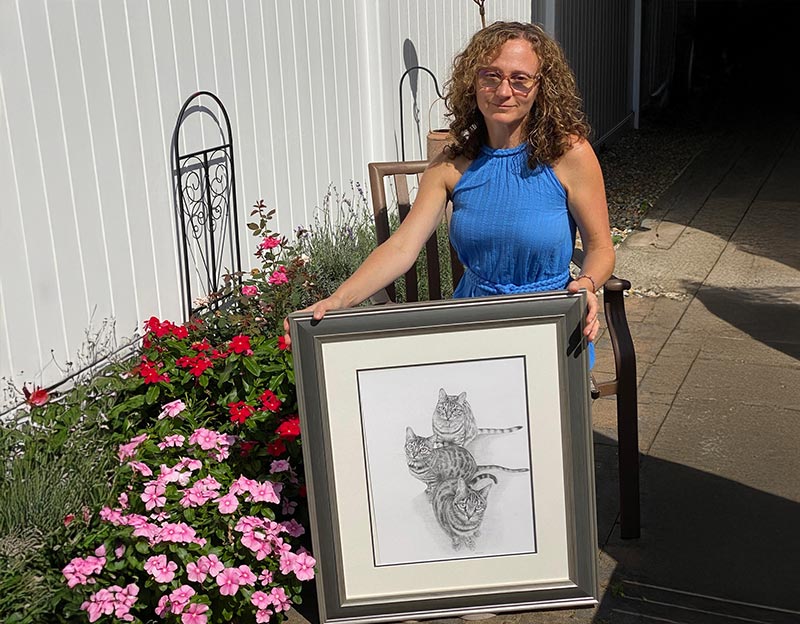 ---
Djeen & Ivar
Thank you Melanie, Djeen's portrait is great. My daughter will love it.
All the best.
David
Hello Melanie,
This is Ivar! Great work!
Now, I would like to commission you to do my daughter's lab called Djeen as a10x8 pencil portrait, also as a Christmas present.
Sincerely,
David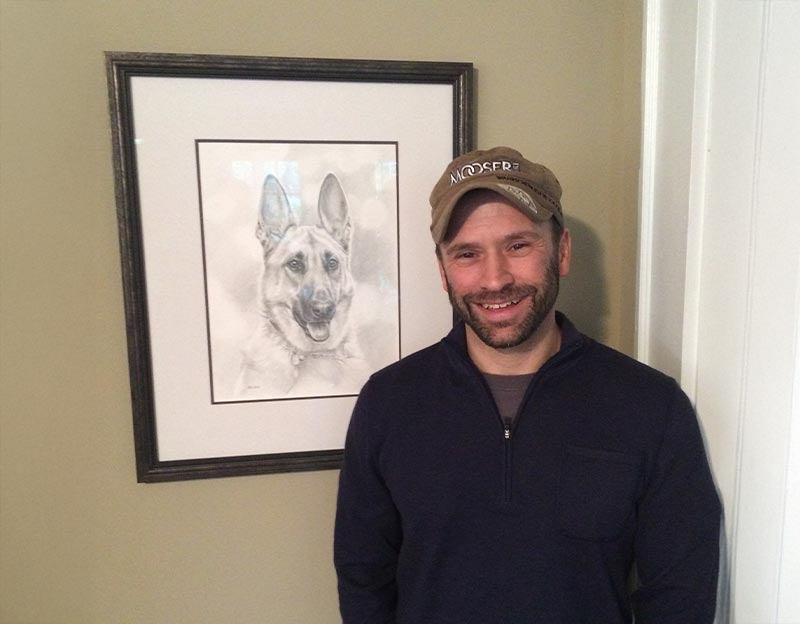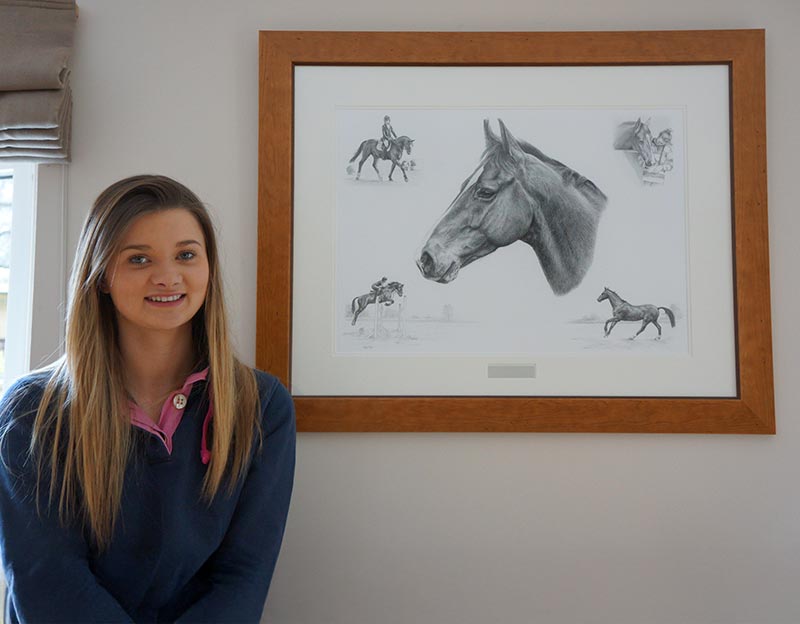 ---
Gyp
BREATHTAKING! Didn't go into office until today. The gentleman at the framing shop couldn't stop looking and bragging about your work. You are a very talented woman. Left one of your cards with them. I couldn't be more pleased, your work is superb.
Dear Melanie,
Firstly I must apologize as I have been meaning to leave you a testimonial, but sadly life has been difficult since you did the montage portrait for me, for my partner Steve and his beloved Gyp!!! Not only did you complete it at fairly short notice for me, it was absolutely AMAZING !!!! Never before or since have I seen anyone's work as good as yours, you absolutely caught his soul and character and I have to say brought a tear to Steve's eye when he opened the pressie up !!! He has pride of place above the fireplace and brings us joy everyday !!!!! I always recommend you whenever anyone asks and will continue to do so, please feel free to copy and paste this on your site as we are so grateful for what you did for us, thank you Nikki and Steve xxxxxx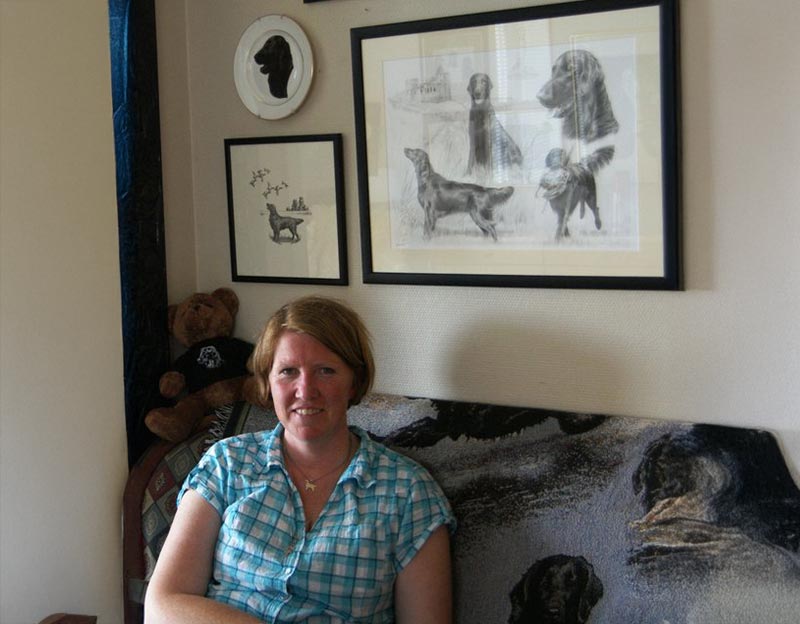 ---
Moo
I was commissioned by Tracey, a returning customer to draw her most gorgeous Cocker Spaniel Moo. Tracey came to our studio to meet us and bring Moo with her to collect her portrait. I took some fabulous photos of Moo with her drawing and Nick took a few lovely ones of us all together. We don't get to meet our clients that often so love it when they are able to take time out of their busy schedules to visit us in person. We hope that you enjoy the photos.
See more from Tracy on Moo's Pencil Pet Portrait Page >>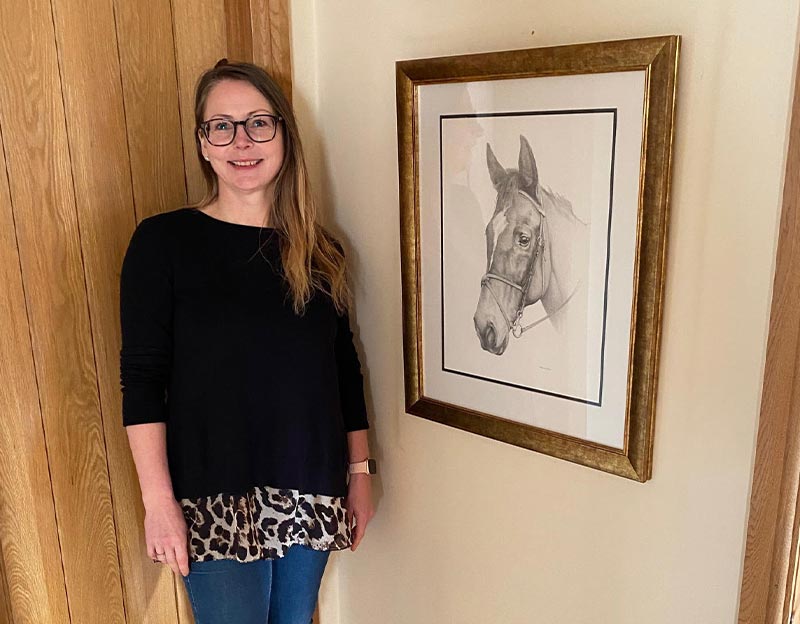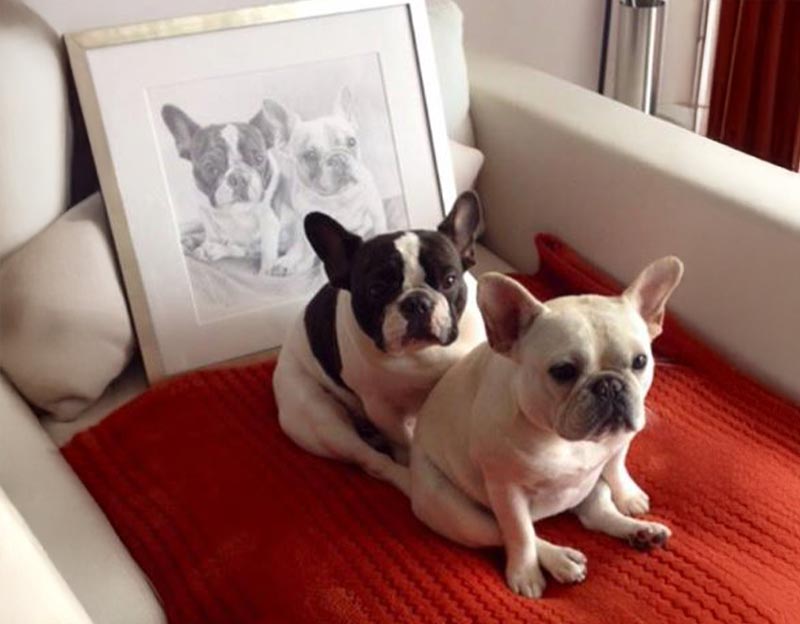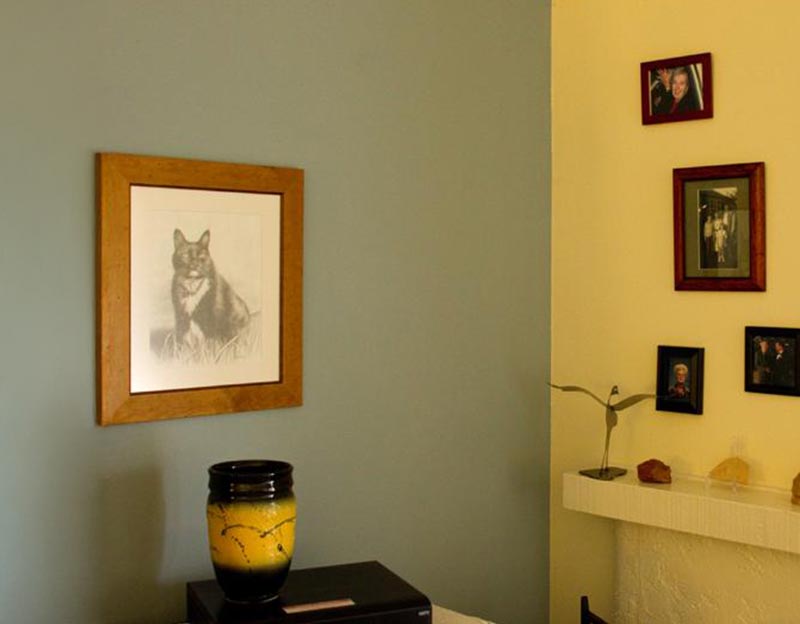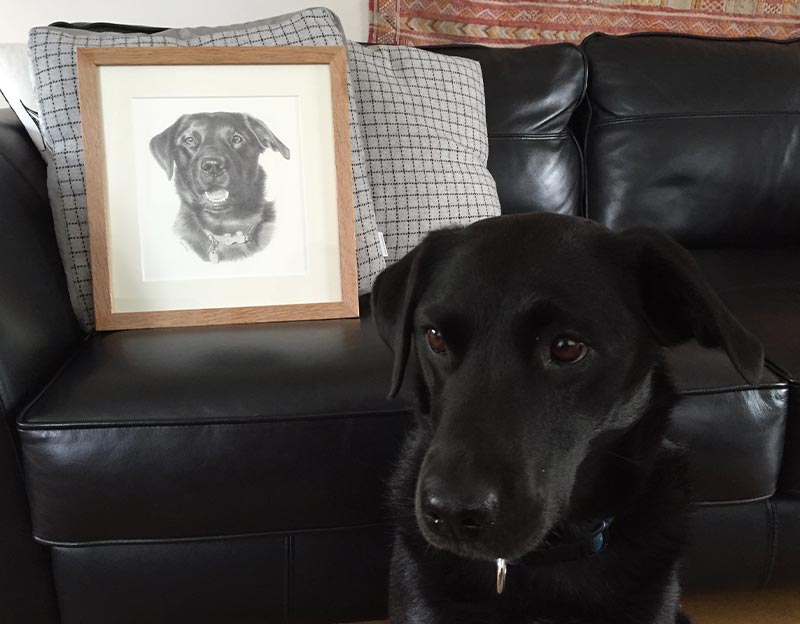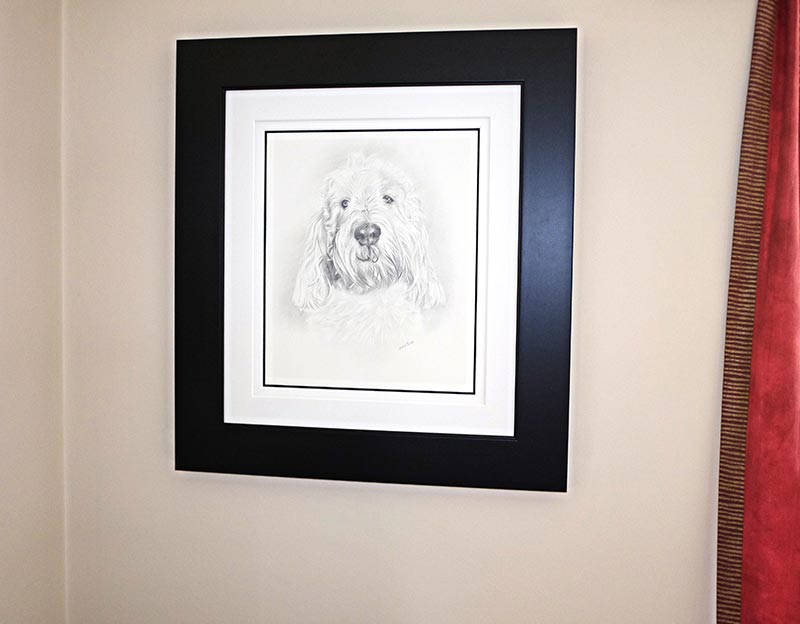 ---
Georgie
I was commissioned by Taunton school to draw Georgie for Jane Barrie retirement gift for Tauntons School Chairman of School Governors. The pencil portrait was presented at her retirement evening. Jane and Georgie then came to visit in the studio and Georgie posed beautifully with her portrait for more photos!
Hi Melanie,
Slightly belated response as it has taken a few days to get hold of the photos. The pencil drawing went down brilliantly. Jane Barrie was really thrilled – and had no idea something like this was on its way to her. I am attaching a picture of part of the presentation – although the picture was bubble wrapped, so you can't see it terribly well.
Thanks for all your help.
Regards
Alannah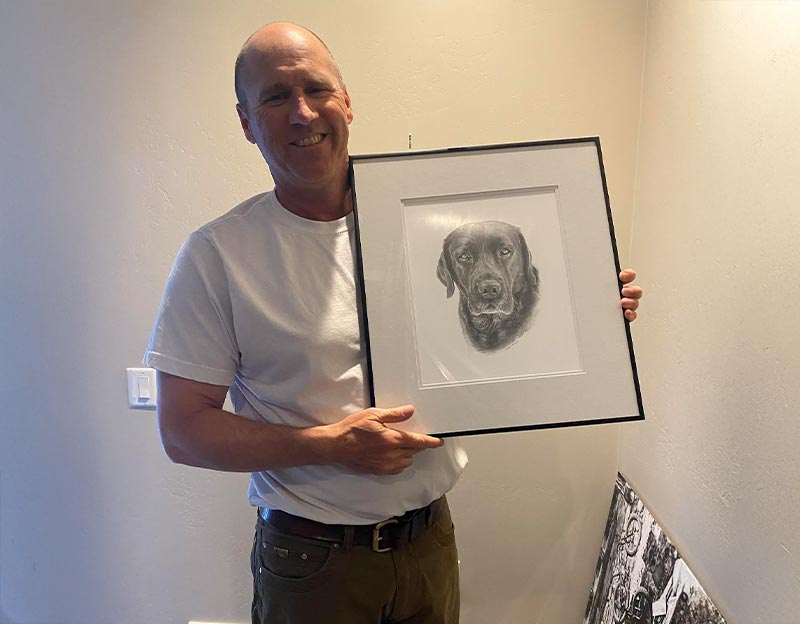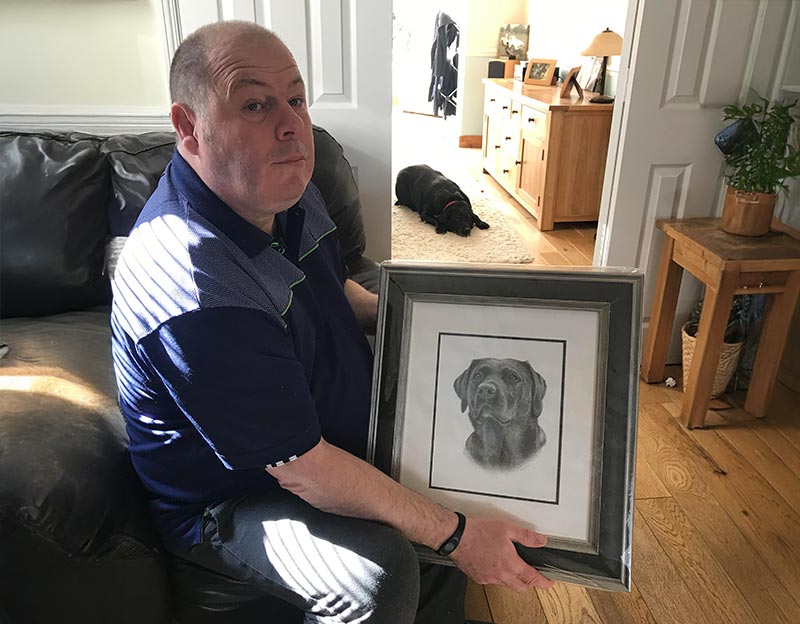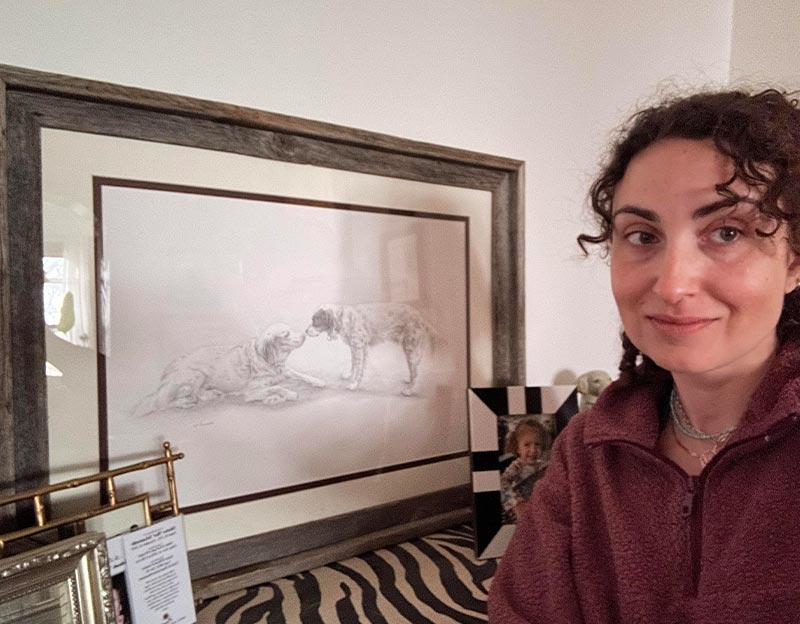 ---
Bilbo
Read a wonderful testimonial from Tony and Bilbo on Bilbo's Pencil Portrait Webpage >>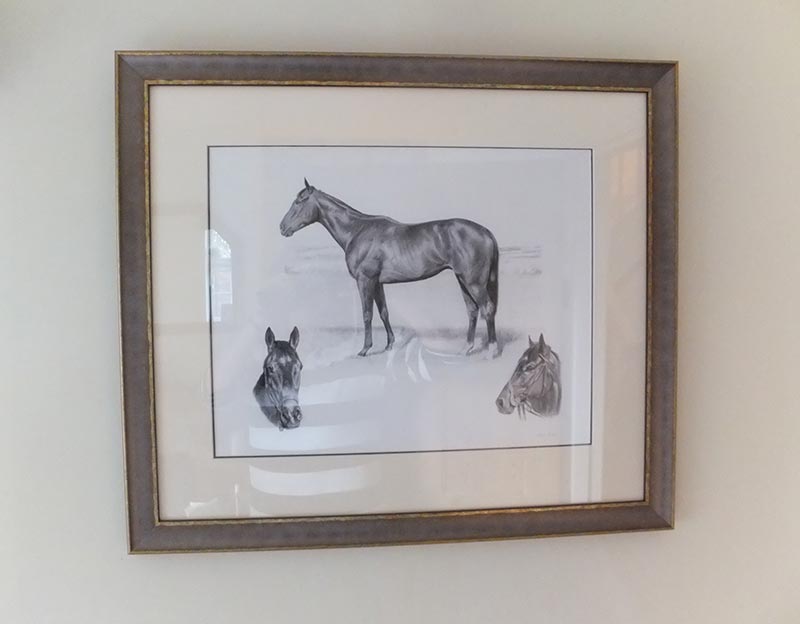 ---
Shep
Hi Melanie, Please see below Shep fully mounted and framed. We are chuffed to bits with the final portrait. Cheers Steve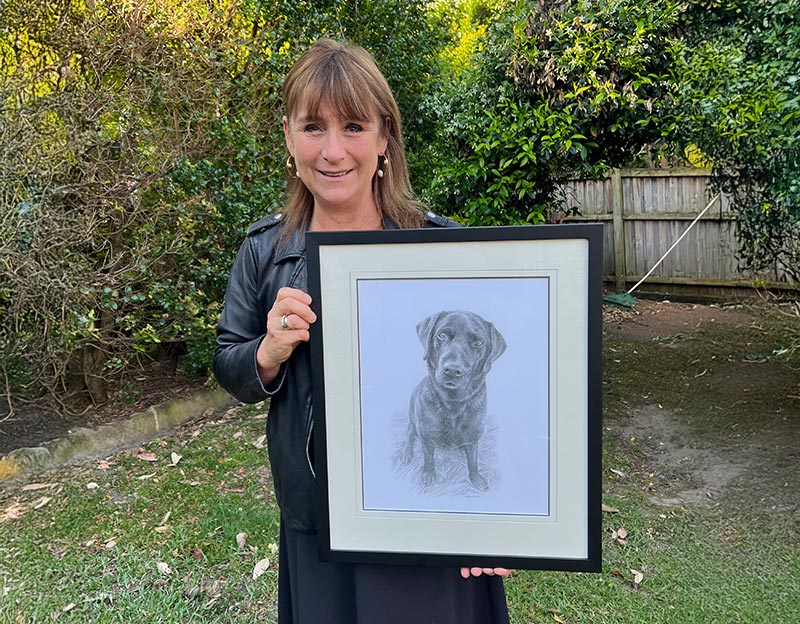 ---
Bea
Hi Melanie,
The picture is a perfect likeness of Bea and also a beautiful drawing in its own right. We have had builders in, unfortunately for rather longer than planned, so I have decided to send you some photos of Bea and her portrait in the meantime. Charles loves his present and we can't wait to hang the drawing once we have our house back to normal.
All the best,
Elizabeth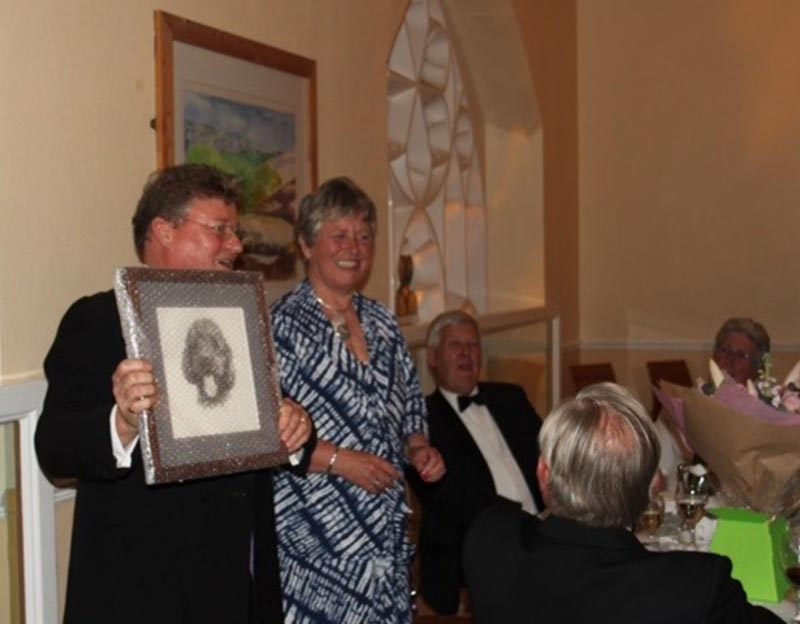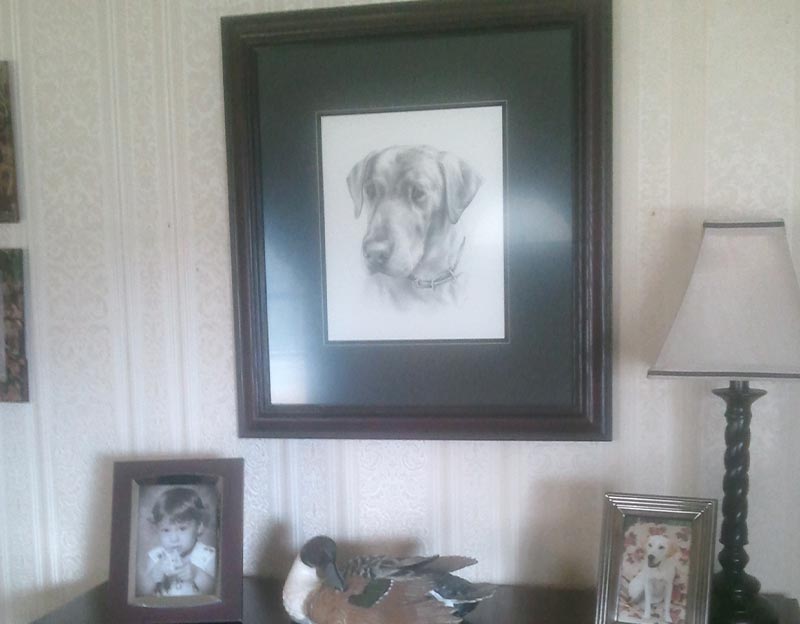 ---
Junjie & Daisy
I received many wonderful testimonials from Jungi and Daisy's owners - take a look at the portraits page here to read them >>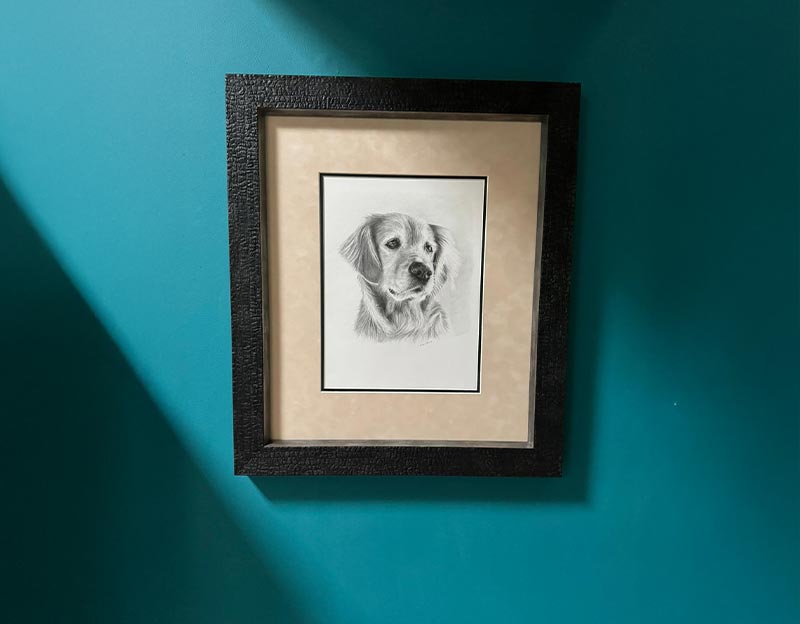 ---
Romy
Caroline emailed me some lovely testimonials about Romy's portrait. head on over to see them here - Romy's Portrait >>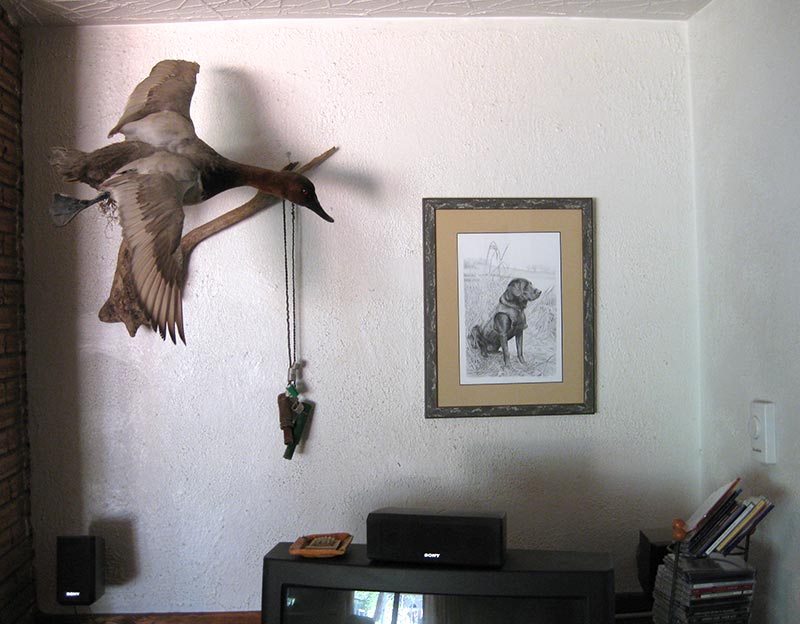 ---
Max & Bentley
Read about these two amazing photos and a testimonial from Vicky on Max and Bentley's page - Jack Russell Portraits >>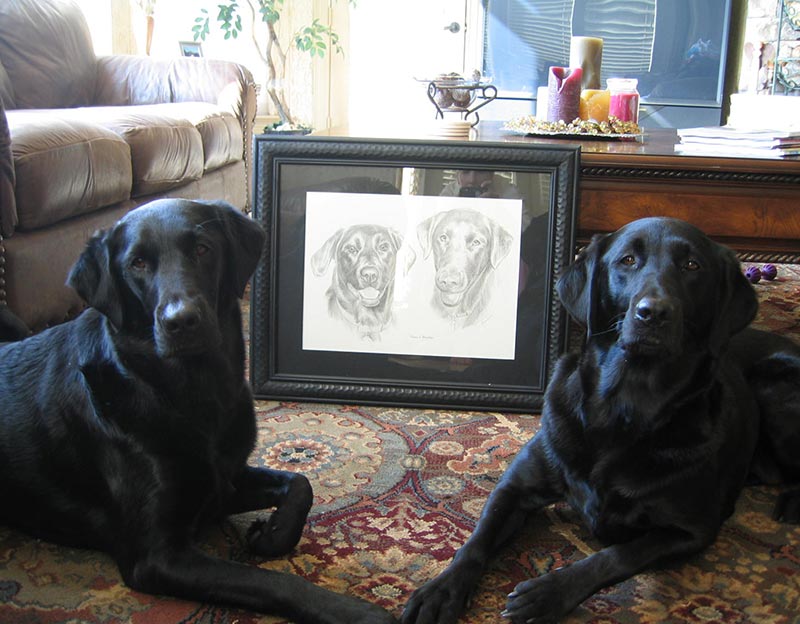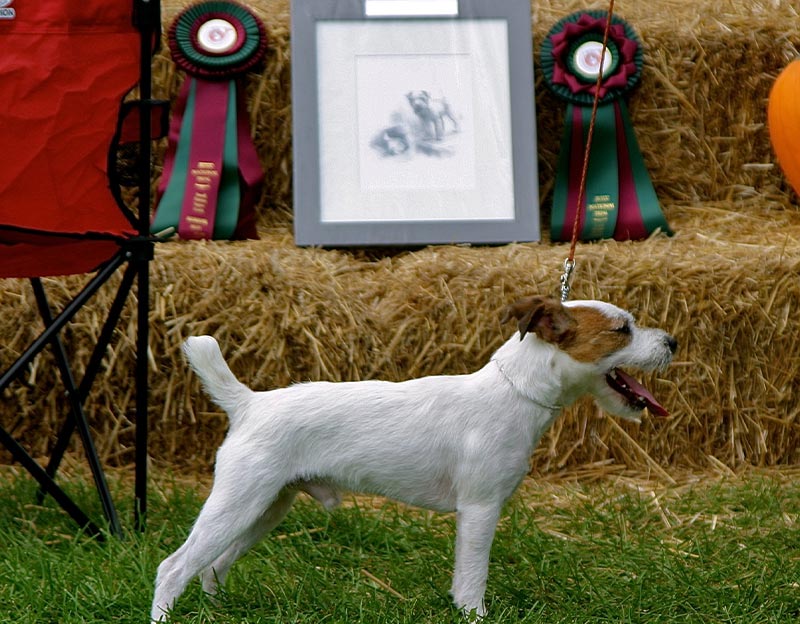 ---
Fritzie vom Wildförstersee
There are more testimonials from Anna Victoria and friends of this portrait than I have ever received before, have a look at Frog's webpage to read them! Flatcoated Retriever Portrait >>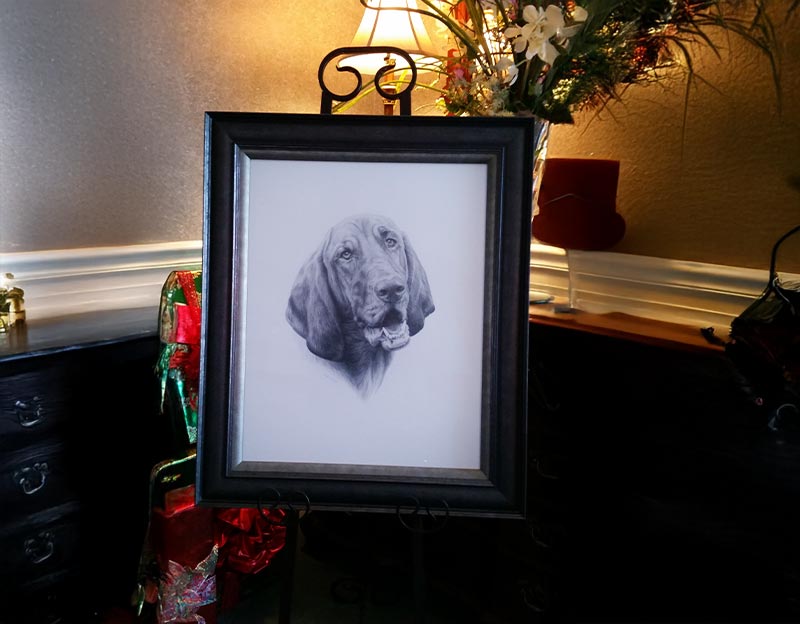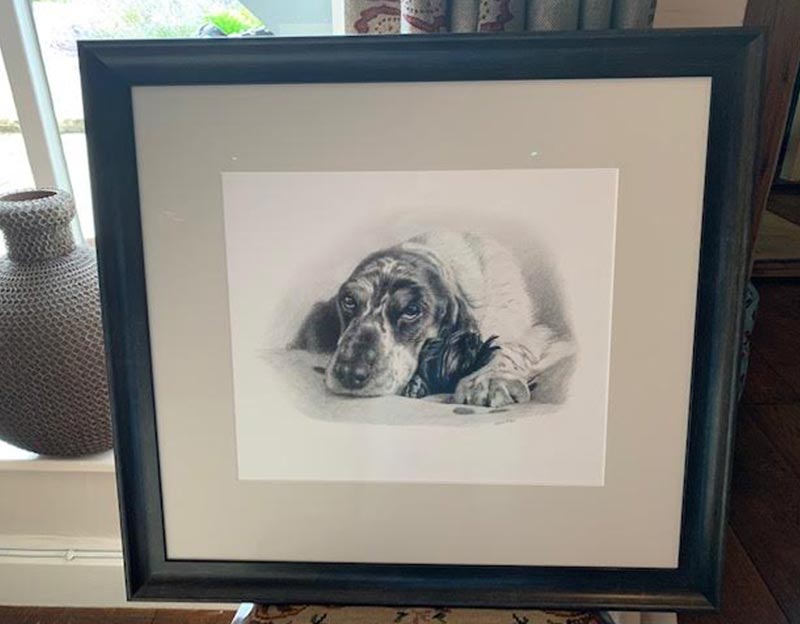 ---
Baxter
Read the testimonial from Nick here - Cat Pet Portraits >>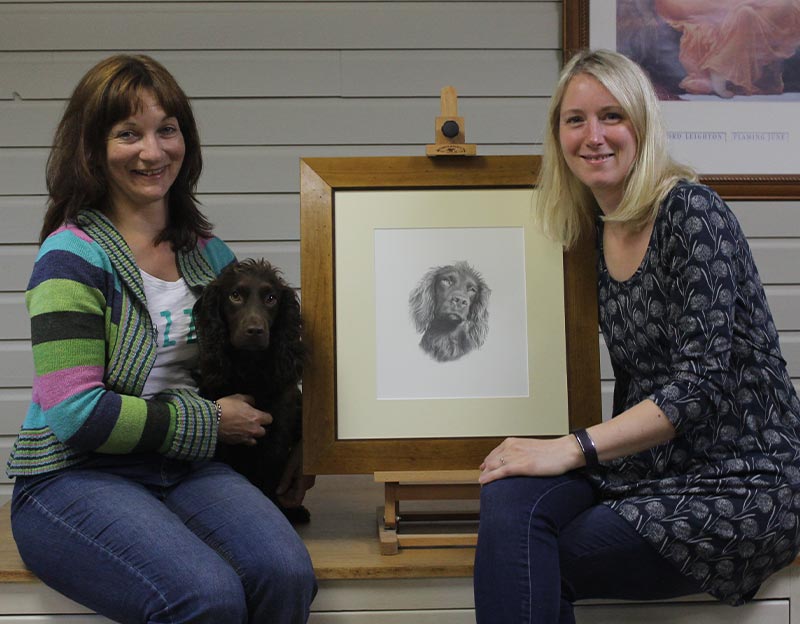 ---
Eleanor
Comment on Facebook - Jo wrote: "Melanie, it looks so wonderful! I can't wait to see the original. Thank you thank you for doing such a great job on this for us. You have such a great talent. Thanks for sharing it with all of us!"
Comment on the blog - Just had to say that you caught Eleanor's different looks so well. Thanks!
Comment on Facebook -

Jo wrote: "Melanie, the original got here today! Can you believe it? That was very fast! It is absolutely perfect! It is even so mauch better in person than even the proof showed. Thank you, thank you for doing such a fabulous job on capturing our little Eleanor's expressions. I will send you photos of it framed and on the wall :-)"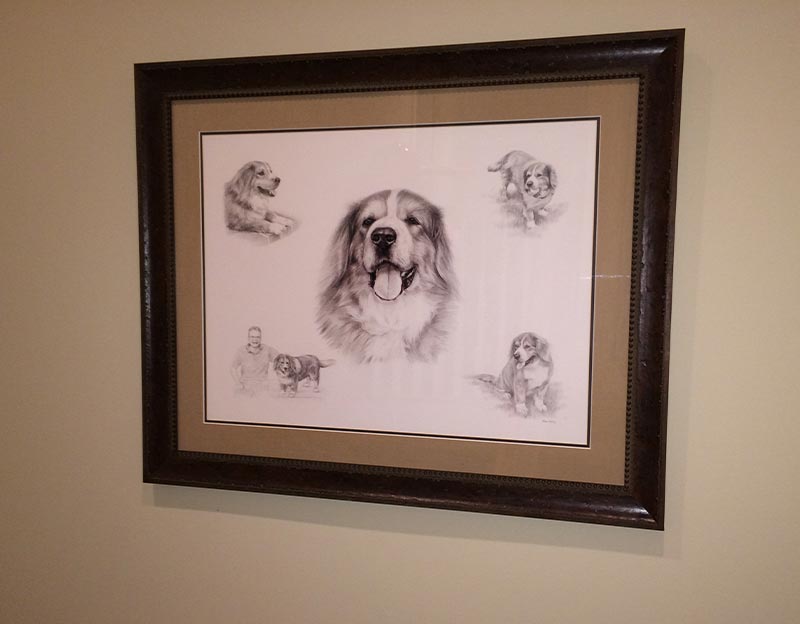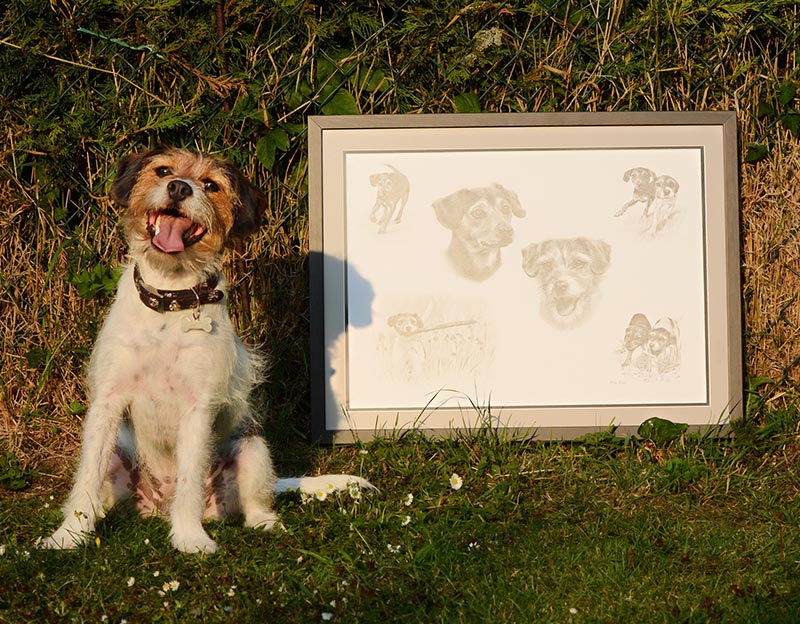 ---
Raisin
Hi Melanie,
Thank you so much for a beautiful picture, it arrived about 1 30 pm and we are speechless it is already up on the wall and looking great (we always knew it would be). We are amazed at how you have captured the cheeky look in his eyes and the frame is perfect for the picture. Hope you are ok and over your cold and keeping busy nothing found in the post but i will keep looking. Once again we can't thank you enough for your time and effort for the picture. I will take a picture of it on the wall and i will send it to you and you are more than welcome to use it on your website. Would be nice to keep in touch. Many Many thanks Lee and Carol x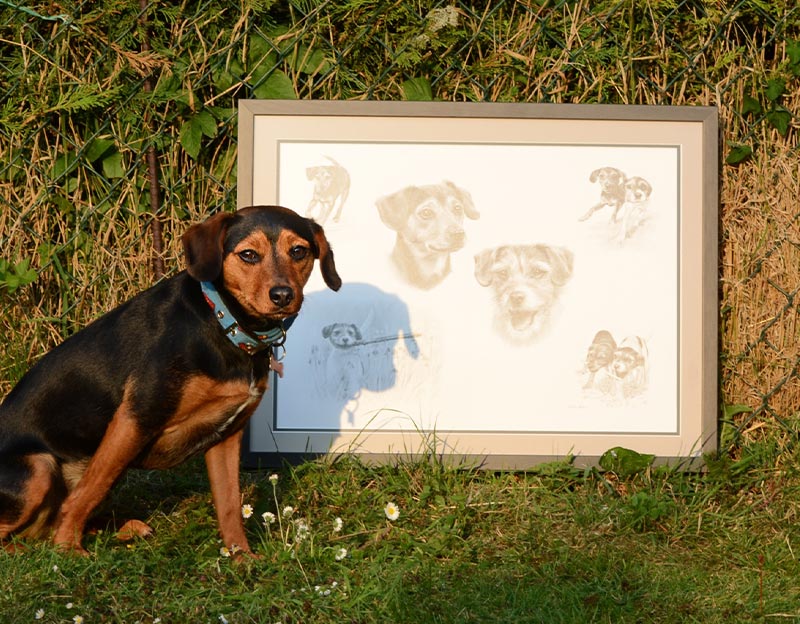 ---
Barney
Hi,
I am absolutely delighted with the portrait, Melanie! Nina (Norway)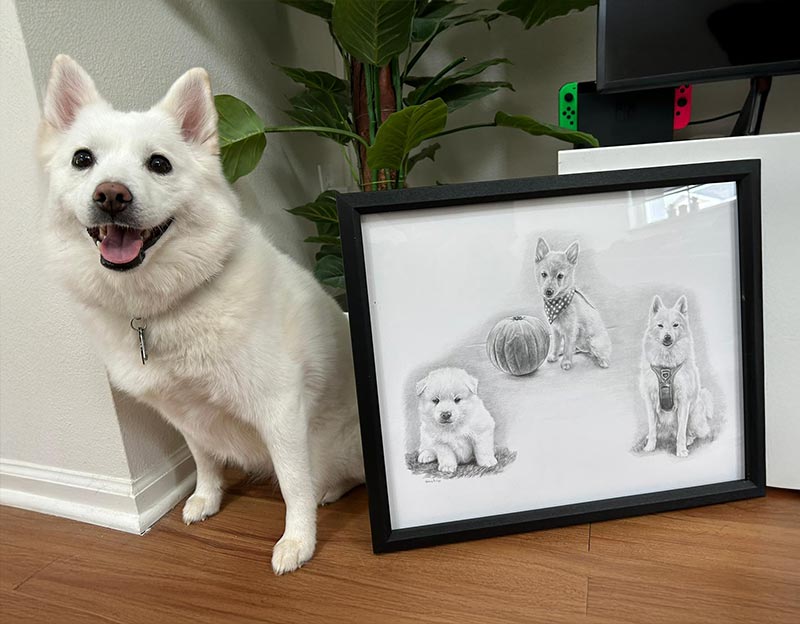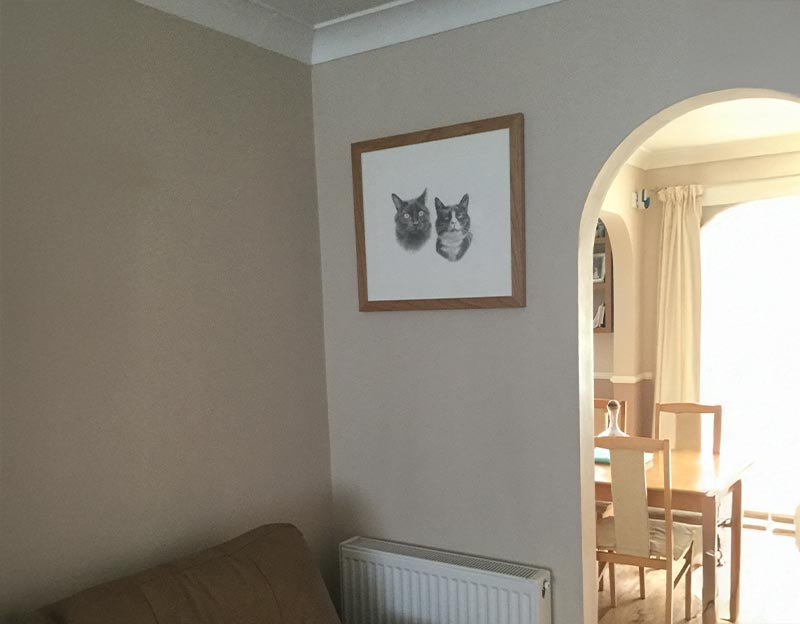 ---
Emma & Brooklyn
Hi Melanie!
We received the drawing of Brooklyn and Emma!!!!! It looks exactly like them....My husband loved it and made me take it to get it framed immediately so "nothing would happen to it!" It was delivered on Wednesday of this week and I apologize for not letting you know sooner that we got it!!! We love it and thank you so much!!!I will definately take a picture of it with Brooklyn and Emma and send it to you as soon as the frame is completed!!
Jennifer Bates
---
Ivar & Gaspar
Dear Melanie, The portrait of G + I is great.
I shall have it framed and take a photo to send you.
Best regards,
David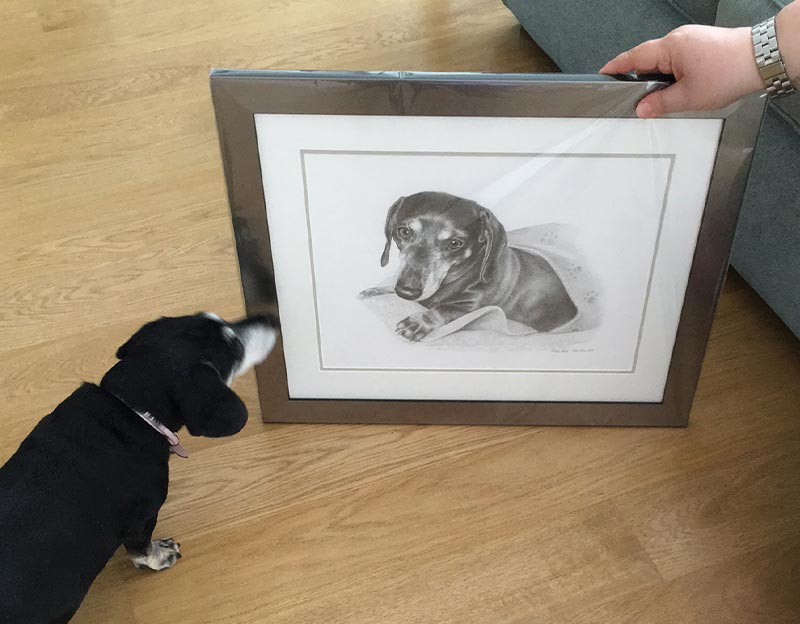 ---
Kirby
Craig emailed me a number of happy client emails of Kirby through the process and if you would like to read them, take a look at Kirby's portrait page here - Retriever Pencil Pet Portraits >>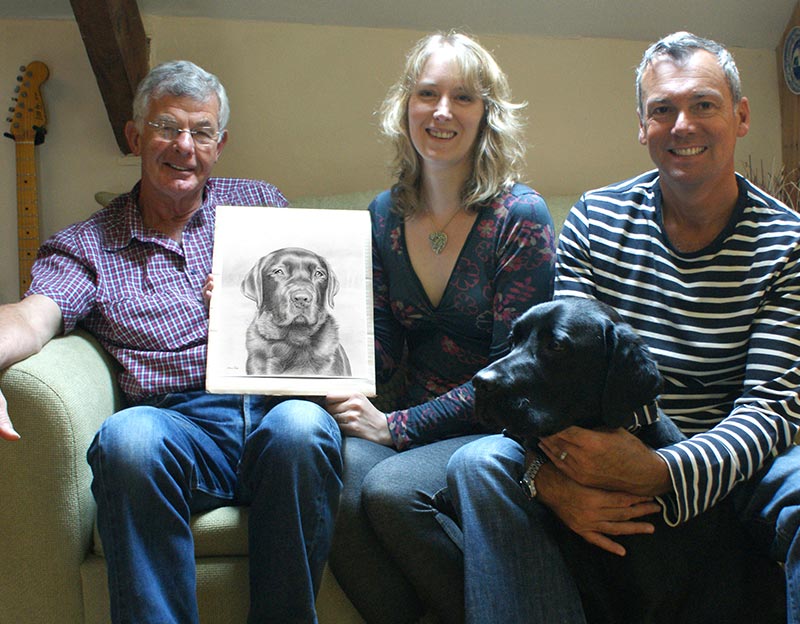 ---
Webster
Melanie, The portrait of Webster just arrived. The portrait is beautiful!
Christie Chandler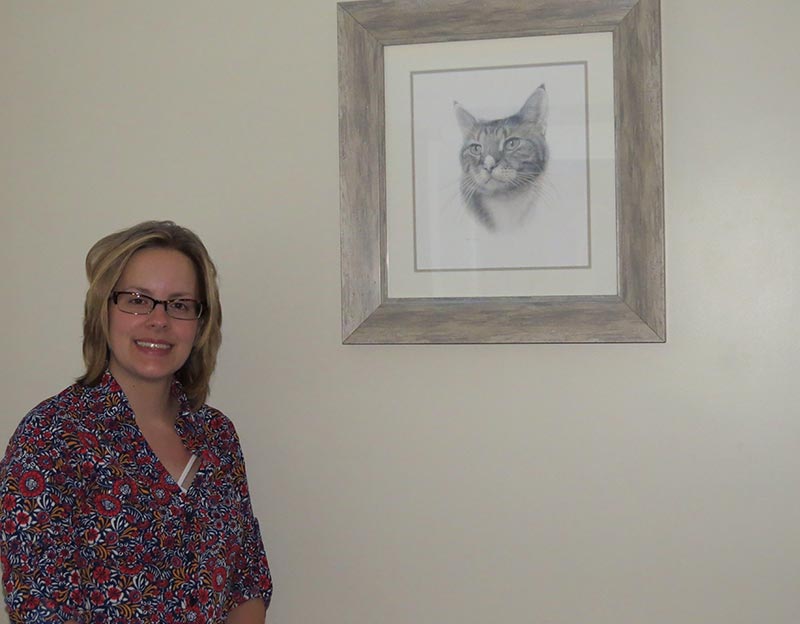 ---
Non & Stanley
Hi Melanie,
Just wanted to let you know that iwan loved the portrait!!! He was so shocked and couldn't believe that i was able to keep it all a secret!! I'm definitely in his good books at the moment!!
Everyone that has seen it, can't believe how well you've captured them!!
Thank you so much
Esyllt and Iwan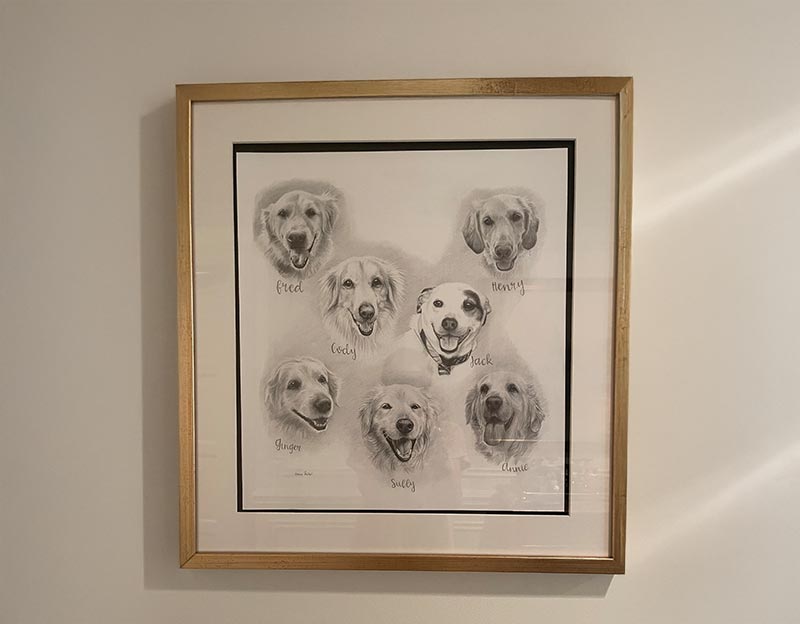 ---
Nina & Smasher
Dear Melanie,
My name is Catherine Nash. My uncle, Fred Nash, commissioned a portrait of my cats (Nina and Smasher) from you and he asked me to send you a couple of photos of the portrait once it was framed. I'm sorry it took so long to send these pictures but it took a while to get it framed. Thank you very, very much for the portrait. It is absolutely stunning and captures my cats perfectly.
Best regards,
Catherine Nash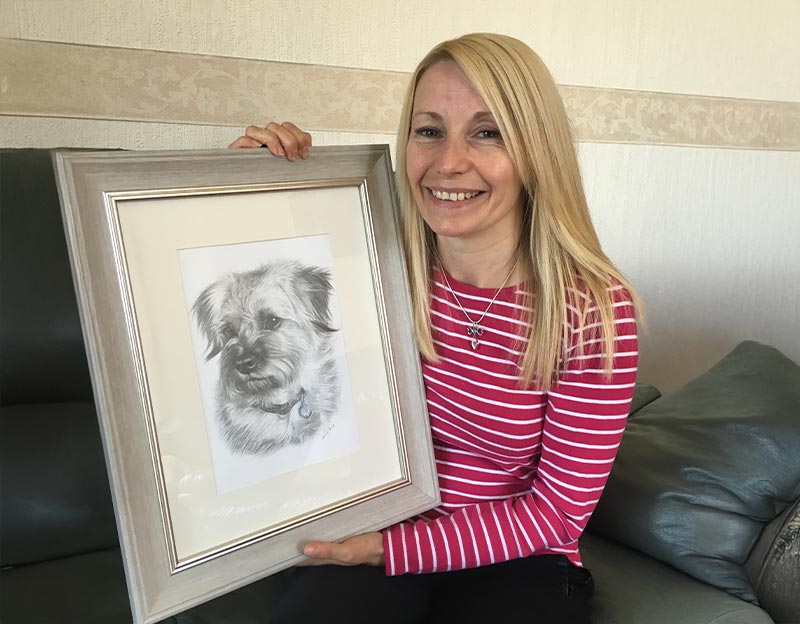 ---
Doc
Hi Mel, I LOVE it!!! Looks fantastic - can't wait to see it in reality! Is it also possible to have no hint that it's a sketch or picture on the packaging as it may be intercepted on route! Thanks so much Mel, I hope you now get a well deserved break for Christmas! Best wishes for a happy christmas!
Ruth Colson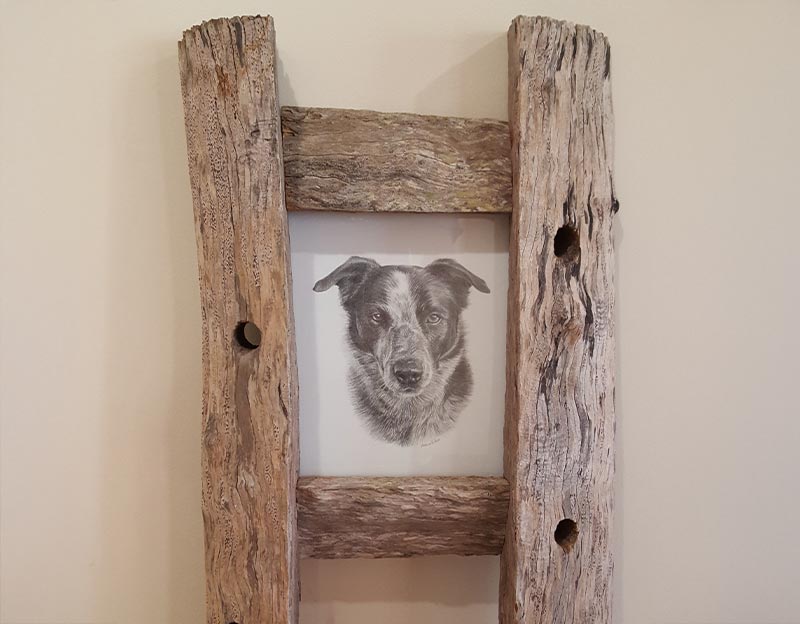 ---
Charles
Karen, who is a retiurning clients , sent the most lovely testimonial and photos for my website. Have a look at the horse portrait page about Charles to read more - Horse Pencil Portraits >>
---
Pickle
Hello, Enclosed are a few pics for you. Pickle framed (below) Pickle with the pack, and one of Flo-Jo catching the sun this morning. Thank you yet again for a "wow" portrait of Pickle. We are slowly running out of wall space.
All for now,
Shirley, Kev & Flo-Jo.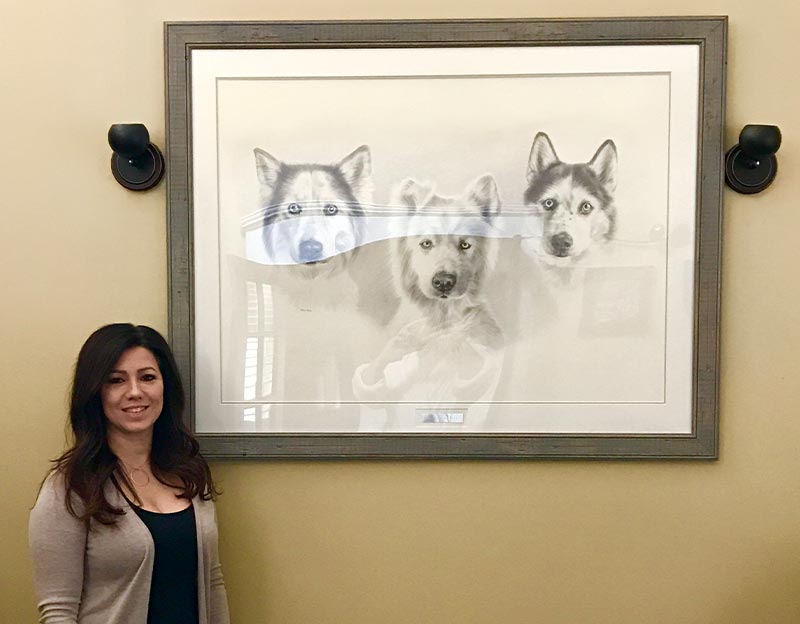 ---
Kim
Hi Melanie,
Just to let you know that we are absolutely delighted with the portrait of Kim that you have done for us. It really captures her likeness and her personality. I have attached a couple of photo's taken of the picture now we have had it framed, although in the photo the picture is not on the wall we have it hung on normally as there was to much light reflecting off it.
Once again thanks for an excellent portrait, Best wishes,
Neil Mandam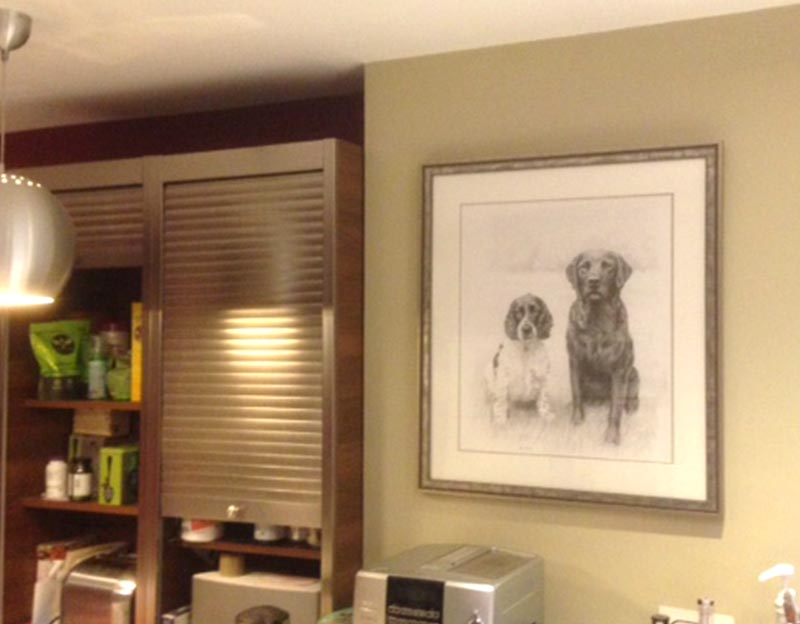 ---
Marcio & Red Boy
Hi, Melanie!
How are you?..... I am enclosing the pictures I've taken of the portrait on the fireplace shelf and on the wall where it is right now. Then, you can choose the best one for your site. Everyone who sees your beautiful work appreciates it greatly. It is really fabulous........My kindest regards,Regina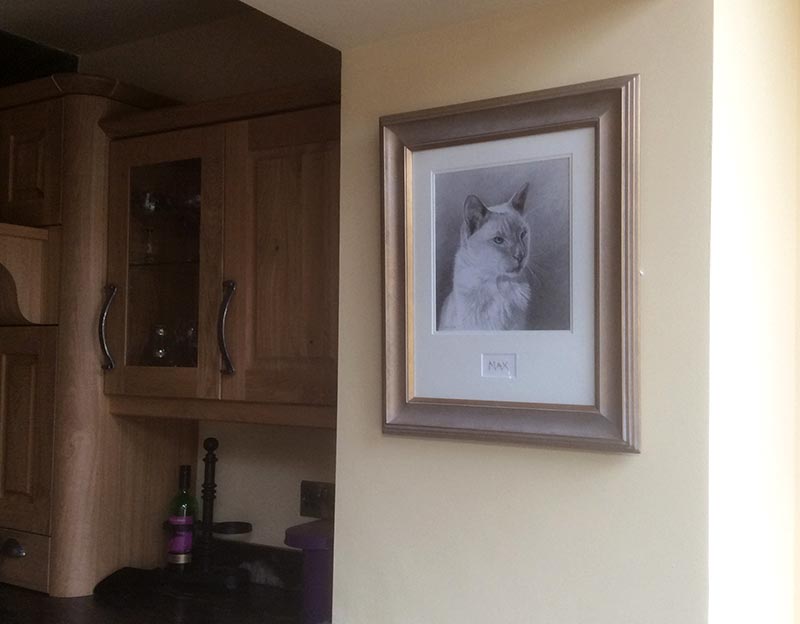 ---
Poppy & Barney
Hello Melanie,
We are thrilled to bits with the portrait. It looks so lovely in that frame. Thank you for taking so much care and giving attention to detail. With every good wish. Angela xx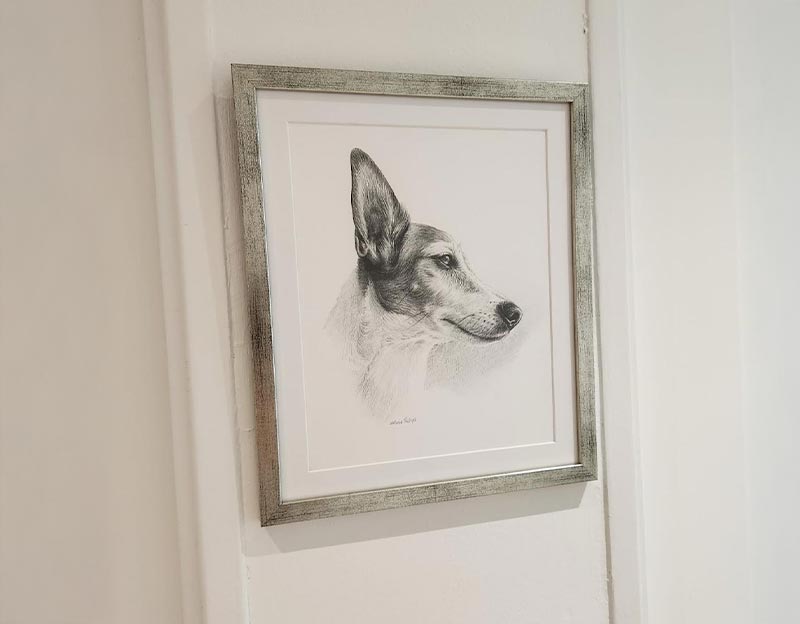 ---
Pete & Lisa
---
Skye
Hello Melanie and Nicholas,
The portrait turned up last weekend but we did not have the big unveiling until Christmas Day when everyone was here and everyone could not get over the likeness to the photo as it is perfect and Skye to a tee. Roger is over the moon and it has pride of place in the lounge right opposite where Roger sits so he can see it all the time. We had nine for Christmas Day and twenty for Boxing Day so it has been admired by many in just two days.
From a delighted family
Sandra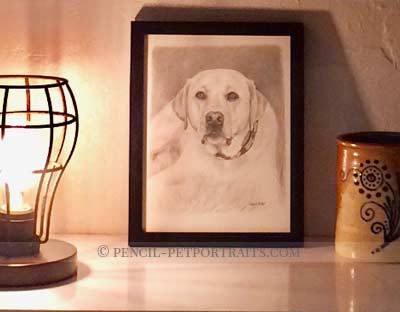 ---
Arthur
We are always happy for our clients to collect their portrait from the studio, and Andrew, David and Arthur visited our studio to collect their portrait, as you can see from the photo below.
Take a look at Arthurs webpage for lots more information - Labrador Pet Portraits >>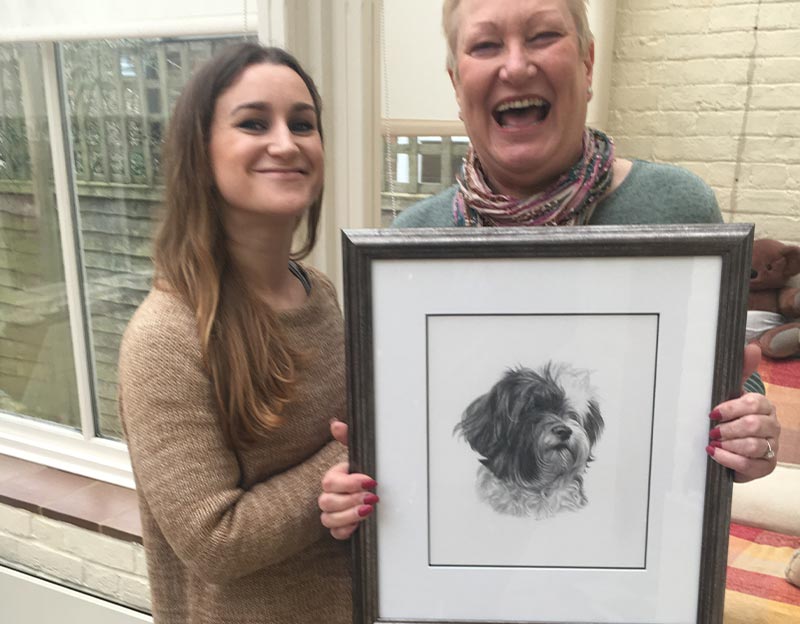 ---
Charlie Brown
Becky sent so many wonderful photos of Charlie brown and his portrait, I cant thank them enough for letting me use them on my website. Have a look at Charlie Brown's page for more - Cockapoo Portraits >>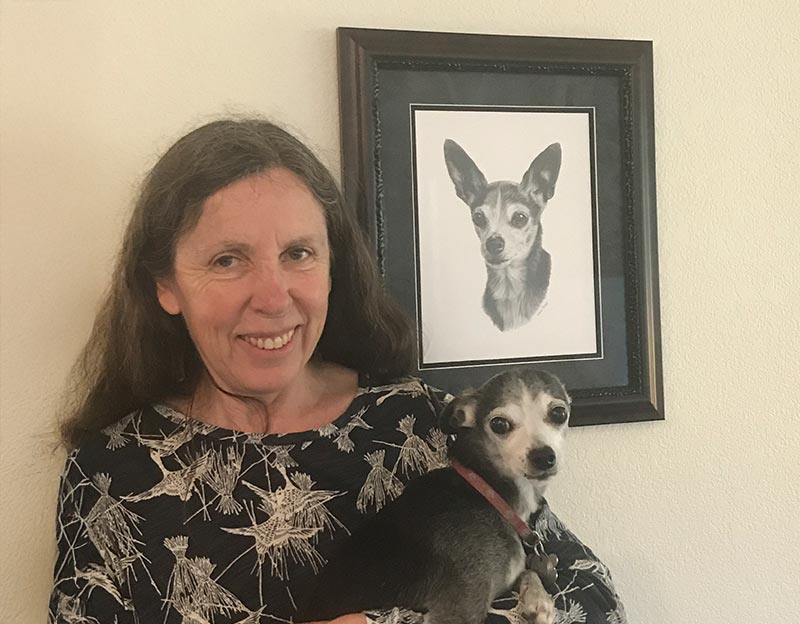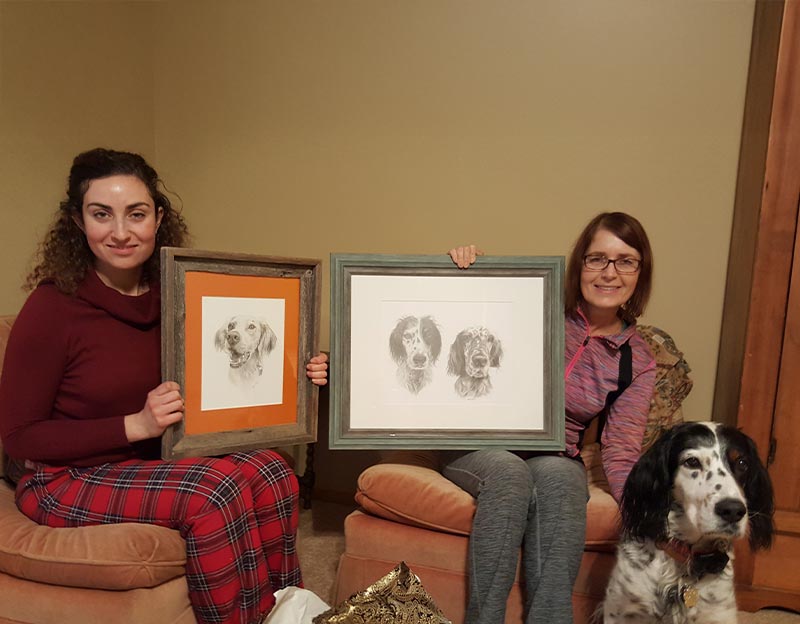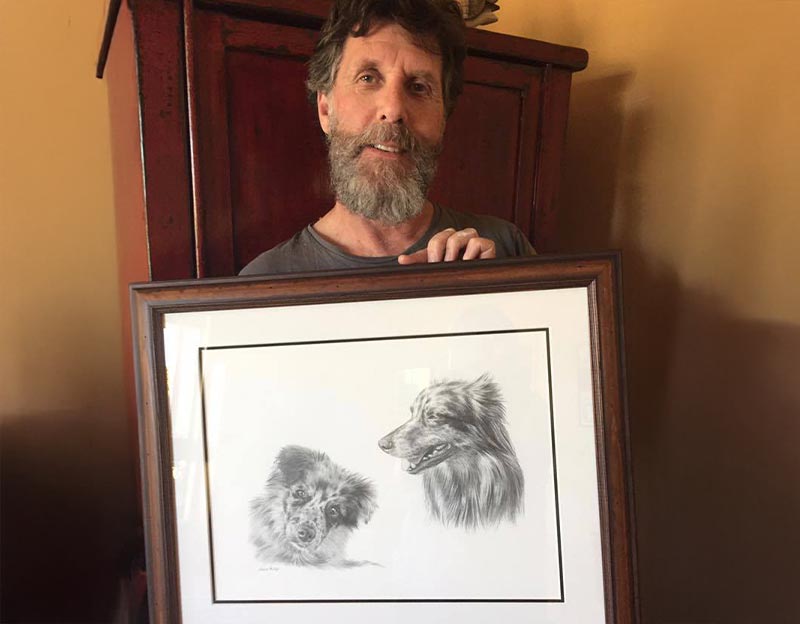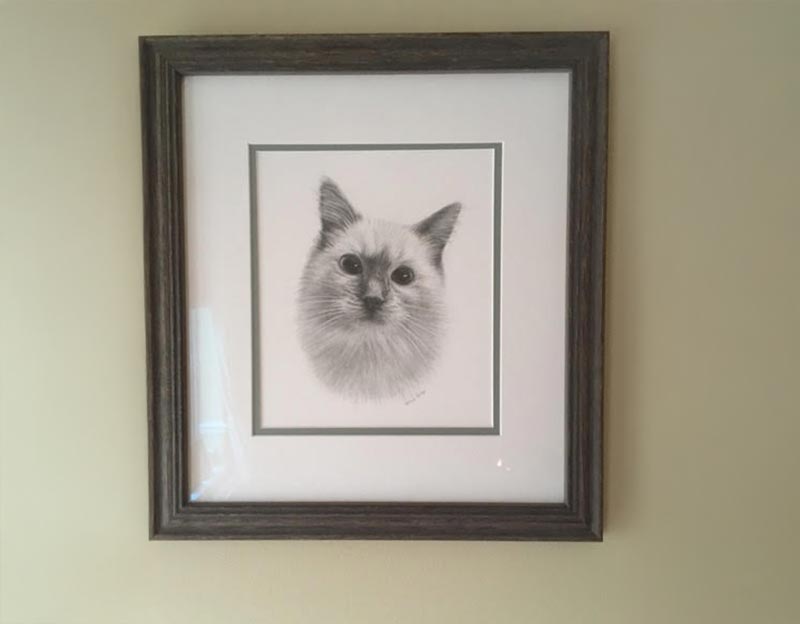 ---
Al
Donna Westbrook and Michael Johnson were very kind in taking this photo during Michaels birthday Celebrations. Have a look at Al's webpage to see more - horse pencil pet portraits >>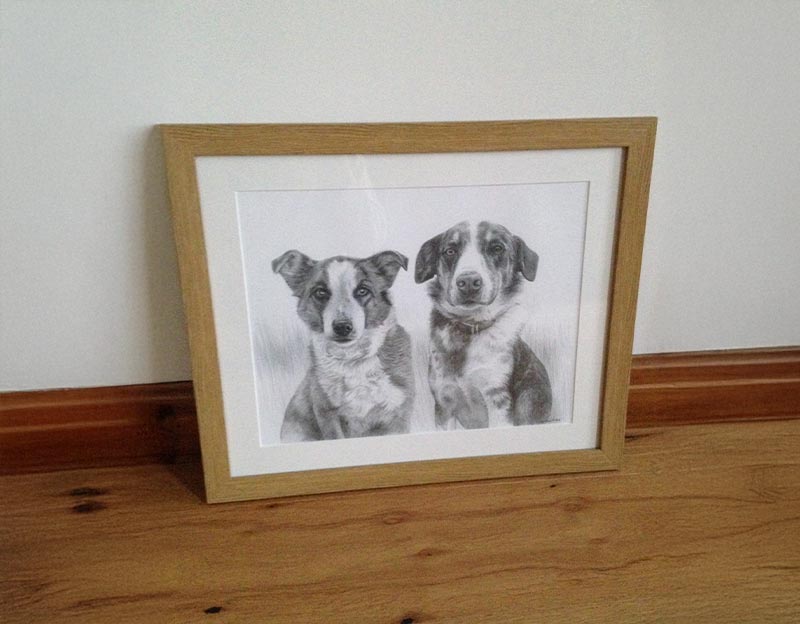 ---
Sam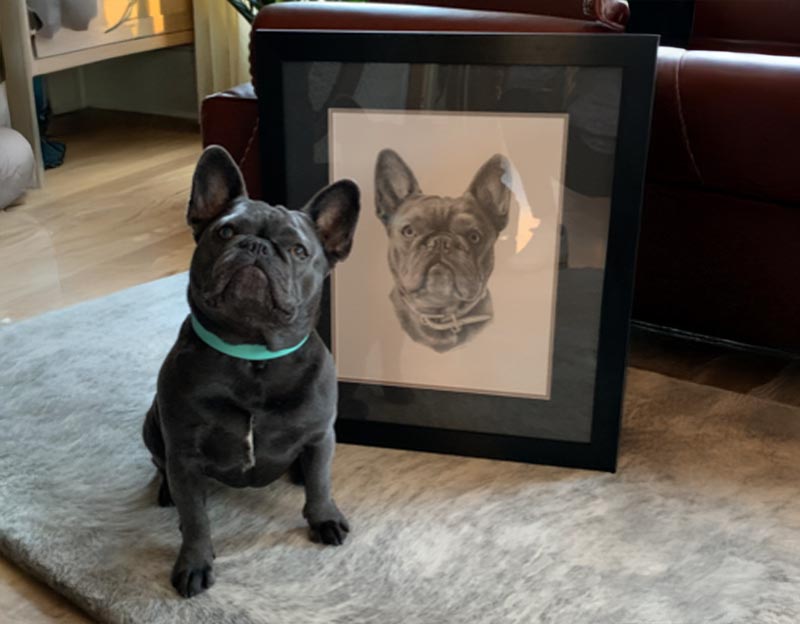 ---
Bliss
Hi Melanie I love it!
That regal that Bliss always had is there in her eyes. Thank you sooooo much for another excellent portrait. I can't wait to get them both on the wall together.
Thanks again
Mandy xx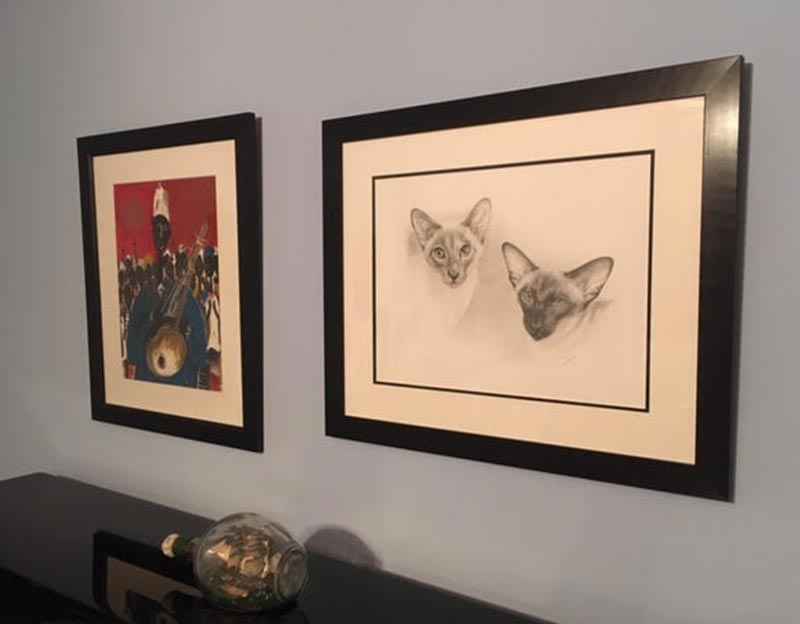 ---
Holden
Lizabeth is a returning clients and you can see a few portraits in my gallery of her dogs. This is Holden and you can see and read more form Lizabeth here - Jack Russell Pencil Pet Portraits >>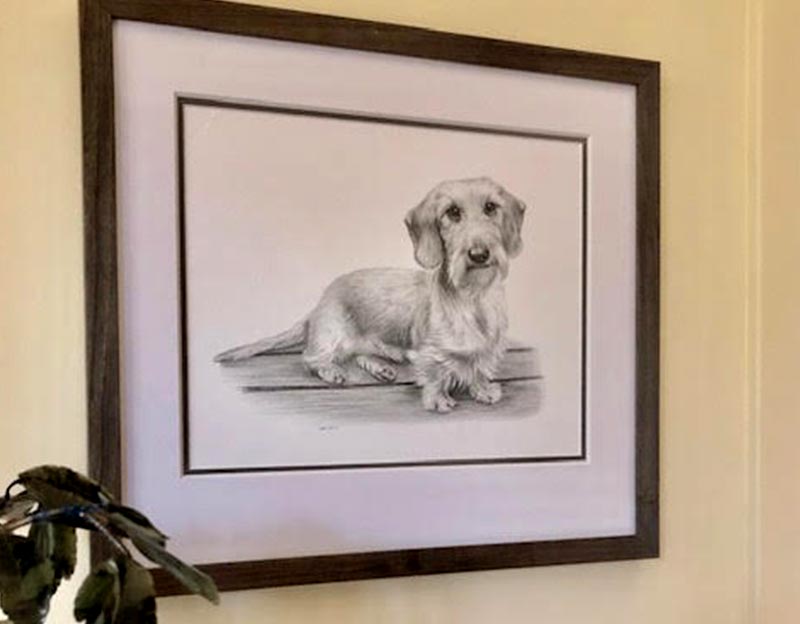 ---
Moose