French Bulldog Portraits
Welcome to my French Bulldog Portrait of Junju and Daisy. This drawing was commissioned by clients in Hong Kong which was very exciting! Scroll down to read more about the commission and see photos of both dogs with their completed portrait.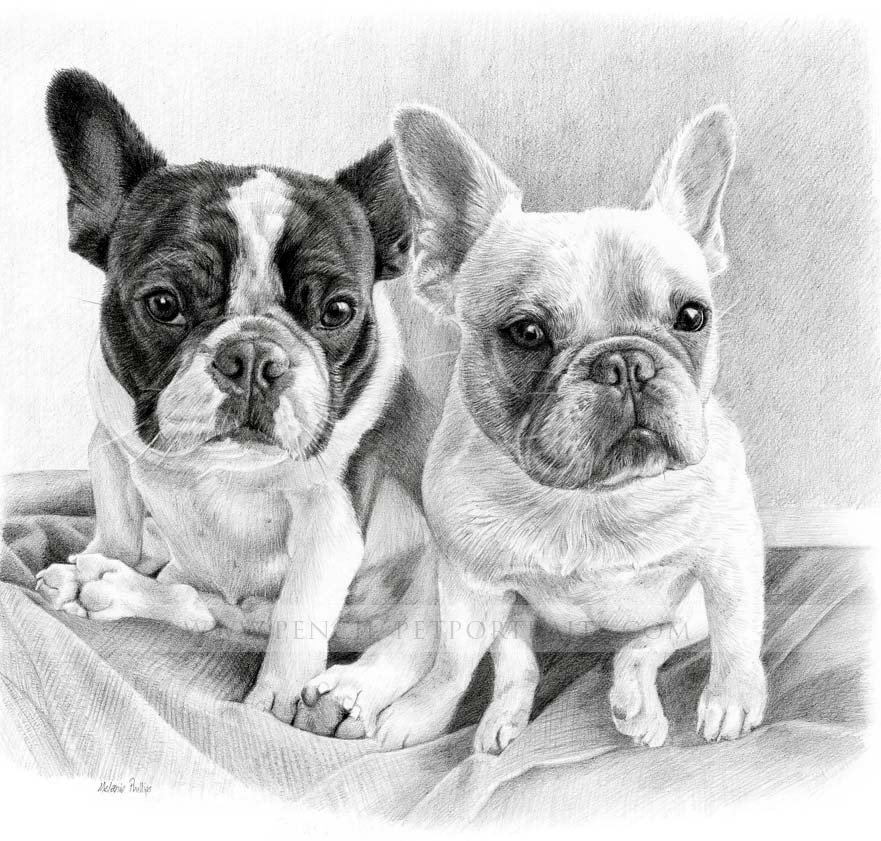 The French Bulldog Pet Portrait in Pencil
I took a few photos close up with my pencils just prior to sending the portrait of Malcolm and Wendy.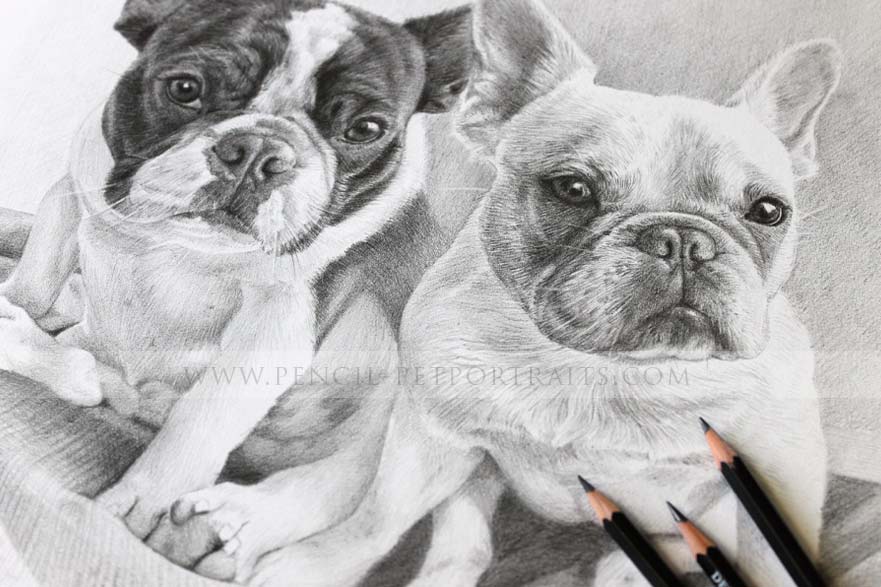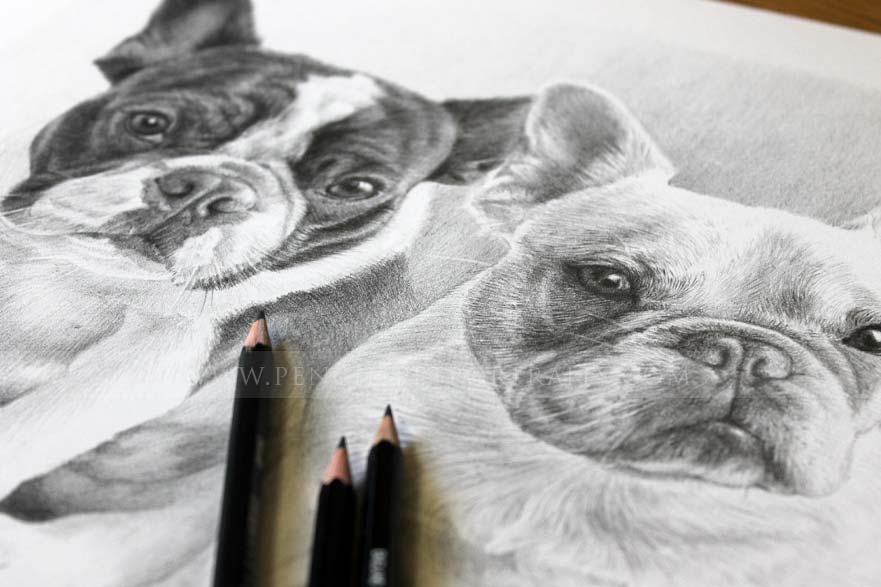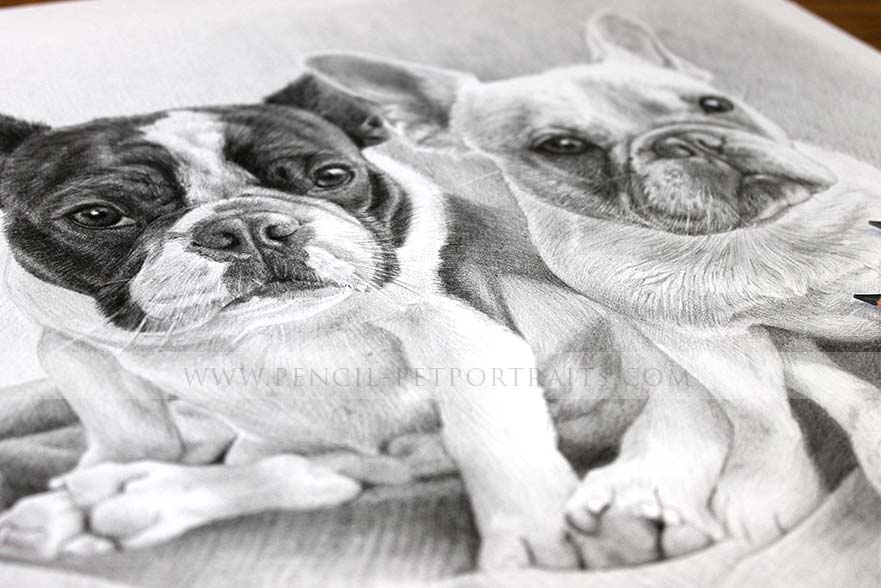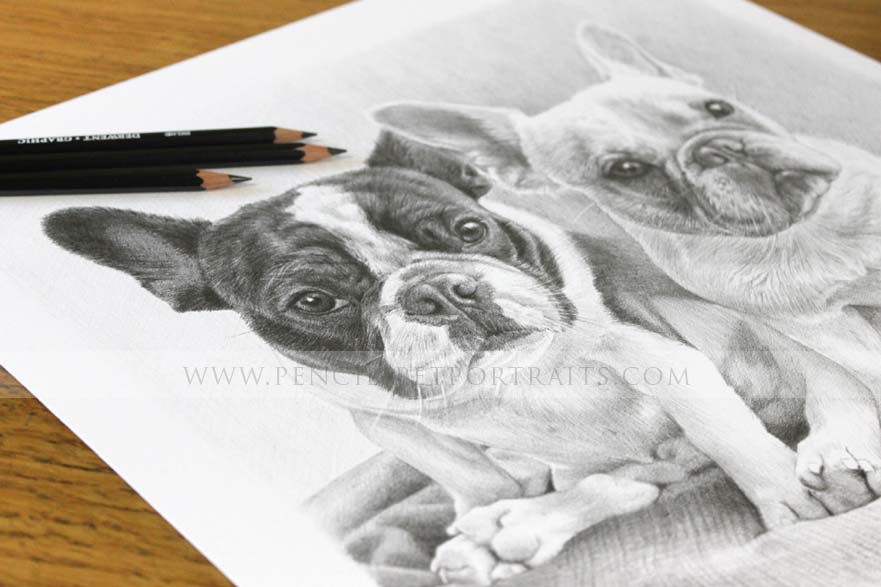 About the Commission of French Bulldogs Junji & Daisy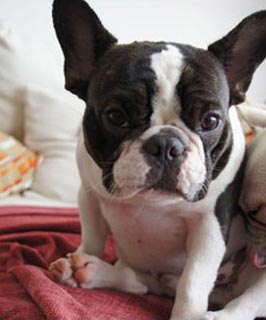 Malcolm Underwood, (Hong Kong) contacted me in 2014 for a portrait as he is owned by two gorgeous French Bulldogs called Junji and Daisy! He wanted to commission a 14 x 14 pencil portrait for his wife as a surprise gift. I was delighted and I absolutely loved the photos that Malcolm had sent and was really excited to get started on the commission.

Once the drawing was completed I photographed it and emailed a final version for approval. He showed his wife the pencil portrait and she loved it. You can read a number of emails and messages from both Malcolm and his wife Wendy below. Some when they saw the portrait, and also some when they received it.
Malcolm had the portrait framed when it arrived in Hong Kong, which was perfect. I do have a lovely framer called Amanda and can send framed portraits overseas if clients would like me to arrange everything for them. I have lots of frame choices and you can see them in my framing gallery.
Client Feedback
Hi Melanie,
Thanks again we are over the moon and cant wait ! The wife was teary !
Thanks again
Malcolm
They are amazing, just fantastic, I cant quite believe it as their personality is right there ! Thank you ever so much. Malcolm
Hi,
I now know about my surprise and although I haven't yet seen the original I really love your drawing!!I can not believe how you have captured them, you can even see their personalities in it.
Thank you so much!!
Wendy
Hi Melanie,
We finally got around to framing the drawing that you did of us! Here's a photo of Daisy checking it out, she looks well chuffed! We'll get our humans to take a photo of us both beside it and send it to you soon! Thanks so much! Thank you for our portrait, we love it!!!
The Portrait with the dogs
The photos below both dogs with the portrait...I hope they make you smile.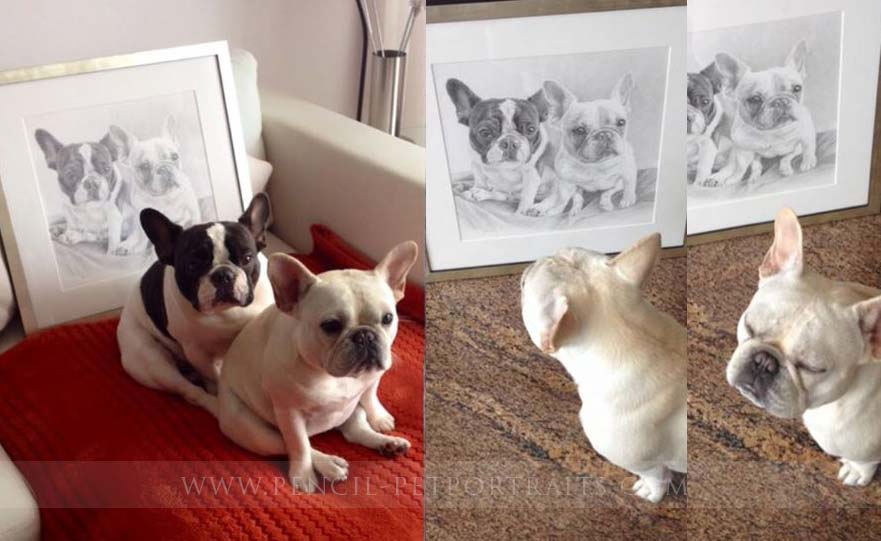 French Bulldog Portraits
If you have a French Bulldog and would like a pencil drawing of them for you or your friends and family, you are more than welcome to email me at any time. Id love to see photos and chat with you about their portrait. Contact me at any time!