Double Cat Pet Portraits
Welcome to my double cat pet portraits drawing of Pixie and Boots commissioned by Howard as a surprise for his wife for her Birthday. Howard ordered a gift voucher so that Julie could choose exactly what she wanted for her portrait which was wonderful. Read below how the commission developed below.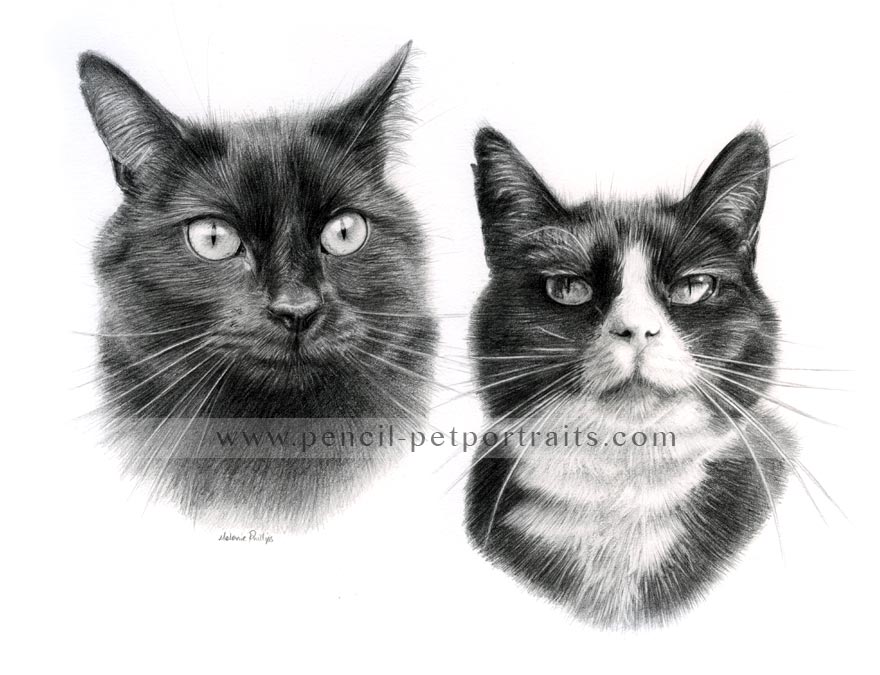 The Portrait with my Pencils
The photos below should allow you to see the portraits in a much more natural way. I hope you like them!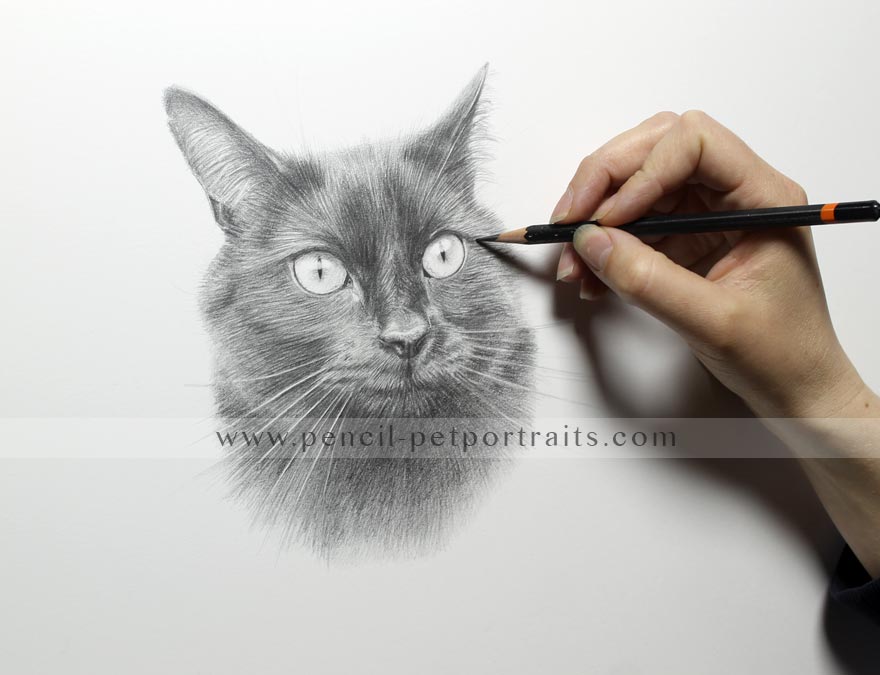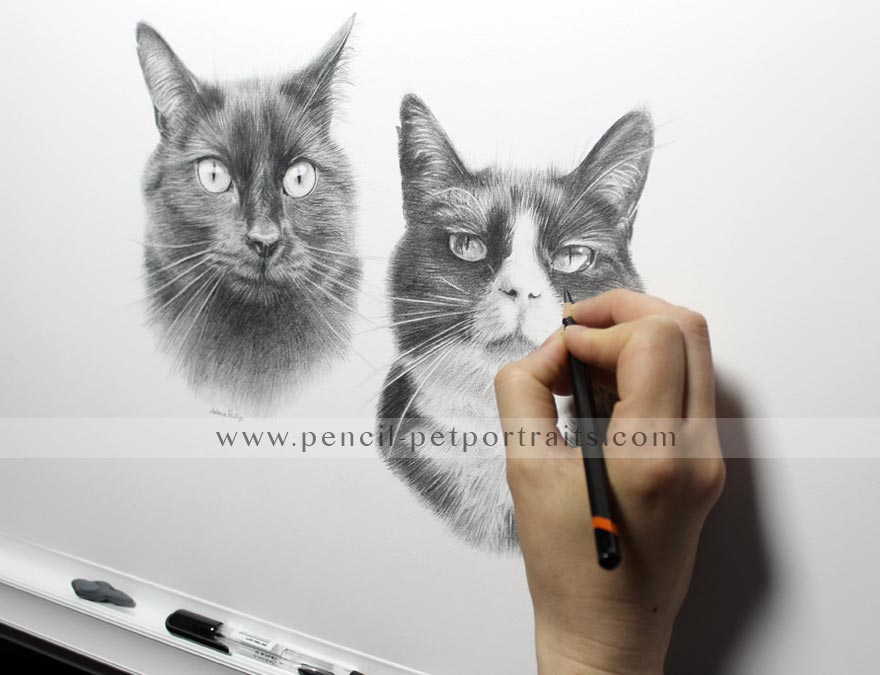 About the Commission of Pixie & Boots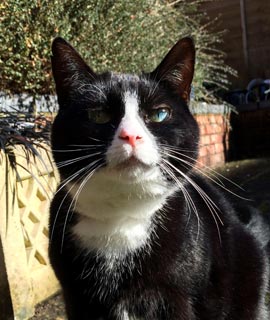 Welcome to the portrait of Pixie and Boots. My client Howard emailed in October 2015 as he wanted to purchase one of my personalized email gift vouchers for his wife Julie. It was to be her Birthday just before Christmas and he wanted to surprise Julie with the gift of a portrait, however preferred her to have full control over the details of the commission.
Julie was delighted with the surprise and in January 2016 emailed with lots of lovely photos of their cats Pixie and Boots. I was really looking forward to getting started the design process with Julie of how both Pixie and Boots were going to be positioned in the drawing.
Julie and myself chatted about their positioning and after a couple of mock-ups being sent back and forth via email, we achieved the perfect positioning. I have added a couple of photos of me working on the drawing along with the reference photos I used below. I have also added two testimonials of when Julie and Howard received the final scan of the artwork.
Melanie,
Hi Melanie
Thanks for the email, portrait looks fantastic, Julie will not see until later tonight, she will be in touch later
again many thanks
Howard
Melanie,
Hi Melanie,
You have captured their personalities beautifully.
Many thanks.
Julie
The Portrait in Situ
Julie and Howard very kindly sent a photo of the portrait when it was framed. They chose an oak frame to match the other frames they have in their home form their local framer. I am always happy for my clients to have their portraits framed using their own framers. If this isn't possible for you to do, I have lots of choice over on my framing gallery!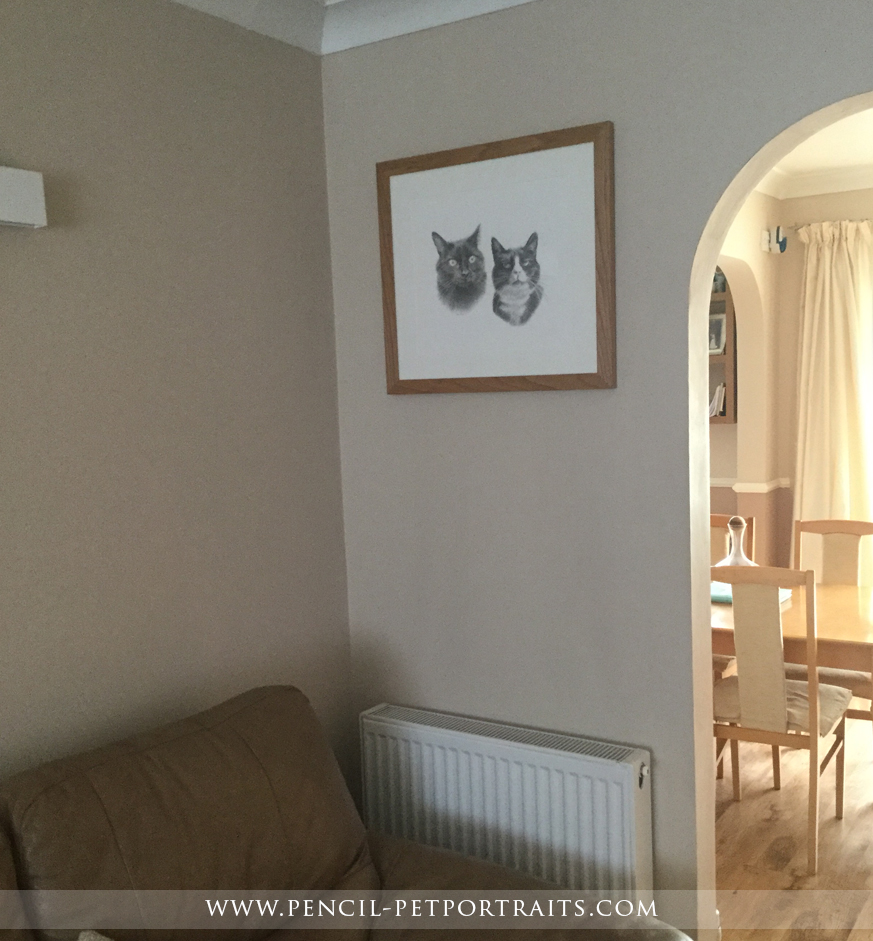 Double Cat Pet Portraits
Visit my contact page and get in touch if you are thinking of having a portrait of your cats. Or maybe you would like a double portrait of your dogs or horses. Let me know your ideas and send me your photos today!