Double Dog Portraits
This portrait was one of my favourite dog portraits to date! Stanley and Jarvis, a Black Labrador and Cocker Spaniel, are absolutely gorgeous and I really enjoyed drawing them. Scroll down to read about how the commission came about and view lots of lovely photos too!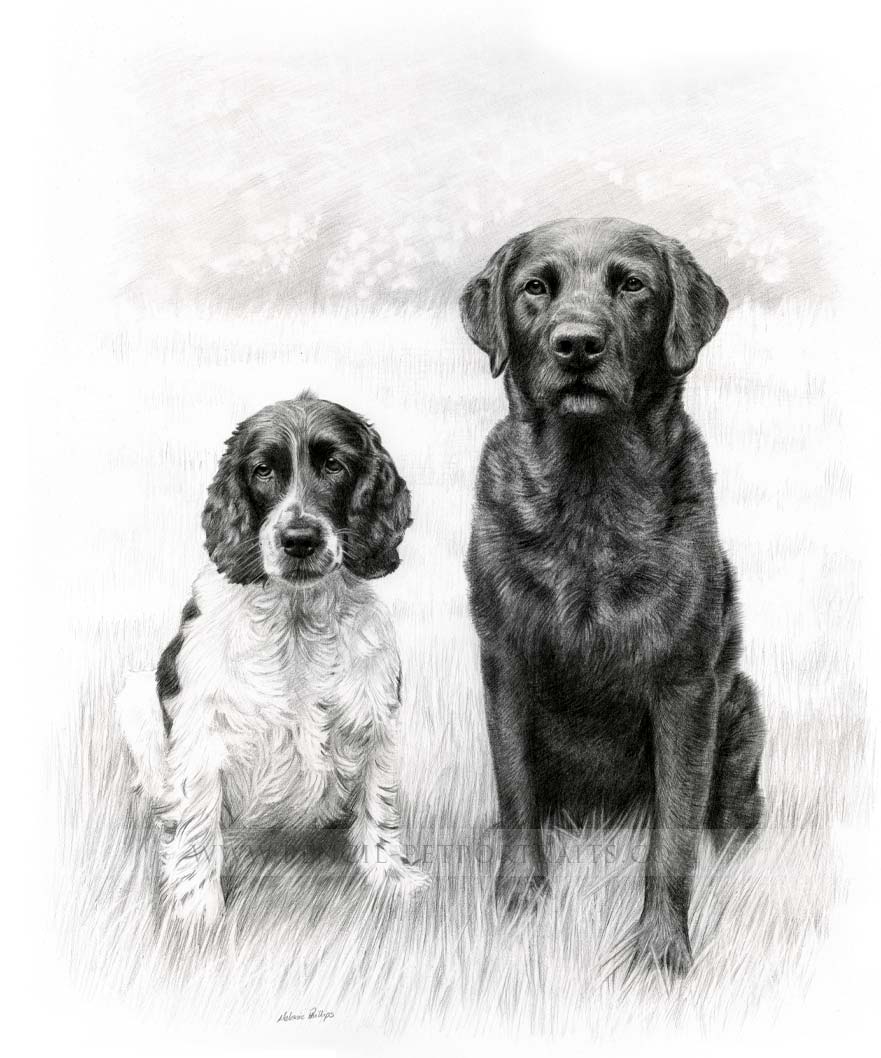 The Dog Portrait in Pencil
Before framing I took a few photos of the portrait with my pencils to enable viewers to see the scale of the drawing. This was quite a large drawing at 18 x 14 - the perfect size for the dogs.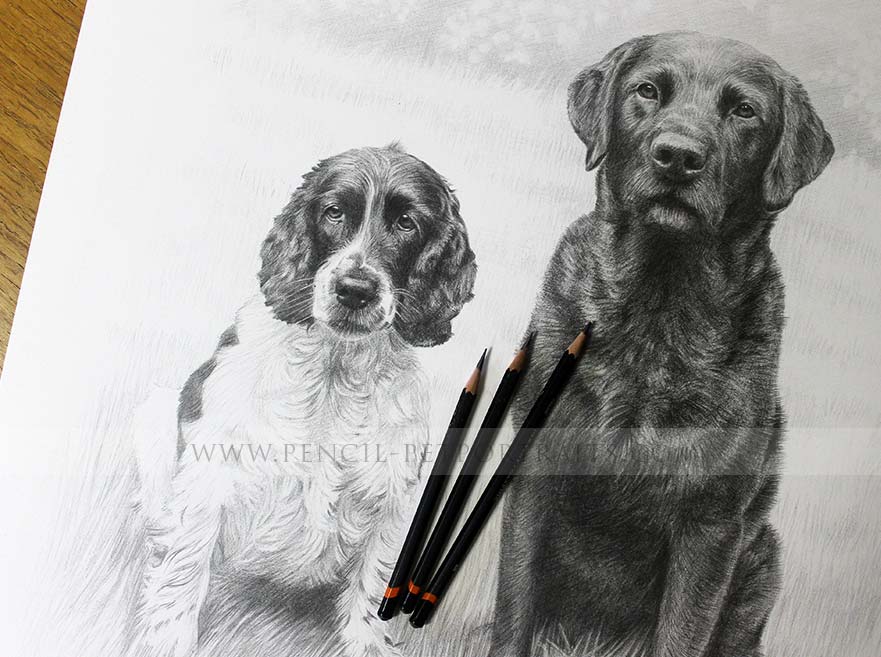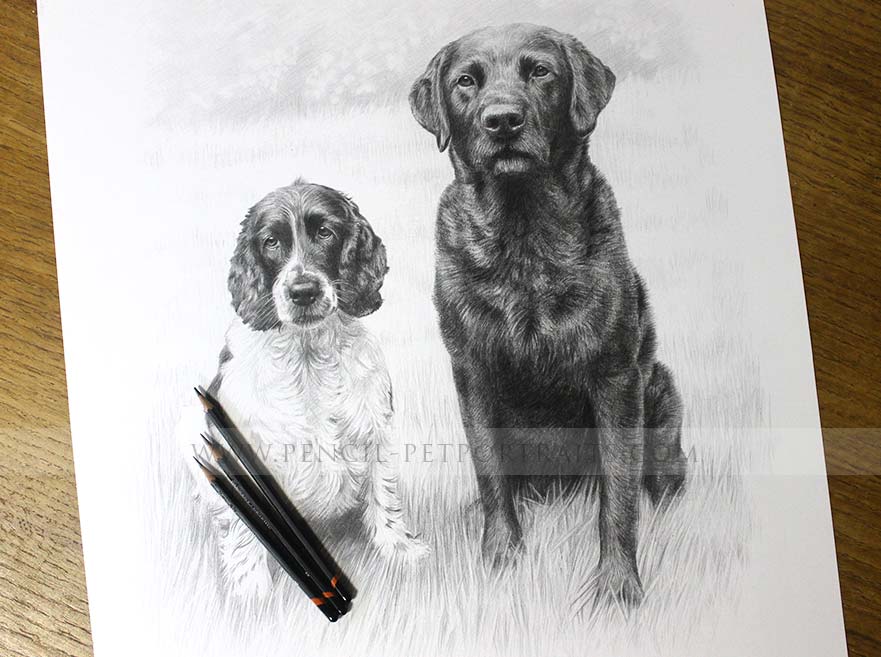 About The Dog Portrait Commission of Stanley & Jarvis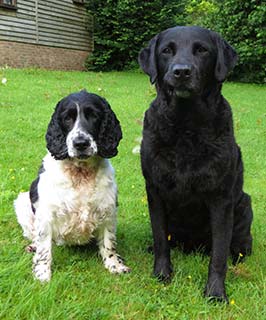 The portrait of Stanley and Jarvis was one of my favourite commissions of 2017! Sarah emailed to see if I would be able to create a gift voucher pack for her friend Paula. Sarah's family wanted to commission a portrait for them as a thank you gift for helping them with her children's teeth. Paula is an orthodontist! What a lovely way to say thank you!

Paula was thrilled with her gift and emailed photos of her two dogs Stanley and Jarvis which were perfect for a portrait. You can see that Stanley has his lip curled in the photo however I drew it naturally in the portrait with his lip down.

Sarah commissioned an 18 x 14 portrait and you can read two testimonials emails from both Sarah and Paula when they saw the final portrait below. You can also see a photo of when the portrait was displayed in Sarah's home too!
Client Feedback
It's beautiful Melanie!
I love it!
Thanks so much!
Will get one of our lab soon too!
Sarah X
Dear Melanie,
It's really beautiful – I think you have captured them really well. Ben and I are really happy.
Best Wishes
Paula
The Dog Portrait in Situ
Paula was thrilled with the portrait and emailed a photo of the it hanging in their kitchen. A place where the whole family could see it on a daily basis which was wonderful. You can read a testimonial from Paula below!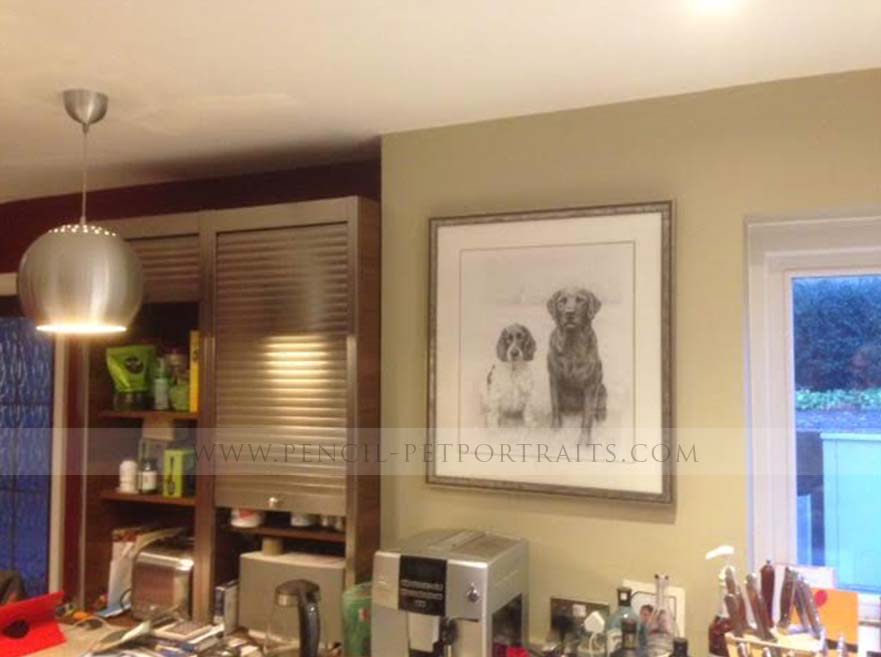 Dear Melanie,
Thank you so much for our fabulous framed drawing of Jarvis & Stanley!
We are so impressed, it is gorgeous - well done!
Hope to be in touch again one day.
Best wishes
Paula and Ben
The Dog Portrait Framed
The frame worked really well with the drawing, especially the inner mount being a light grey colour. It matches beautifully with the frame and brings the frame and drawing together nicely.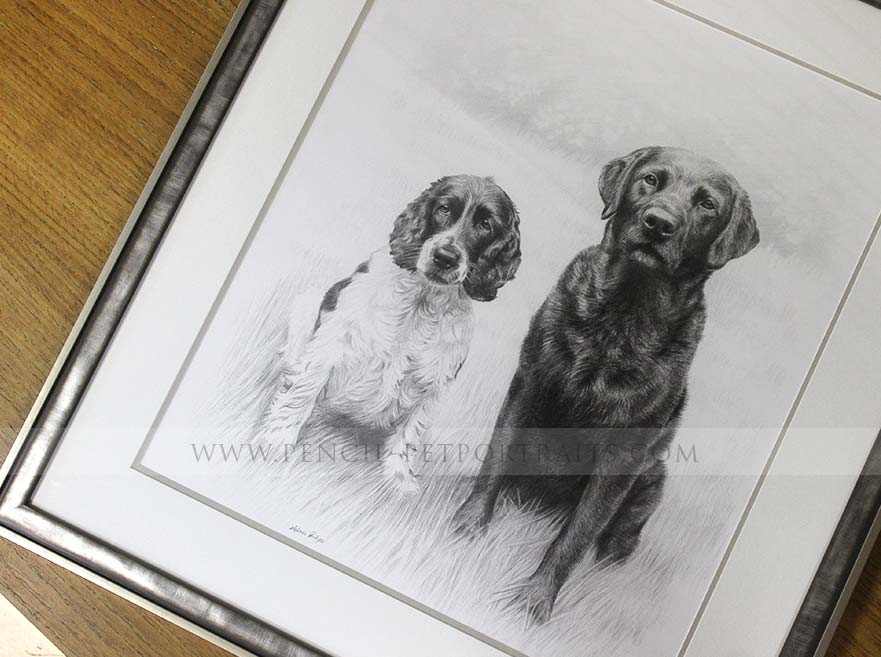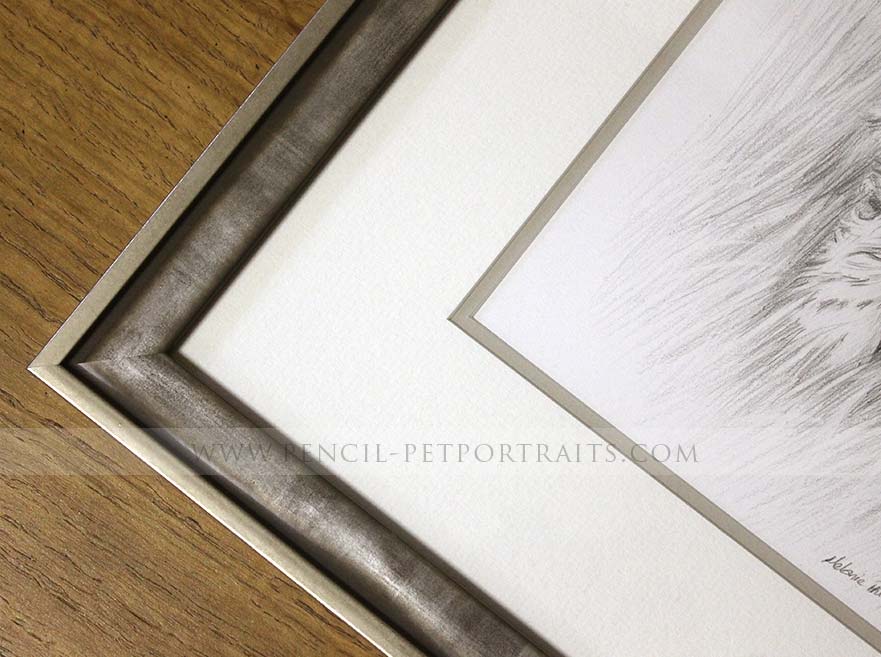 Double Dog Portraits
If you have a Labrador or a Spaniel you would like to have a portrait of, why not take photos of them and send the via my contact page. Let me know your ideas and I look forward to working with you soon!