Horse Pet Portraits
Welcome to the pencil portrait of Siyouni, the Aga Khan's stud stallion! The portrait was commissioned for the Aga Khan's birthday, scroll down to read more about the commission and how it all came about.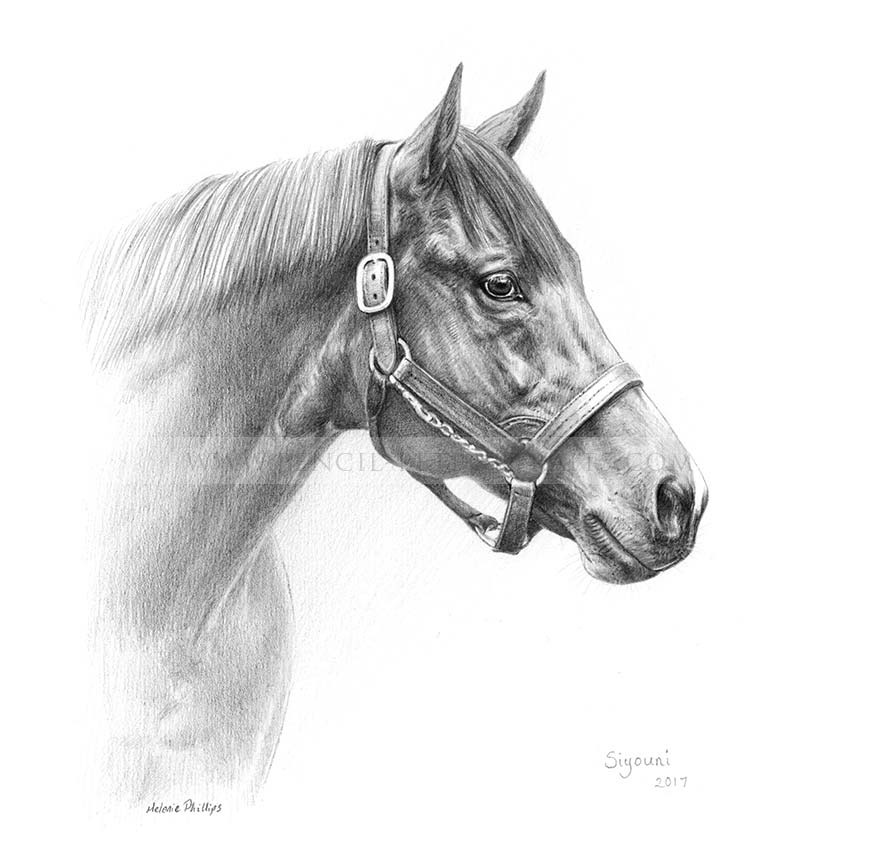 About the Commission of Siyouni
I have been commissioned to draw a number of portraits by Lady Carol Bamford, my husband has also created an oil painting of her two dogs Dora and Dolly too. I was thrilled when Emma, Lady Bamford secretary called and asked if I could create a portrait on fairly short notice. Luckily I was able to as it was for the Aga Khan's birthday in December 2017.

The portrait was to be of his stud stallion Siyouni and I was given a number of photos, the one on the left being the most suitable for a head study. The portrait was a 12 x 12 pencil drawing and was sent off to Lady Bamford unframed as she has a framer she always commissions for all of her artwork.

I really hope that the Aga Khan loved the drawing. Its amazing to think my portrait with my name is displayed somewhere in his beautiful home !
Client Feedback
Hi Melanie,
The portrait arrived safe and well. Thank you. Lady B due back this week. I am sure she will love it.
Best wishes
Emma Young
Secretary to Lady Bamford
Horse Pet Portraits
If you have a horse that is similar to Siyouni and you would like a pencil drawing of them, please feel free to email or message me photos. I love drawing horses, particularly head portraits of them. Contact me today via my contact page.