Flat Coated Retriever Portrait
Welcome to the Flatcoated Retriever Portrait of Jenson, Liffey and Forrest! I was commissioned by a returning client to draw this portrait for her friends birthday and thoroughly enjoyed portraying them.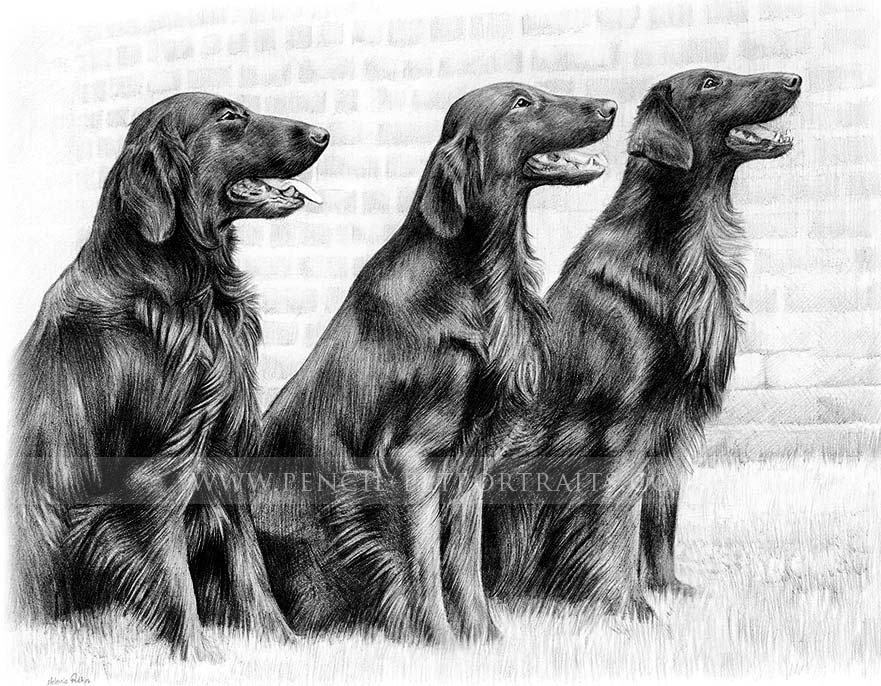 About the Commission of Jenson, Liffey and Forrest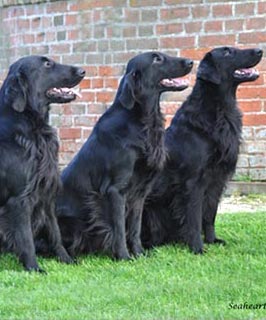 Gill Smitherman, UK contacted me in 2014 to ask if I would be able to create another Flatcoat Retriever portrait as a special present for her friend. Jenson, Liffey and Forrest are three beautiful Flat Coated Retrievers owned by Mandy Romeo-Dieste and Gill wanted to surprise her on her birthday. I was delighted as I had drawn some of Mandy's dogs in the past and as I absolutely adore the breed I was really excited to get started.
The portrait was drawn to 18 x 14 size and had to stay under wraps until the party! I have added a final scan of the portrait above along with a reference photo, a testimonial and an amazing video of the presentation at Mandy's birthday party. I hope that you can view the video and I cant thank Gill and her friends enough for filming it and allowing me to add it to my website.

Mandy also very kindly collected the portraits I have drawn for her on her sofa to take a photo of them all together, I think they work really well and hope you do too!
Client Feedback
I love it. Thank you so much. It will hang proudly with the other two portraits you did for me. Thank you thank you xxxx
All of the Portraits Together
I have created a few portraits for Mandy over the years and here are a lovely collection of three together, two montages and this triple portrait.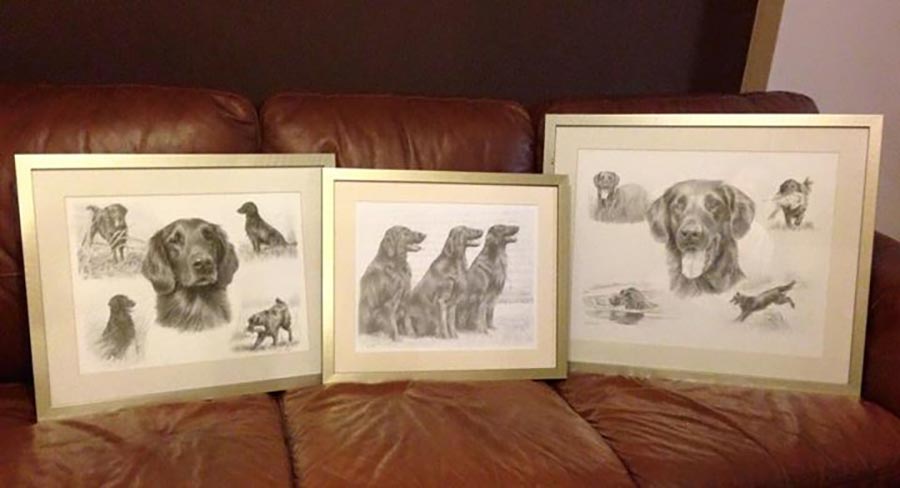 Flat Coated Retriever Pencil Portrait
If you have a Flatcoated Retriever and would like a pencil drawing completed of it, I would be delighted to work with you. Send me photos or ask any questions via my contact page.