Retriever Pencil Pet Portraits
The portrait of Kirby was completed in 2009! I cant believe how fast the years fly by and my client has already commissioned a second portrait of his new dog called Zip in 2019. I have been drawing portraits for clients for over 20 years and its wonderful when they come back time and time again for drawings. Scroll down to read more about the drawing and commission.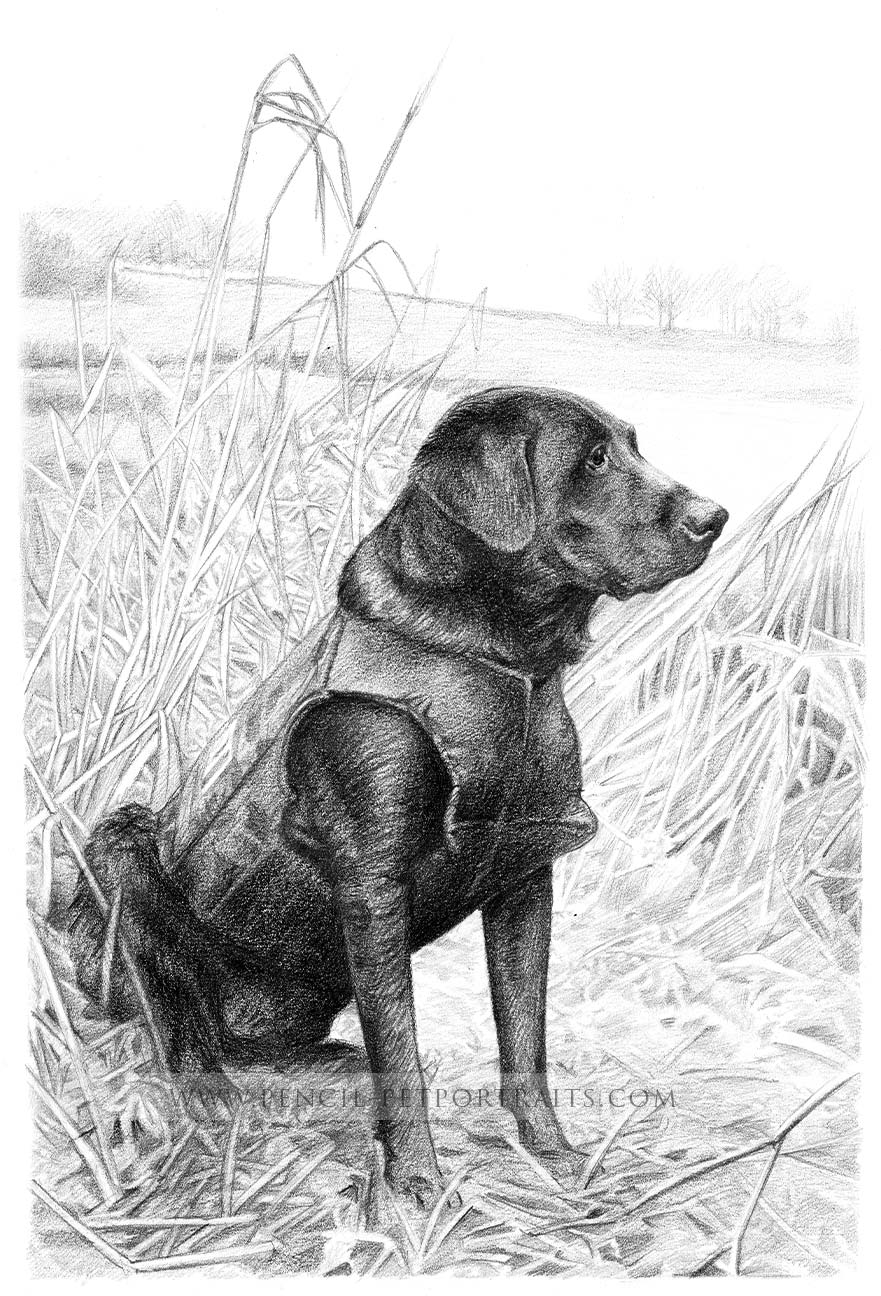 The Portrait In Situ
The photos below show the drawing all framed and displayed in Craig's home. If you scroll below the photos you will be able to read an email from Craig about the portrait.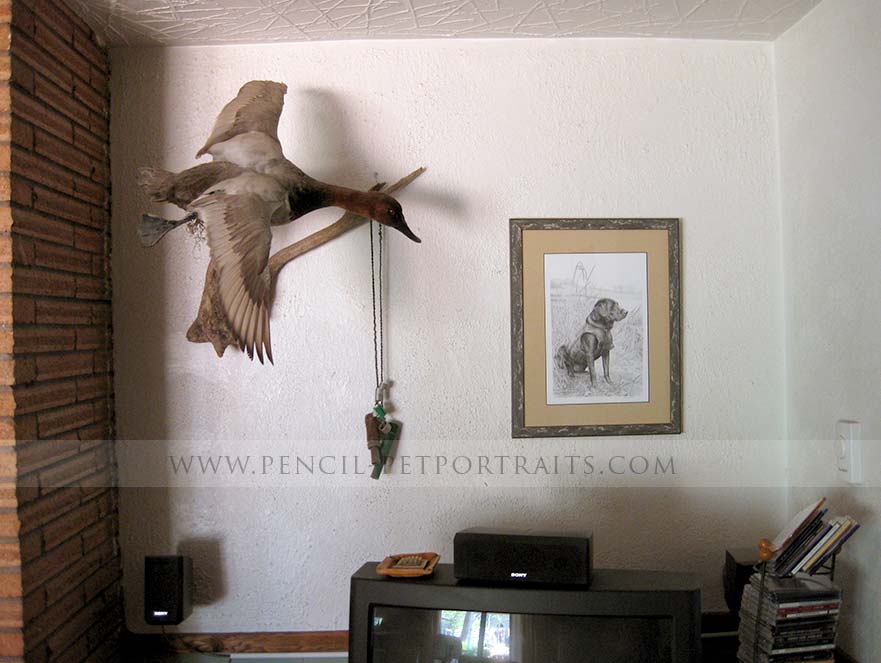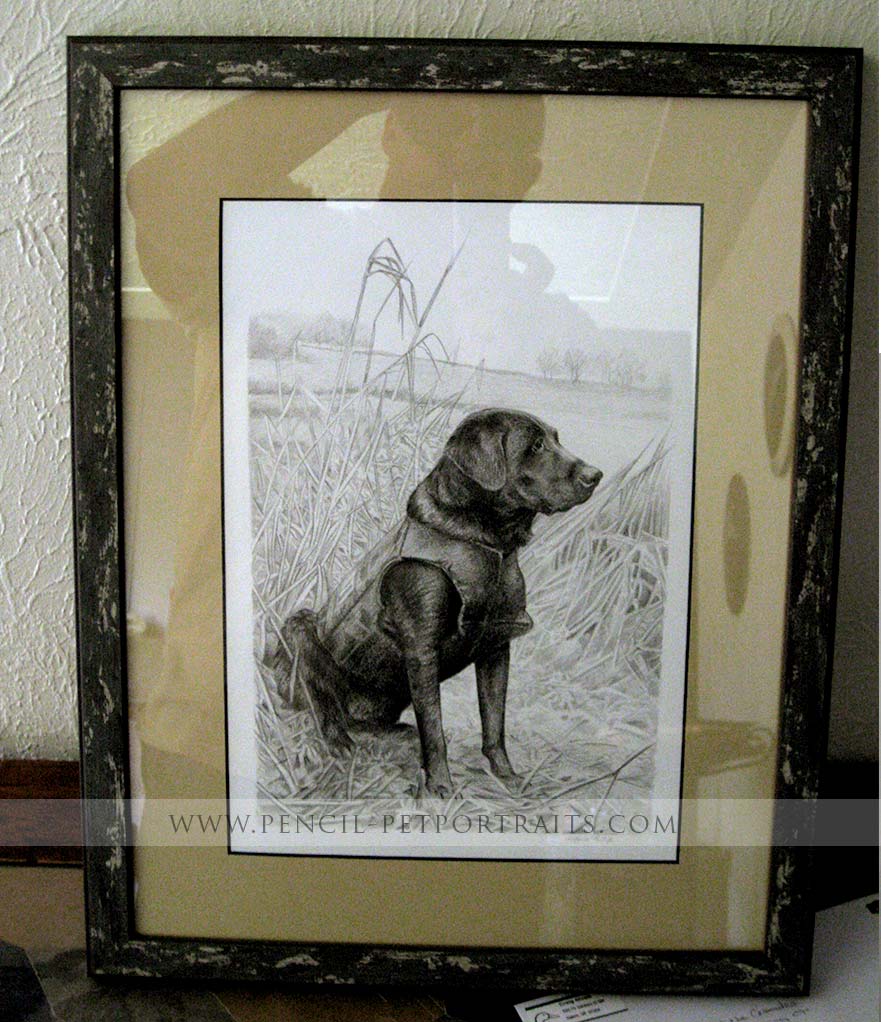 About the Commission of Kirby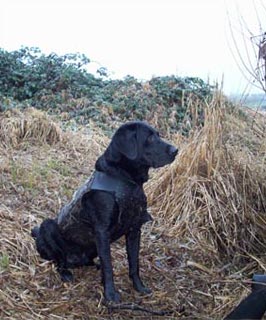 Craig USA, emailed me in 2009 looking to commission a portrait of his best friend Kirby. Craig emailed me some wonderful photos of Kirby out in the field, which were perfect for a pencil drawing. Craig liked the idea of an outside scene as most of the photos he takes of Kirby are outdoors. Craig commissioned a 16 x 12 pencil drawing and this was a good size portrait for a full body with background.
Craig has a farm in North Dakota, below the Canadian border which he stays in for parts of the year.  The pose he sent of Kirby is from that farm.  Craig has no phone, no internet and he gets radio signal for about 3 hours per day. Also his nearest town is 21 miles away! That is pretty rural!

Craig very kindly emailed me some photos when the portrait was framed and displayed in his home. He also sent me lots of lovely emails which you can read below along with photos of the portrait framed.
Client Feedback
Melanie,
He looks so handsome! It's the kind of picture I like. It makes you think of pleasant places and companionship, almost gets me teary. I wouldn't change any of the picture. I'll look forward to getting it in the email thanks so much.
Craig
The drawing arrived in the mail today and it looks great. I'll be anxious to see it framed & I'll send you a photo when it's done thanks again. I'm thinking K-dog will have his picture hung next to a mounted duck hanging on a wall. Pretty much every day, at some point, he goes over & jumps up & down woofing at the duck, like he figures it needs to get retrieved again, I guess.
Hello Melanie,
I had the drawing framed already. The photo is not likely the best looking because I kept getting reflections. The frame is a blue/grey speckled sort of barn board looking color. 2nd photo is where I hung the sketch, next to a mounted duck & old calls. If you're interested - the mounted duck was done by a guy locally. He does very high quality taxidermy, he was commissioned by the US Dept. of Fish & Wildlife to do some work & also did some to go to the Simthsonian. So I figure K-Dog's picture was deserving of some good company.
Take Care
Craig
Retriever Pencil Pet Portraits
If hope that you have enjoyed reading about the commission of Kirby and viewing the photos of the portrait framed. If you are interested in commissioning a portrait, please email me at any time from my contact page.