Pencil Portraits
Welcome to my pencil portraits of commissioned artwork of Memphis. The drawing of Memphis was commissioned by Amber and her husband as a Christmas gift for friends in 2019. Amber asked me to draw Memphis at 14 x 11 size along with a frame to match. Read more about the commission below along with seeing photos of the drawing with Memphis too!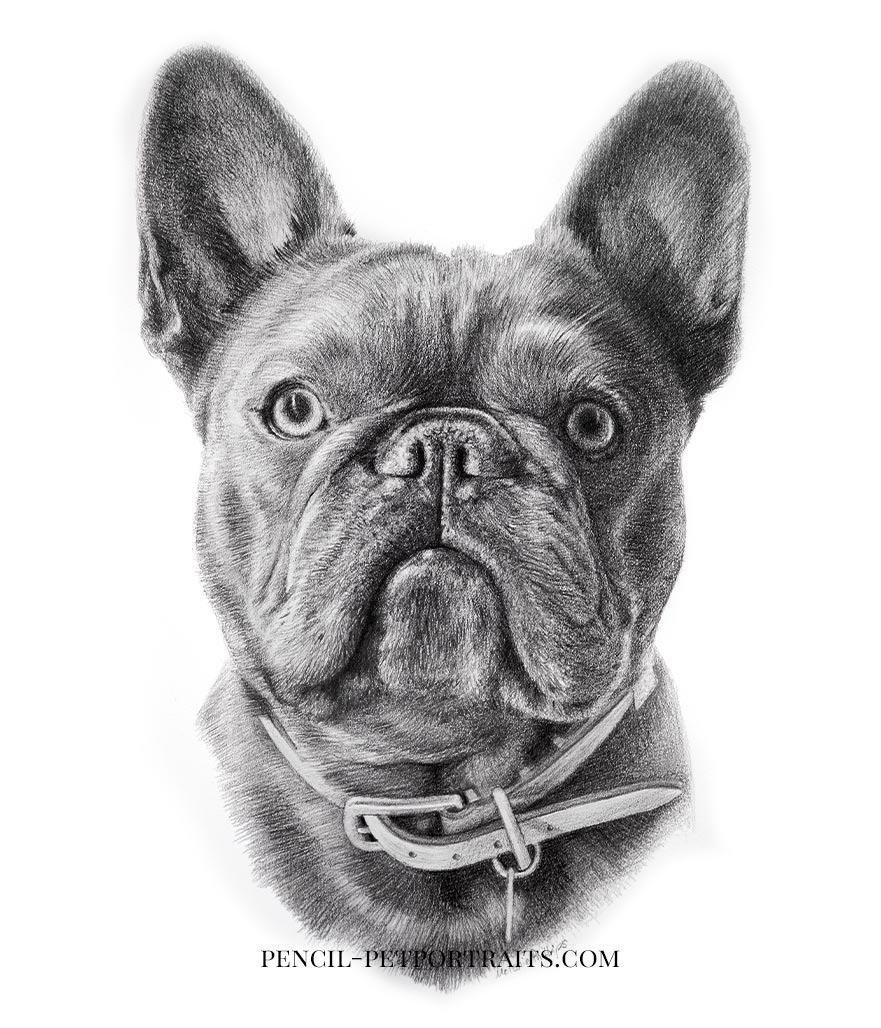 About the Commission of Memphis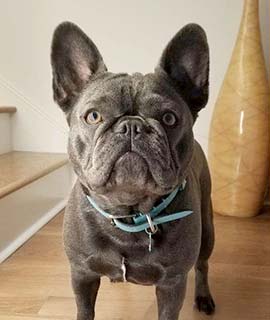 Amber, USA contacted me in 2019 to commission a pencil drawing Memphis, a French Bull Dog as a Christmas gift for her friends. I was absolutely delighted. Amber only had one photo of Memphis, however it was thankfully good enough to work from so that we could keep the surprise from her friends.
I asked Amber if she wanted me to include the colour in the drawing and Amber definitely did. The collar is a Tiffany&Co dog collar so it was a very important part of the drawing!
Amber asked if she could have the portrait framed in my Albany Onyx frame with a charcoal double mount. The finished drawing looked fantastic, and if you scroll down you will be able to see some photos of the portrait framed.
Amber was delighted with the completed portrait as were her friends too! You can read some testimonials below along with seeing a few photos of Memphis with her portrait too.
Hi Melanie!
Just wanted to send a few pictures of Memphis and the beautiful portrait of her you did. (see below)
Our friends loved the gift and kept talking about how talented you are.
My husband and I have three dogs ourselves and are already talking about getting portraits of them.
Thanks again for everything and Happy New Year!
Amber
The Portrait with my Pencils
I always try to take photos of my portraits at different angles with my pencils so that my clients can really see what the portrait is like prior to sending it to them. here are a couple of photos taken of Memphis before framing.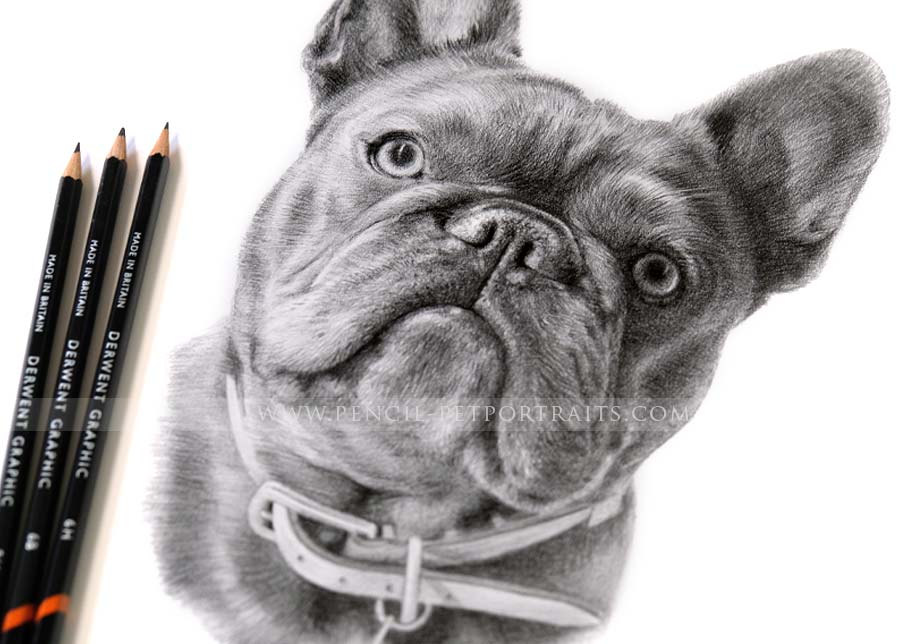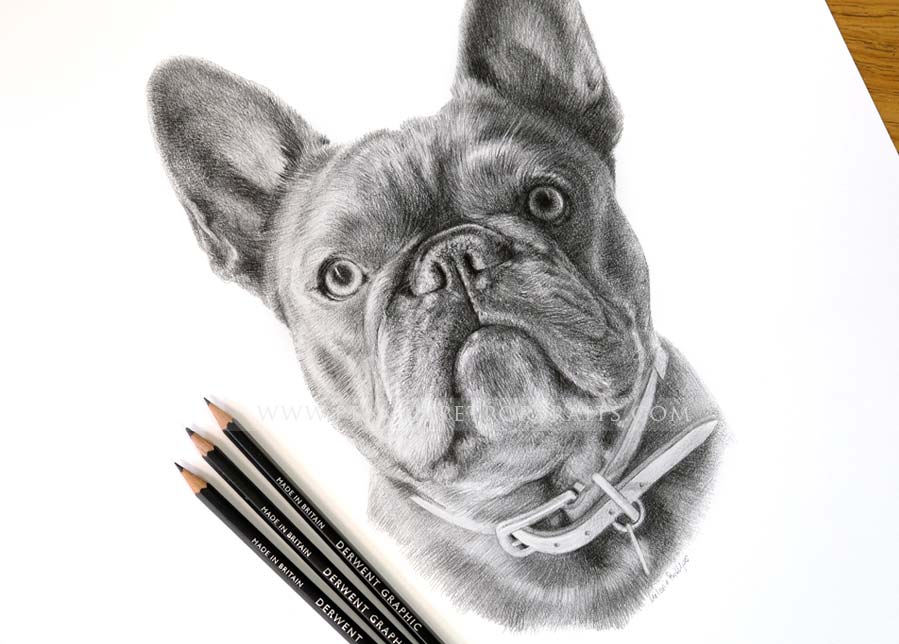 The Portrait with my Pencils
I am always delighted to receive photos of the recipients with the portrait, in this instance Memphis with her portrait, along with a testimonial below.
Hi Melanie!
Just wanted to let you know we received the drawing yesterday and it is even more amazing in person that the pictures you had sent me! So impressive! I will be in touch with pictures after Christmas!
Amber Fleming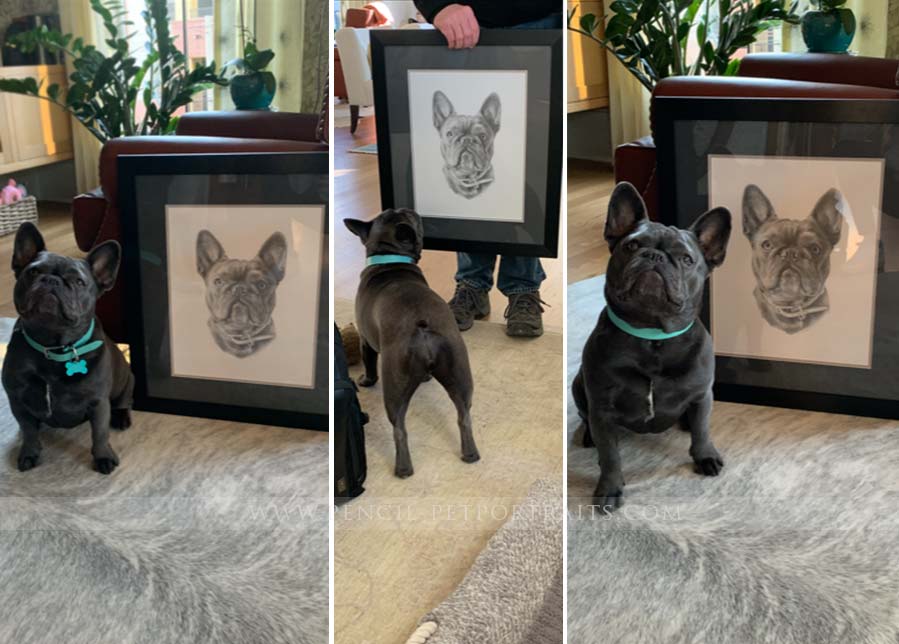 The Portrait Framed
I The portrait looked wonderful when framed. My framer and I decided instead of having a 14 x 11 frame, we opted to have a 15 x 12 size to add a little extra room around Memphis. It worked really well for this commission.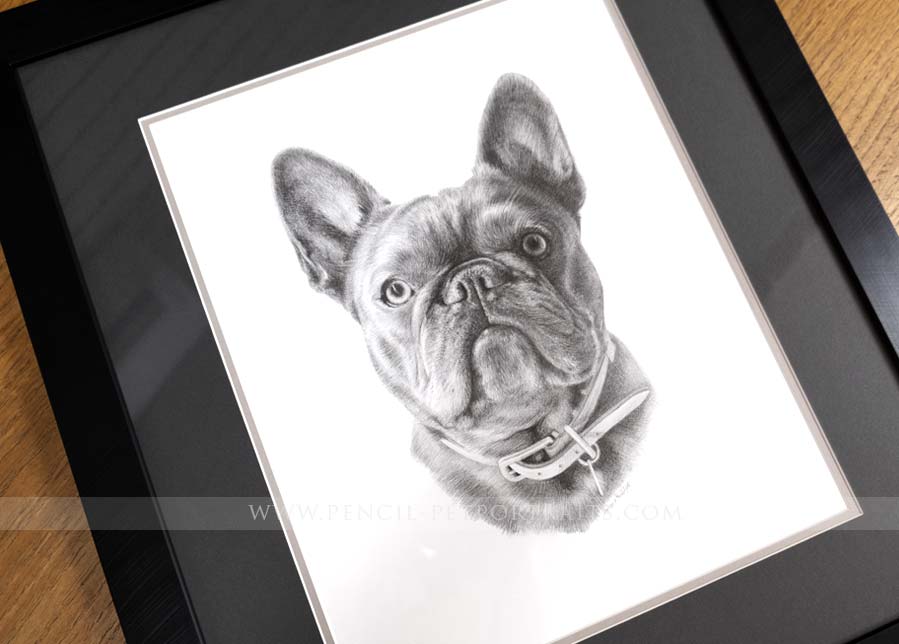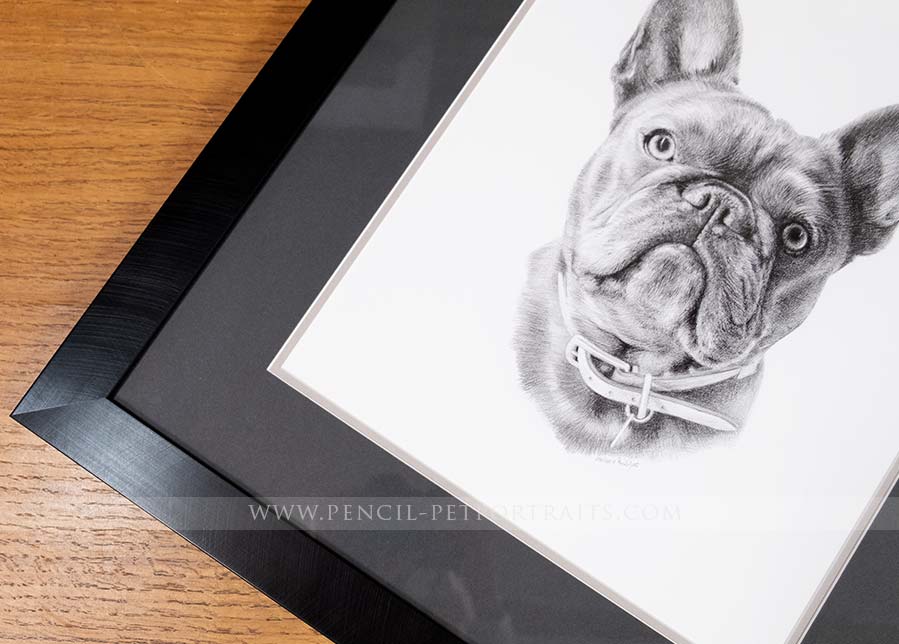 Pencil Portraits
French Bull Dogs are perfect for a graphite pencil drawing and if you have a photo of yours, you are more then welcome to email it to me at any time. Contact me via my contact page, send me a message and your photos and we can discuss ideas for your portrait.
Visit next...