Pet Portraits in Pencil
Welcome to my Pet Portraits in Pencil website. My name is Melanie and I am a professionally trained artist specialising in pencil pet portraits of dogs, cats and horses. I have over 25 years of experience working with clients all over the world. I draw my portraits in a dedicated art studio in my woodland garden along side my husband Nicholas Beall who is also a pet portrait artist specialsing in oil paintings.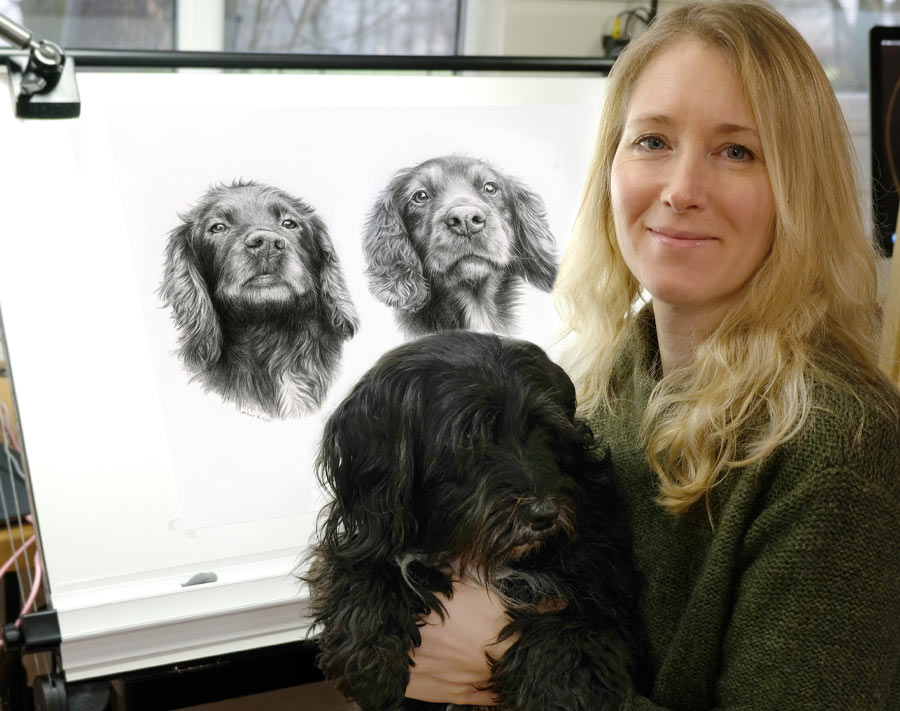 If you are looking to commission a hand drawn pencil pet portrait, you have come to the right place. Please feel free to peruse my pet portraits website and if you need any guidance, please email or message me via WhatsApp at anytime.
Animal Portraits - Pencil Pet Portraits Gallery
I have been drawing pet portraits for clients all around the world for many years and you can see just a handful of my previous pet portrait commissions in my animal portrait gallery. All of my pencil pet portraits are traditionally hand drawn by myself and you can read some of the wonderful testimonials that clients have left in my gallery too - pencil pet portraits of dogs, cats and horses »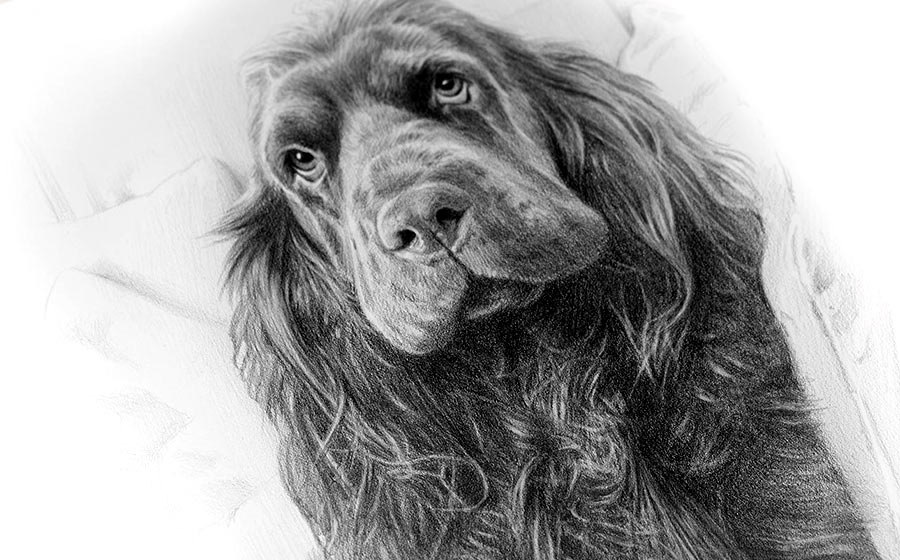 Many of my pencil drawing commissions are given as gifts for special dates, the paper anniversary is a popular gift idea. Birthday and anniversaries along with Christmas too. I do have a waiting list for my pencil pet portraits so please get in touch as soon as possible to secure a place in my waiting list. If you would like the recipient to arrange everything, a pet portrait gift voucher is the perfect option.
Pencil Pet Portraits Commission Info & FAQ's
For a detailed description of how my bespoke pencil pet portraits works, pop over to my Pet Portraits Commission Info & FAQ's page. It describes my pencil portraits commission process from the initial contact with my client, through to the handmade bespoke framing and packing of my pet portraits. It hopefully gives my prospective clients an idea of how everything works.
I have lots of prices and sizes available and I can also create bespoke sizes too. Have a look on my dedicated Pencil Pet Portrait Prices page.
I have a continual waiting list for my pencil portraits all year round. If you are hoping to commission a pencil drawing as a gift for friends and family, contact me as soon as possible you can so that we can discuss your deadline and options.
I have been commissioned to create pencil portraits from many places all around the world over the last 24 years. I find it fascinating to chat to clients from all walks of life.
Pet Portraits From Photos
I create all of my pet portraits from photos including the beautiful pencil drawing of Simba below. You can see the photo my client Marie emailed. I just need one photo to work from to create a beautiful drawing from. If you would like to read some tips on how to take a good photograph for a pet portrait, head on over to my Pencil Pet Portraits Photography Tips page. It should give you all of the info required to get the perfect snap for me to create a pencil pet portrait for you and your family.
Pencil Pet Portrait Testimonials
My clients are so lovely! I have been sent some beautiful photos of them with their pencil pet portraits. Some amazing letters of thanks that have bought tears to my eyes when I have read them. My pet portrait testimonials show that you can be confident I will provide you with a pet portrait that is the perfect representation of your beloved pet. It will bring you many years of blessed memories. Visit my pet portraits testimonials page to see a whole host of photos and feedback - Pencil Pet Portrait Testimonials »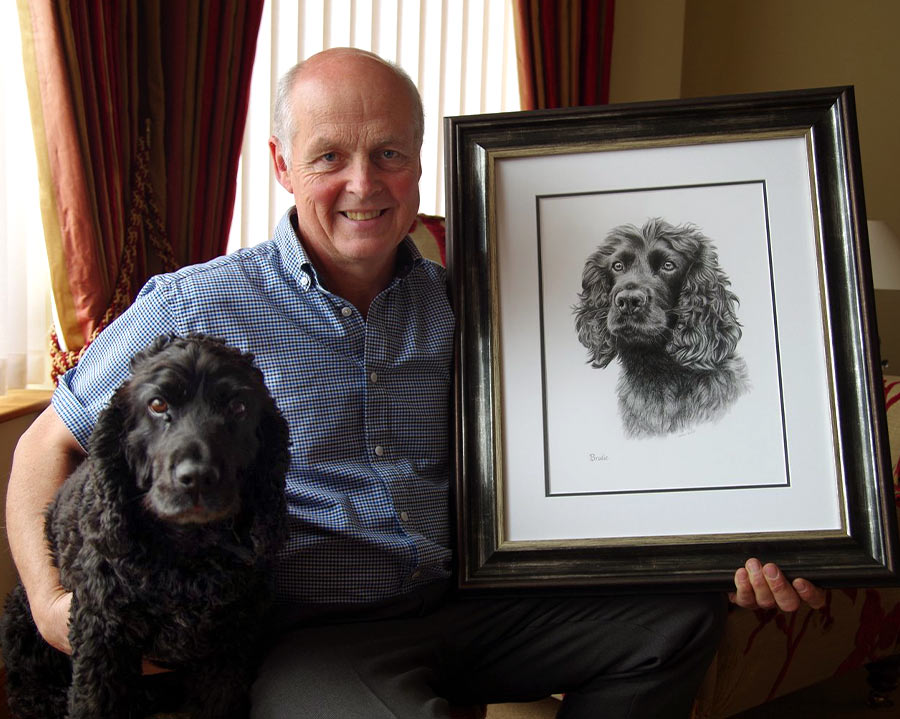 I'm stunned by those photos of the portrait, they are fantastic. You have such a talent! I think my husband will be thrilled when he sees it. We both miss Beano very much still even though it's 9 months since he died. He was such a character and you've captured that perfectly in the picture.

Ellen Whitter
Hi Melanie, It's fantastic I love it and I'm sure William will love it too, you really captured them both brilliant! I wasn't expecting it so soon. I'm over the moon with it, thank you again! Xx

Ellen Riddoch
Dear Melanie,

I picked up my pencil portrait today and I have to tell you it is ABSOLUTELY STUNNING!!!! You have captured her spirit beautifully and the kindness she had in her soul shone through those big brown eyes.

You are IMMENSELY talented portrait artist, I cannot thank you enough. I was quite emotional opening it but they were happy tears, it almost felt as though she was back with me, words cannot express my gratitude.

I am delighted that Teasel appears on your website too, HUGE SMILE, she had that endearing scruffy look about her. Through you we have the most BEAUTIFUL tribute of our very very special little lady. It will take pride of place in our lounge.

Paula Ventress
About Pet Portrait Artist Melanie
As you may know by now, my name is Melanie and I am a professional pet Portrait artist. I work along side my husband, also an artist in our Pet Portraits Studio, which is nestled amongst the trees in our garden. See photos of our Old Welsh Cottage & Garden along with photos of our dog Lily, a Tibetan Terrier who sleeps at my feet while drawing. Head over to my about me page...Melanie Phillips »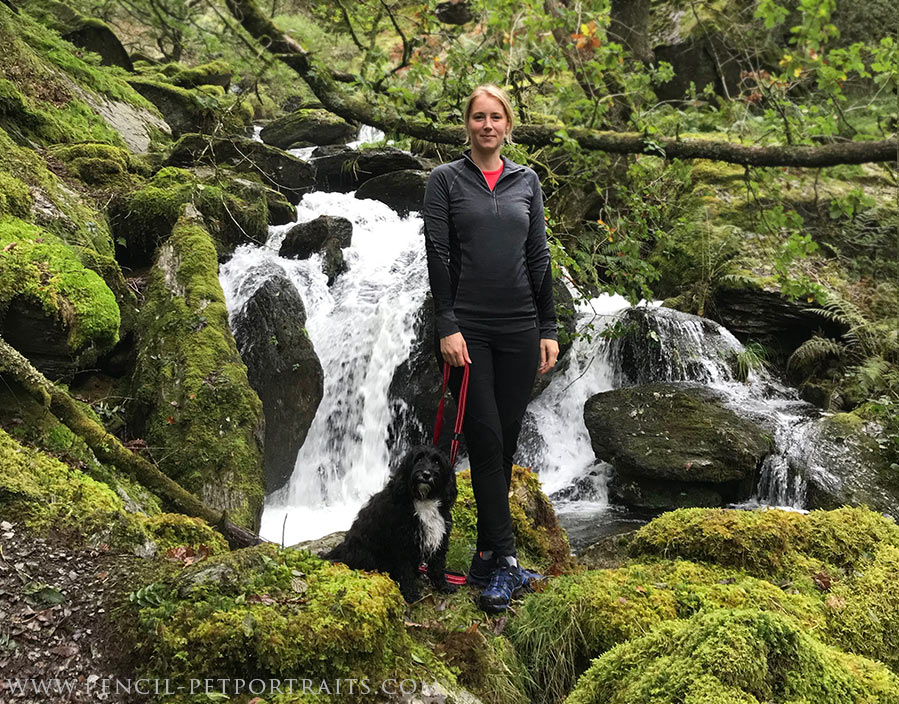 Follow us on Instagram
If you would like to see more of my work along with my husbands oil paintings too, why not head over to our Instagram page...@petportraitartists »
Get in Touch
If you are interested in commissioning a pencil drawing, you are more than welcome to email me photos of your pet at anytime. I am very much looking forward to working with you soon!