Pencil Pet Portraits by Artist Melanie Phillips
Welcome to my pencil pet portraits website! My name is Melanie and I am a professionally trained pencil pet portrait artist with 22 years of experiance accepting commissions from client worldwide. I create pet portraits from your photos of dogs, cats and horses in pencil. If you are looking to commission a hand drawn pencil portrait, you have come to the right place. Why not view my pencil portraits gallery to see previous commissions, read testimonials and see photos clients have taken of the portraits in their homes. View my prices & sizes page and if you need any help, please email me at any time. I'm really looking forward to seeing your photos soon!
Pencil Portraits Drawing Gallery
Pet Portrait Prices
Visit my pencil pet portrait prices page to see how much your pencil portrait will cost. When you are ready you are more than welcome to Email me a range of photos of your pet and we can chat about your requirements.
Pet Portrait Prices
For a detailed description of how my custom pencil portraits works, pop over to my Commissioning Process page. It describes my pencil portraits commission process from the initial contact with my client, through to the handmade bespoke framing and packing of my pet portraits. It hopefully gives my prospective clients an idea of how everything works. The page is set out with lots of lovely photos of my portraits to view.
Bespoke Framing and Engraved Plaques
Framing with a mount / matt under glass is essential for my pet portraits. Whether leaving everything for me to arrange for you with my framers, or you use your own, my pencil portraits need to be protected. There is plenty of choice when it comes to framing, so why not hop on to my framing page to give you a few ideas for your framing »
about me & Testimonials
If you would like to read about me, Melanie Phillips, you can see photos in my about me section of my website. My pet portraits studio is nestled amongst the trees in our garden in Wales, UK where create all of my pencil portraits. You can also see photos of my materials too. You might also like to visit my pencil pet portraits testimonials page to see a whole host of beautiful photos clients have sent me once they have received the portrait. Including the photo of Paula and Teasel below. Testimonials Gallery »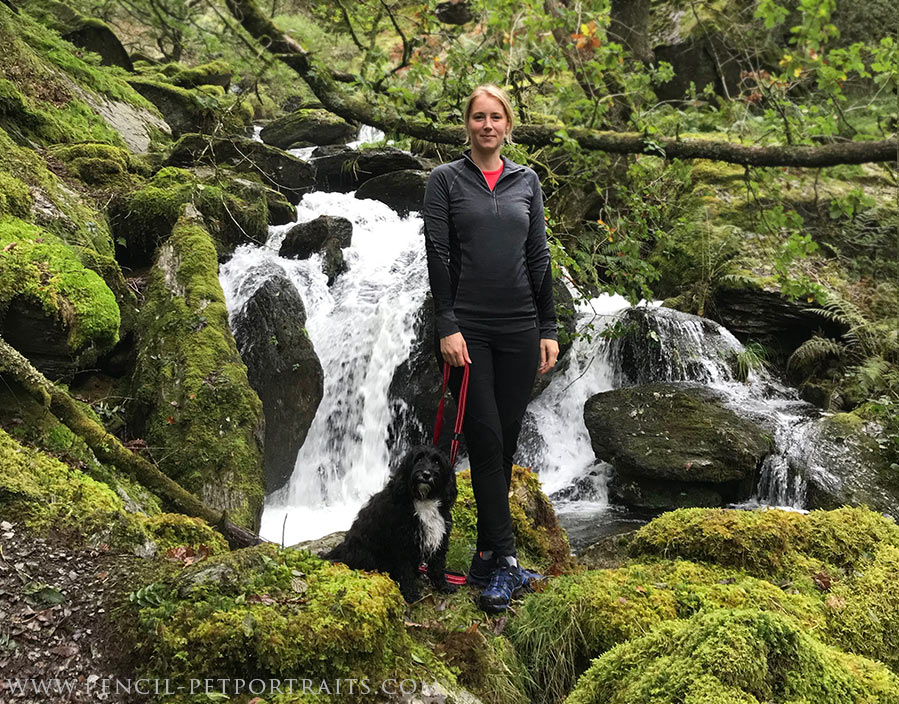 Melanie Phillips
If you would like to read a little more about me, my husband Nicholas Beall, my chickens, old welsh cottage and garden....plus my Tibetan Terrier called Lily who sleeps at my feet while drawing, visit my about me ...Melanie Phillips »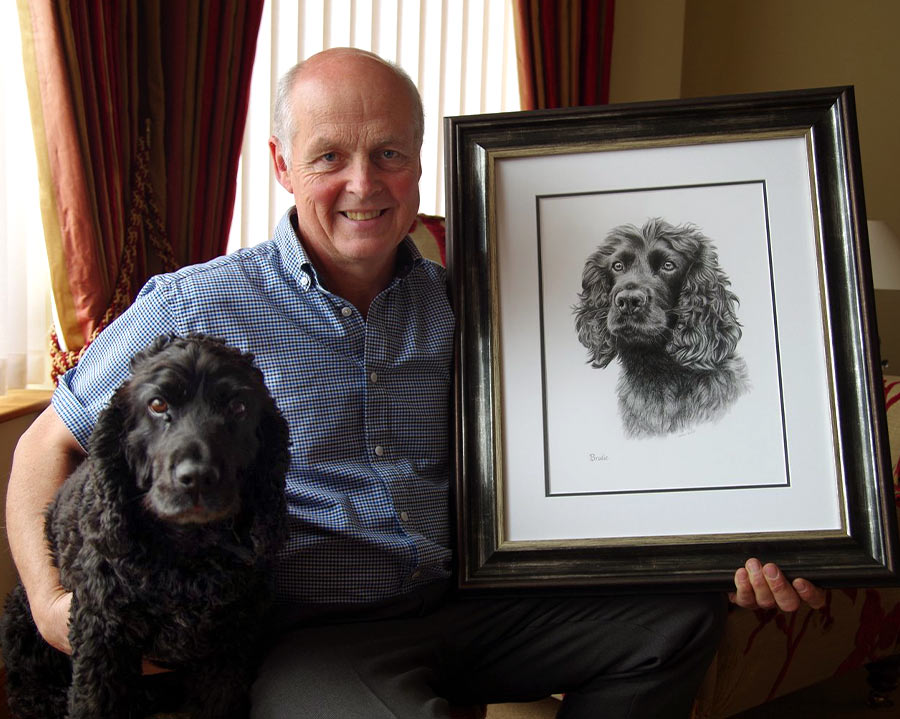 Testimonials
The photo above is of Paula who received my pencil portrait of her gorgeous dog called Teasel. View more of my clients photos and testimonials on my dedicated testimonials page - Testimonials Gallery »
Testimonials.....

Dear Melanie,

I picked up my pencil portrait today and I have to tell you it is ABSOLUTELY STUNNING!!!! You have captured her spirit beautifully and the kindness she had in her soul shone through those big brown eyes.

You are IMMENSELY talented portrait artist, I cannot thank you enough. I was quite emotional opening it but they were happy tears, it almost felt as though she was back with me, words cannot express my gratitude.

I am delighted that Teasel appears on your website too, HUGE SMILE, she had that endearing scruffy look about her. Through you we have the most BEAUTIFUL tribute of our very very special little lady. It will take pride of place in our lounge.

Kindest regards, Paula