Jack Russell Pencil Pet Portraits by Melanie Phillips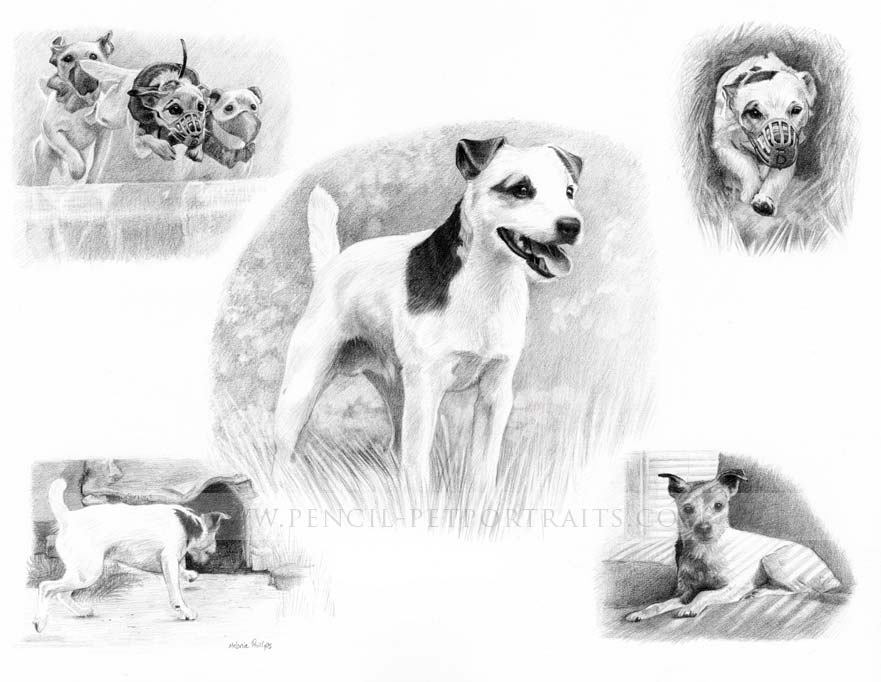 Reference Photos

Commission of 'Dean' - Jack Russell Pencil Pet Portraits

Lizabeth Johnson, USA, is a returning client and she contacted me to commission another Jack Russell Pencil Pet Portraits montage drawing in 2015. This time the portrait was to be of her fabulous Jack Russell Terrier called Dean. Lizabeth wanted me to depict Dean doing different activities, similar to her other portraits.

We worked on the composition for a number of weeks with Lizabeth finding new photos to work in with the design. Once we were both happy with the mock up created, it took me a few weeks to complete the drawing at 18 x 14 size, the same as her other portraits. I very much enjoyed drawing Dean, I love creating montage portraits, they are one of my favorite types of artwork to draw.

Jane our local framer, framed the portrait for Lizabeth in Charcoal Skane to match her other ones. The portrait headed over to the USA just before Christmas 2015 which was a lovely end to the year for her. Lizabeth is trying to decide which of her other dogs will be up for a portrait next and I am really looking forward to the next montage and working with Lizabeth again!
It really turned out beautifully. I'm debating if piper or Avery goes next. Once I do Avery, I'll want to order a smaller print of hers and Dean's, as a gift to their breeder.

Thanks again for everything. I posed a link of it I my FB and have had tons of comments.

Lizabeth
it looks fabulous! I can't wait to receive it.
Thanks again for everything.
Lizabeth