Racehorse Pet Portraits by Melanie Phillips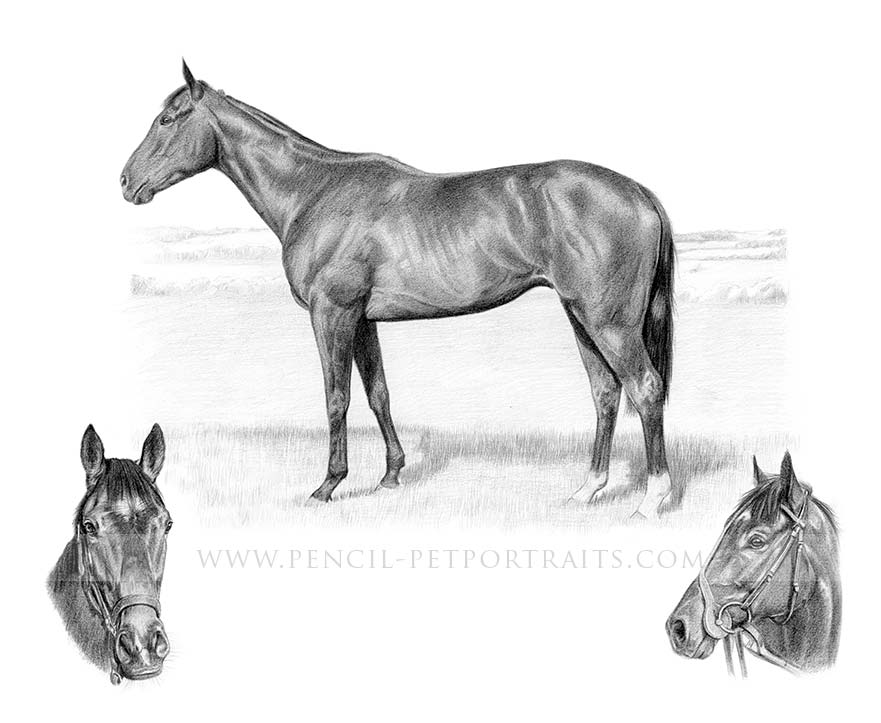 Reference Photos

Commission of 'Charles' - Racehorse Pet Portraits

Karen Masters, UK, emailed me in 2012 to discuss a Racehorse Pet Portraits commission of her friends horse Charles. Karen wanted 18 x 14 montage pencil portrait and she sent through lots of wonderful photos of Charles to choose from. Karen and I worked through a number of mock ups until we settled on the design you see here. I really enjoyed drawing Charles, particularly the full body study with Charles's muscle structure.

Once the portrait was completed Karen ordered a print so that the original could go to her friend Tim and she could have a copy too. The photo below of the portrait framed is the print. You would never know! We absolutely love it when our clients send us photos of their portrait when it arrives to them. In this instance, Karen very kindly emailed me a wonderful photos that she took once the print had been framed and hung in situ. I was thrilled to see them, delighted to be able to add them to my website and so pleased that Karen and Tim are happy with their portrait and print!
Dear Melanie and Nick

I hope you are both well and that you had a fabulous Christmas.

I wanted to send you a photograph of the framed Charles picture, please see attached. The file is a picture of the framed print, not the original, I have yet to take a picture of the framed original which my friend has. So the pictures have been framed differently, which is interesting in itself. Both pictures look absolutely stunning, more so now that they are framed. I can't thank you enough for the wonderful job that you did, Tim really appreciated his 50th birthday present! Its ironic that he does not actually own Charles now but it is a fitting memento of Tim's first racehorse!

My picture has pride of place in the living room where I can look at it every day. Every time I look at it, I smile and have such fond memories of Charles. Your picture is stunning beautiful.

Thank you again. Wishing you the best for a very happy and prosperous New Year.
With best wishes.
Karen
xx