Cat Pencil Pet Portraits Montage
One of my own unique styles of portraits that I have been creating for many years are my montage drawings. This portrait of Gilli is one of my absolute favourite montages, I thoroughly enjoyed drawing her. Read about the portrait and see lots of photos of the drawing framed along with a video too.
The Portrait with my pencils
Here are a few photos of the portrait prior to framing photographed from angles with my pencils to help show scale. This is a good way of seeing my drawing in a more natural way and closer up in detail.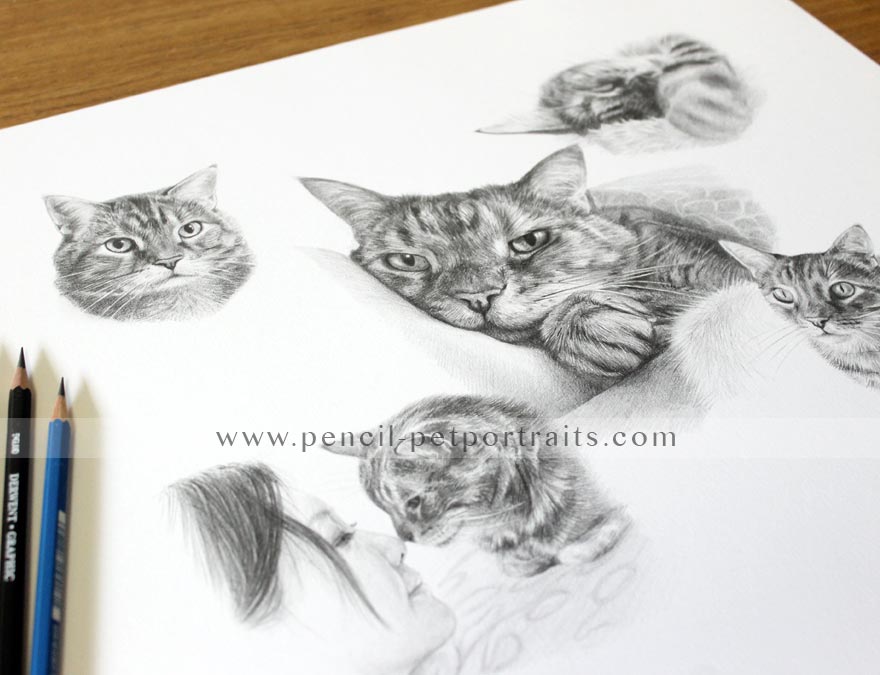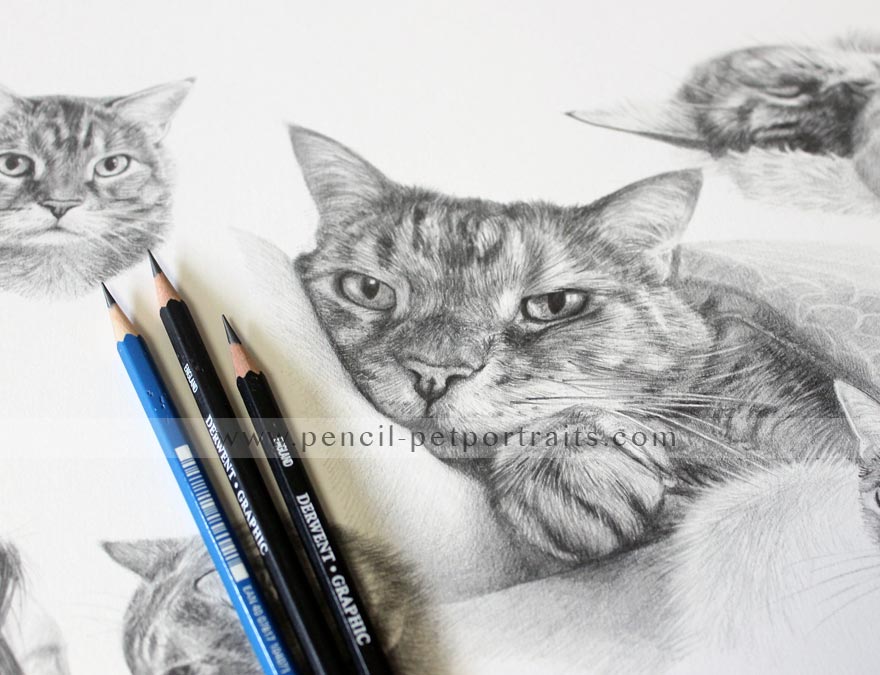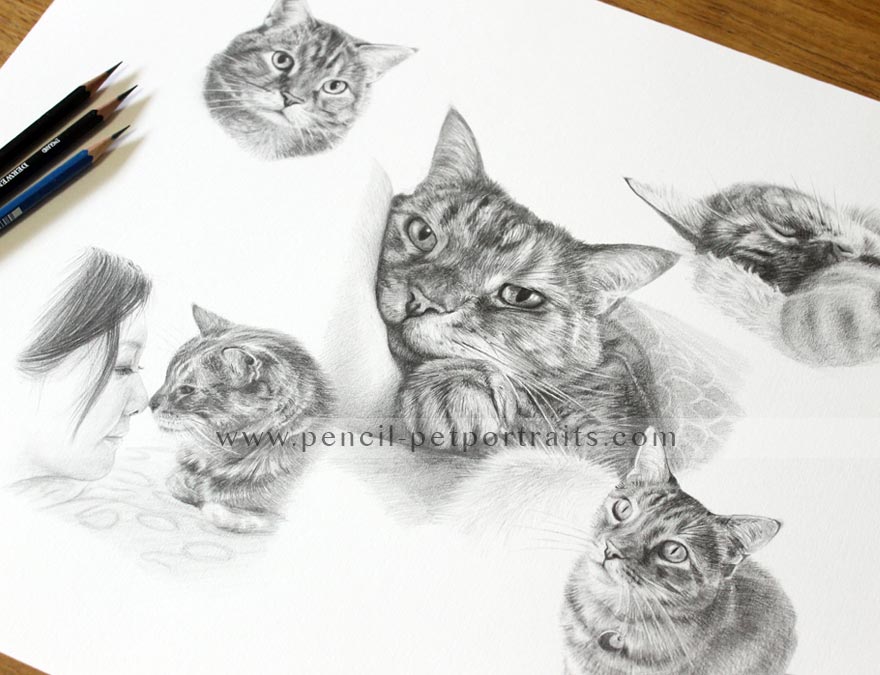 The Portrait Framed
The photos below show the portrait all framed. Vivian requested the Albany Onyx Frame with a black matt / mount which works well with a tonal drawing. The frame itself has a lovely texture to it and also lovely and silky to the touch.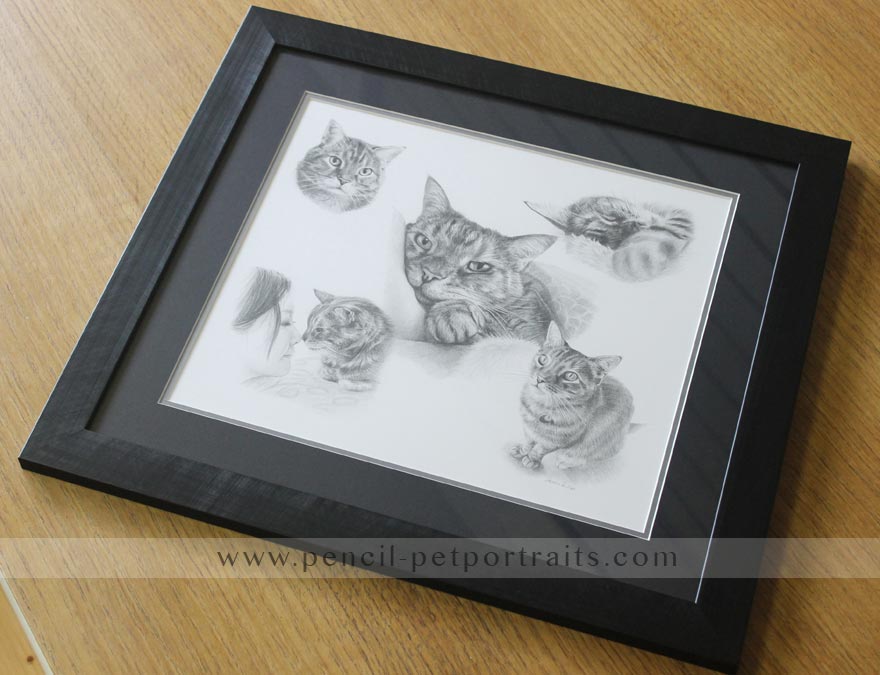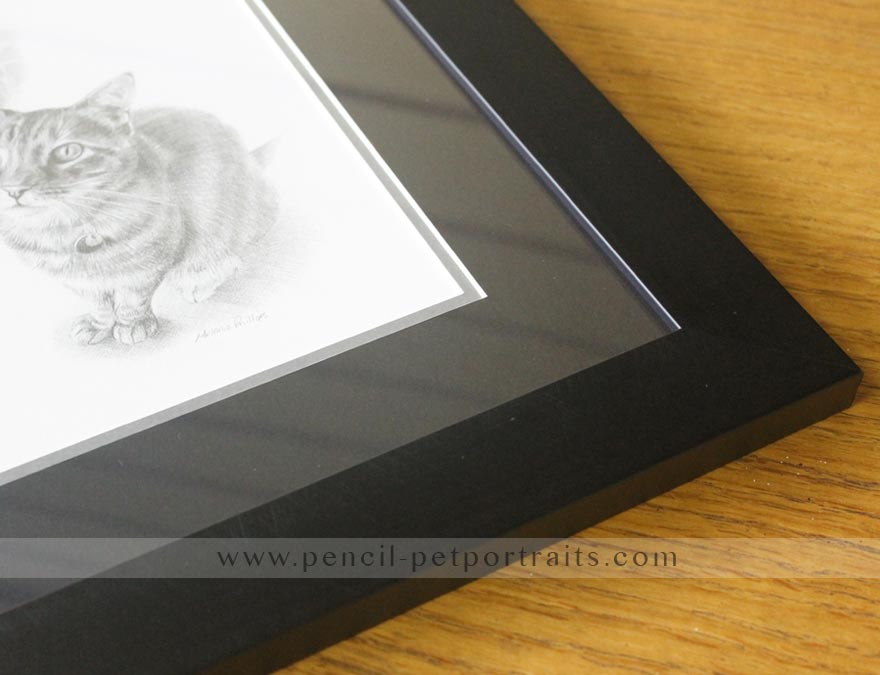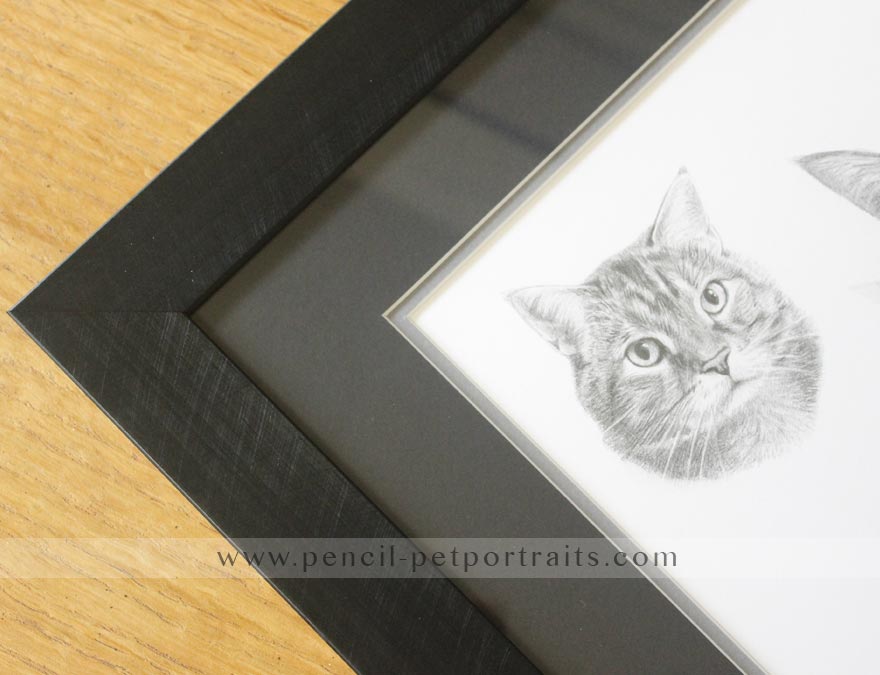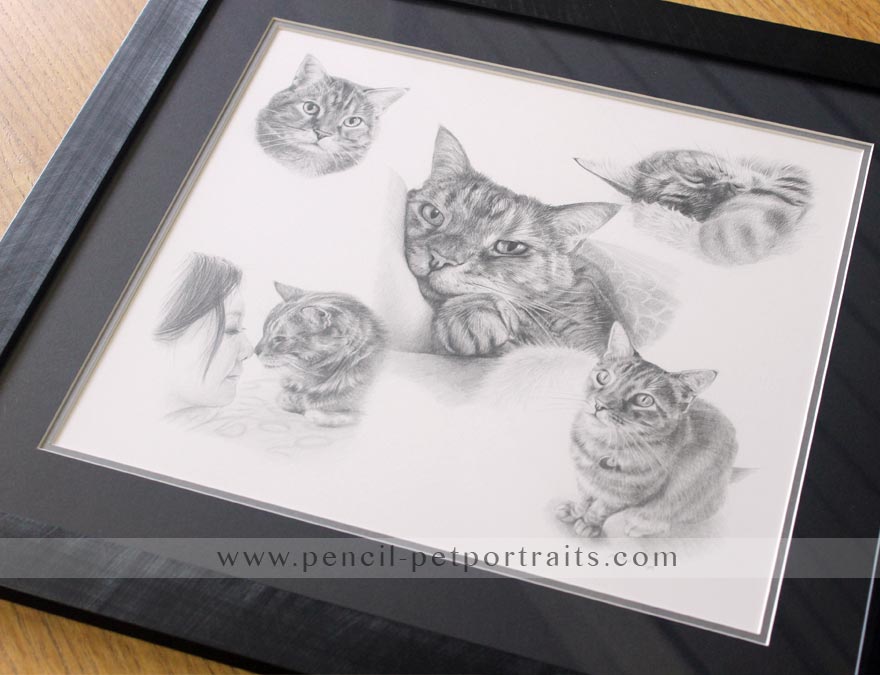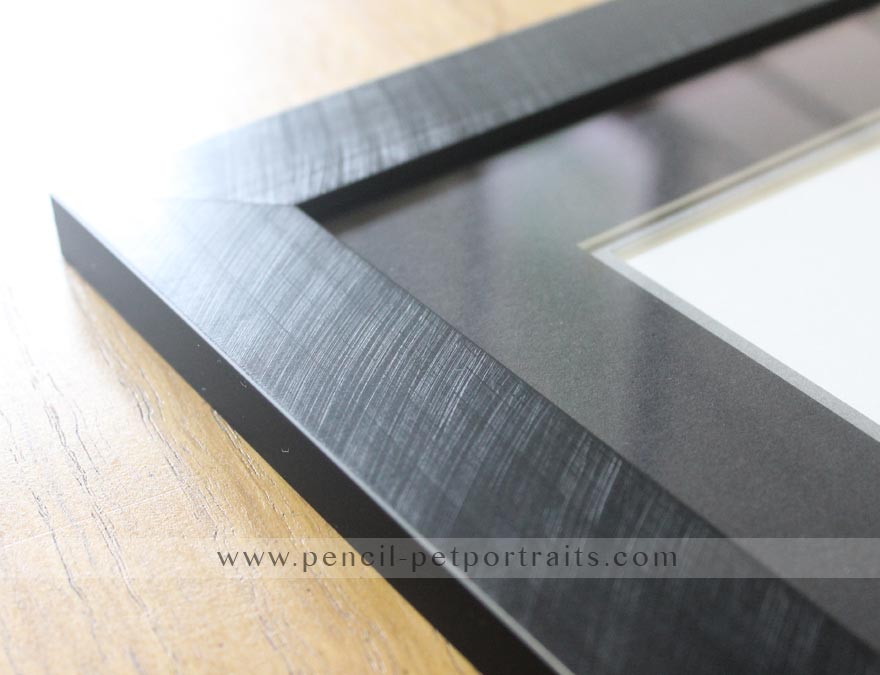 About the Commission of Gilli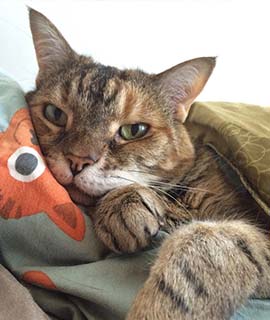 Vivian emailed me from Hong Kong to commission me to draw Gilli for her friends birthday. Vivian had taken many wonderful photos of Gilli using a digital camera and so the photos were very high resolution and wonderful to work with. She had specific ideas of how she wanted the portrait to look, so we worked together via email creating designs for the portrait.
Vivian requested the Albany Onyx frame. We went through a number of combinations of mouldings and mounts until we came up with the perfect combination that Vivian envisaged for Gilli's portrait. The frame and mount works beautifully with the drawing and allows the drawing to be in full focus.
I have also added lots of testimonials from Vivian along with a photo of the bespoke handmade stand Vivian purchased for the drawing to be displayed on. This was a wonderful commission to be part of and I thoroughly enjoyed drawing Gilli. If you would like a portrait similar to this of your cat, don't hesitate to drop me a line at any time.

Hi Melanie,
That is awesome !!!!! Thank you so much !!!!!
It looks perfect! There is nothing need to change.
Thank you very much for your help!
Best wishes,
Vivian
Hi Melanie,
The portrait arrived safely!
It is fabulous!!!!!!!!!
Thank you very very much!!!
I can't wait to give it to my friend, I am really excited to see her reaction.
But I still need to wait for the stand, and is still not her birthday yet, not for another week...
Best wishes,
Vivian
Video of the Portrait
I also took some video of the framed pencil drawing when everything was completed before packing the portrait ready to send. I hope you enjoy watching it!
The Portrait on it's Stand!
Vivian commissioned a wood carver to create a Lego stand for the portrait to stand on. Read Vivian's description below...
Hi Melanie,
These are the pics of the "stand"...I don't know if you have seen the "Lego cat" before....but this is based on that ...... The hands, feet, head are movable....like the real Lego....and is made of wood. Hong Kong house is quite small...I don't know you know this or not....(hahhaah).....so I decided to make a small one...... It has been my pleasure to work with you ! To create such a beautiful and unique birthday present !!!! Thank you very much !!! Best wishes, Vivian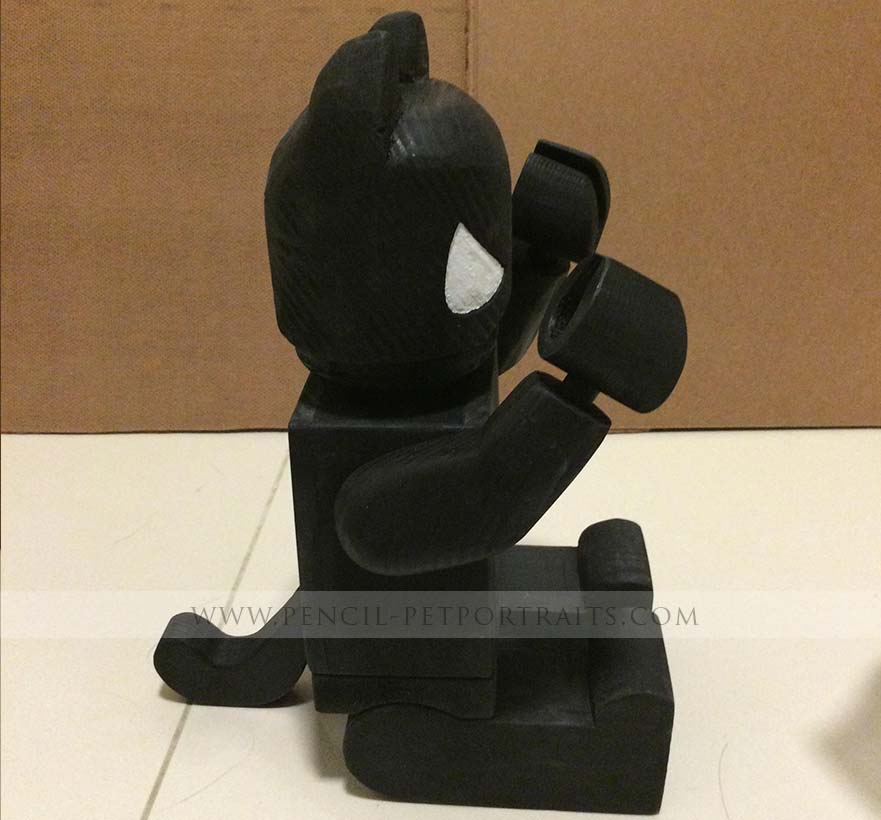 Cat Pencil Pet Portraits Montage
If you have a cat that you would like portrayed in a montage style drawing, you are more than welcome to get in touch with me at anytime. Visit my contact page as I have plenty of ways to send photos and I can design something for you, similar to the portrait of Gilli at any time!
Visit next...