Pencil Pet Portraits Prices & Contact
Whatever your special occasion - birthday, anniversary, wedding or Christmas gift - or a drawing for you and your family, I am ready to help. I regularly work with clients all over the world, including a well known soap actress, a very talented film and TV star, not to mention creating a pencil drawing for the Aga Khan's birthday commissioned by Lady Bamford.

If you have a photo you would like drawn, you are more than welcome to drop me a line at any time, tell me all about them. View my sizes and prices below, use the drop down list to locate your currency and if you would like any guidance, drop me a line at any time.
Drawing Options
convert to your currency
12" x 10" = £700
14" x 11" = £800
16" x 12" = £900
18" x 14" = £1000
20" x 16" = £1200

Payment
A deposit is required to save your space in my commissions list. The remainder to be paid just prior to me starting the portrait. My preferred payment for UK commissions is bank tranfer, however I also accept debit and credit cards. For overseas commissions, I accept all major debit and credit cards including Amex. Payment is taken in UK Sterling on that days exchange rate.

Frames & Engraved Plaques
Framing is optional I have access to a wonderful framer who can frame my pencil drawings, please let me know your preference and I will obtain a quote for you. Frames start at £130. I also commission a superb engraver who can engrave a plaque for you in mirrored or brushed finish in silver or bronze at £69.

Shipping
UK tracked shipping is via Parcelforce 24hr and is £20 - £80 depending on size and weight. Overseas via DHL starting at £70.
Contact Me
Whatsapp - You will see the green chat button bottom right, and you can message me direct via Whatsapp at any time.
iMessage - Use my phone number 07855582109 to send an iMessage or text.
Email - petportraitenquiry@gmail.com
Facebook Messenger - Message me via my business page Facebook Messenger.
Telephone - Call during normal office hours and if you are calling from overseas, you can use +447855582109.


The kind of photo I need
Reference photos must be of a high resolution, they need to be clear in detail and be of good quality. If taking new photos, take tame to get the right photo for your portrait. Read my Photography Tips page for more details.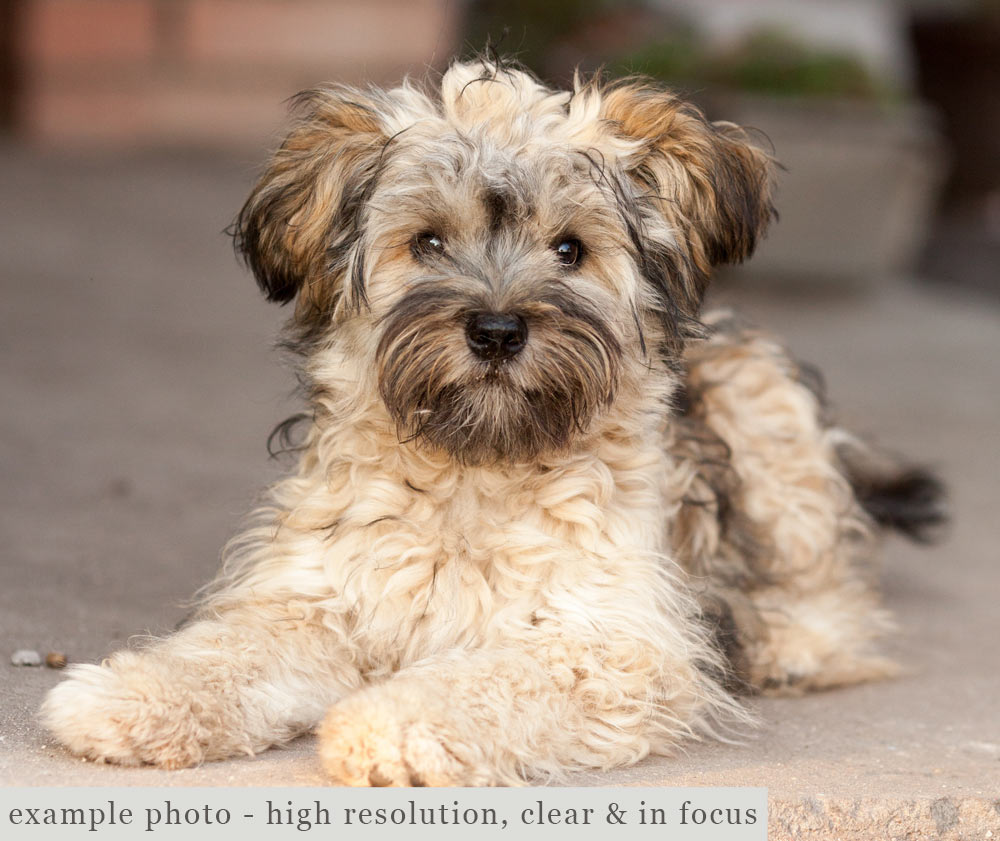 Why not send me your photos so that I can help you decide which would be best for a portrait? Upload them to the form below. Please avoid sending screen captures - send the original photo from your photos app.
Gift Vouchers
I work to a waiting list and my drawings take time. My clients are always willing to wait to have their portrait drawn. A good quality, realistic drawing simply does take hours of work., so it's not always possible to meet all special dates.
In these situations, I have found the best way is to make as many arrangements as possible with my clients for the recipient so that they can surprise them with the arranged portrait with a personalized card on their special day.

This enables them to either opt for the photo and design that we have arranged, you choose or alternatively you can leave all of the arrangements to them.
If you would like to commission a drawing and card, I do need to see photos of the pet before hand to make sure I can work with your photos before going ahead with arranging the commission. Drop me an email with your ideas and we can discuss your requirements.
You can have the card sent to you to give personally, or direct to the recipient at their home address. The card size is a 7 x 5 inches Moonpig card and it will be sent First Class. I can send cards worldwide and you can see some previous examples of cards below.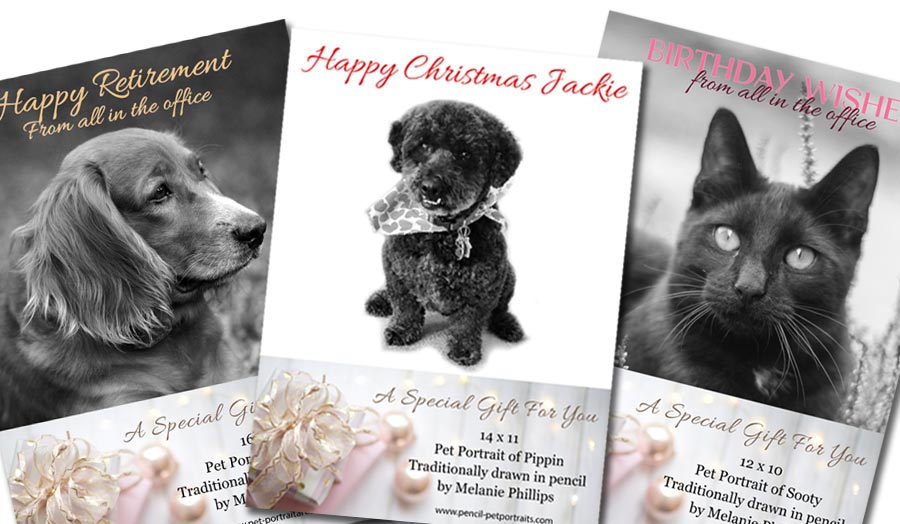 Melanie & Nicholas Pet Portraits • South West Wales • UK