Cat Montage Pet Portraits
Returning clients Kirstie and Gordon are some of our favourite clients. They have commissioned a number of portraits from us over the years of their cats and it is always lovely conversing with them up in Scotland. We love hearing about their cats and all of the adventures they both get up to, often being quite mischievous at times! This was a really wonderful commission and you can scroll down to see more photos of the portrait and read about the commission too.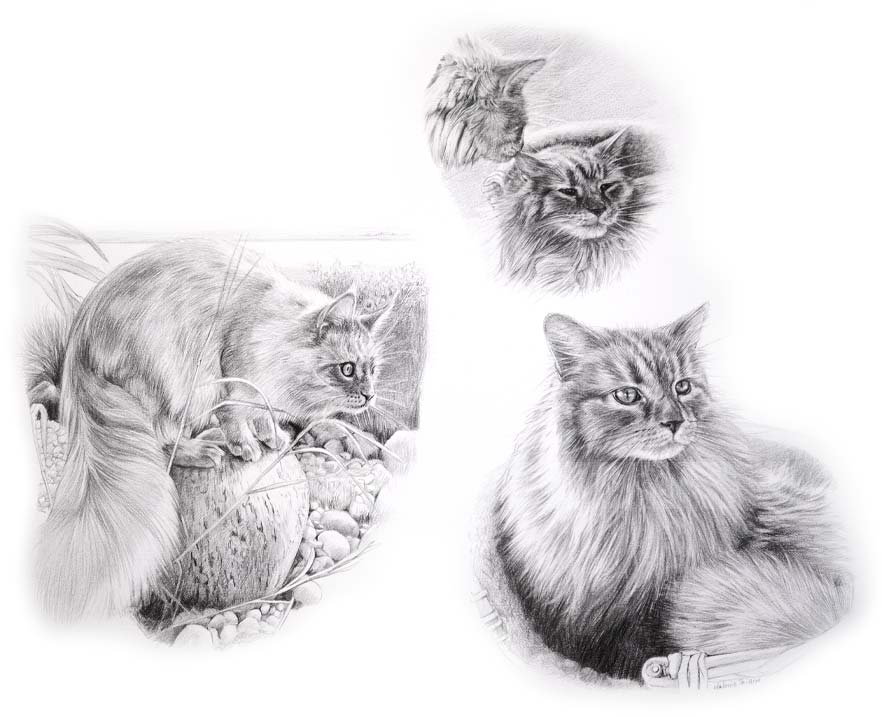 The Cat Montage Portrait in Pencil
Here are a few photos taken just prior to the portrait being framed. I love to take photos of the drawing from different angles as it really helps to show the portrait in a more natural way. The drawing was an 18 x 14 portrait and you can see the pencils on the artwork giving the portrait some scale.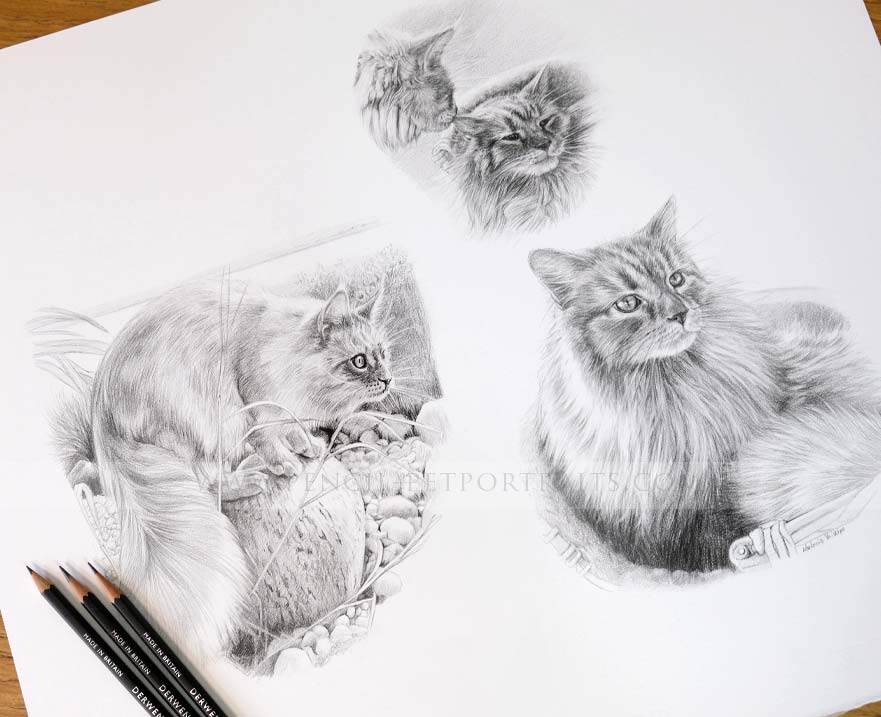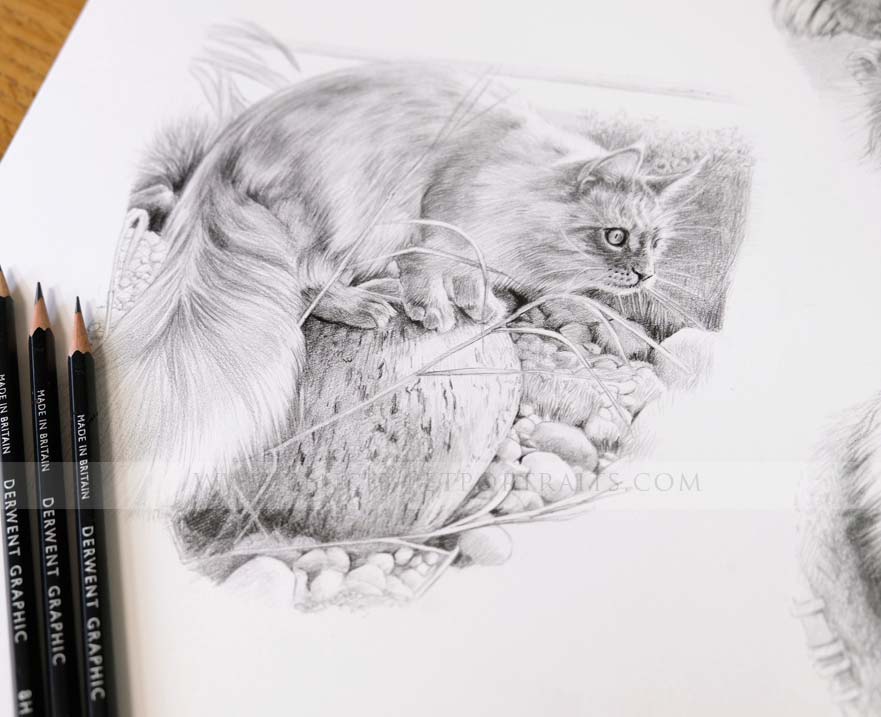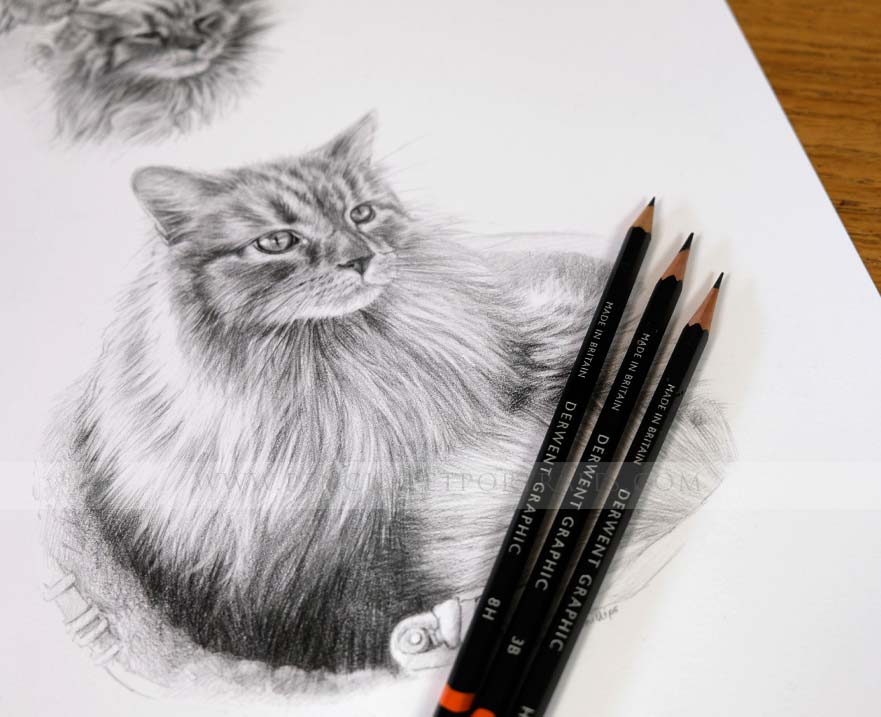 About the Cat Portrait Commission of Archie & Roly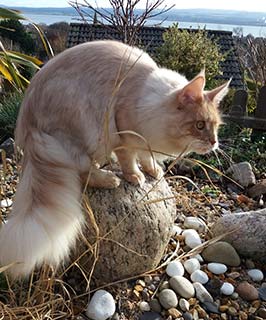 Gordon commissioned a montage pencil drawing of both Archie and Roly for Kirstie's birthday. He wanted to let Kirstie choose the photo and make all of the arrangements which was great. it enabled Kirstie to take lots of photos of the boys and work with me to come up with the perfect design.

Two photos really stood out, one of Archie sitting on a stone in their garden and one of Roly sunning himself in the garden 'Pod'. Kirstie also wanted a smaller study of Archie sniffing Roly's ear, which really bring an interaction and togetherness to both cats.

The portrait was drawn at 18 x 14 inches which was the perfect size for this kind of portrait, with both cats being full body.

Our local framer framed the portrait using our Madison Taupe frame, scroll down to read more about the frame and see Archie when Kirsite received the final photo via email.
Client Feedback
Hi Melanie,

Great excitement today - it's just arrived! We wasted no time opening your superb packaging and had the work of art hung within minutes.

Our gardener, Mike is here today and hung it for us then took time to admire your drawing. He is an artist in his spare time and was blown away by your talent as we all are and the frame and mount could not be more perfect.

We put the box on the table ready for opening and guess who claimed it as his! Archie!
So many thanks Melanie for such a beautiful work of art. You and Nicholas have a rare gift indeed!
Best wishes and many thanks again for all your painstaking trouble.

Kirstie xx
The Cat Montage Pet Portrait Framed
Kirstie asked if our local framer could frame the portrait. She definitely had a creative eye and helped come up with some lovely options of mount colours for Kirstie to choose from. Kirstie opted to have a sage mount which works beautifully not only with the frame and portrait, but Kirstie's home decor too. So it was the perfect combination all round!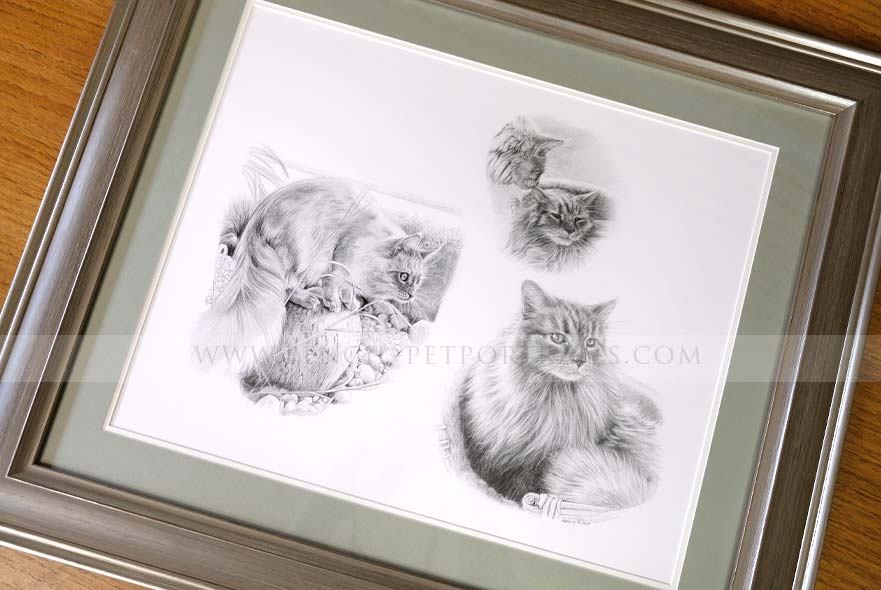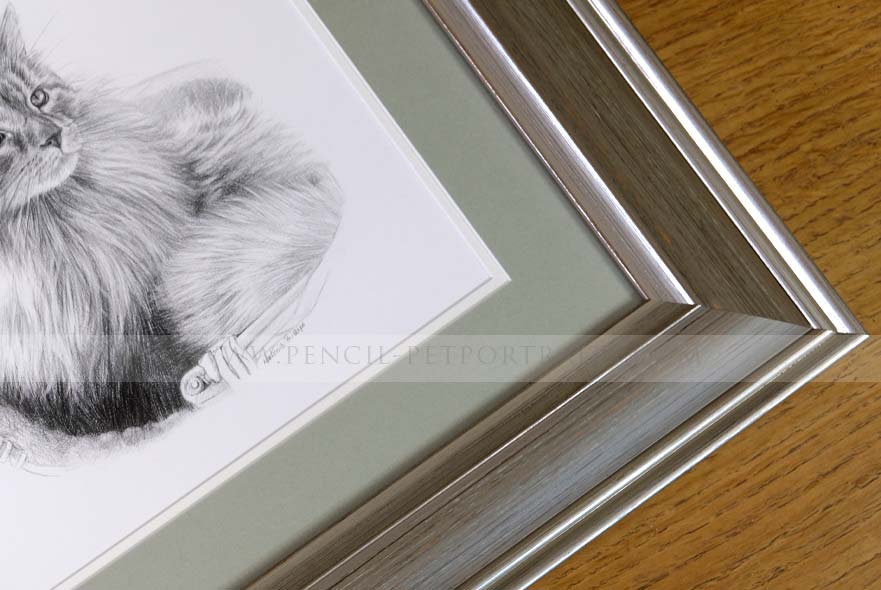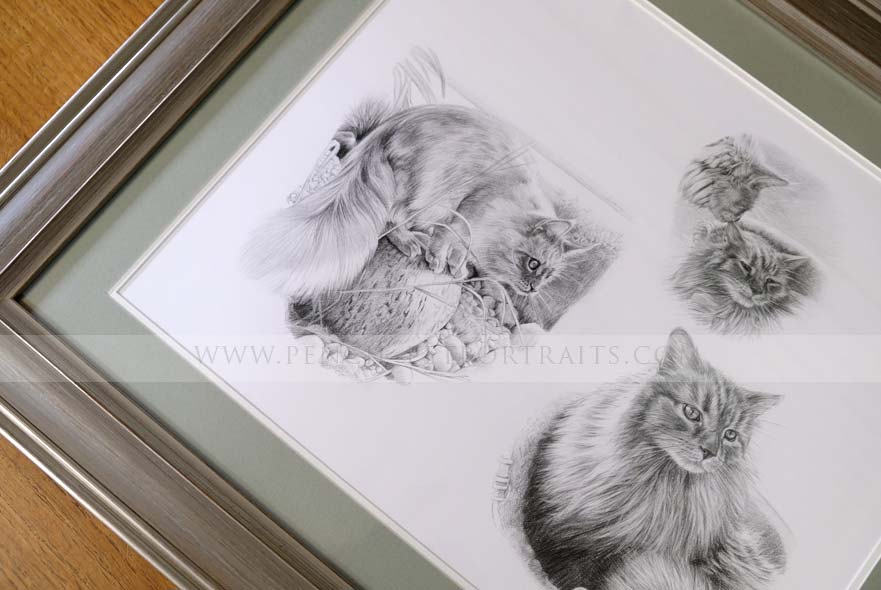 The Cat Pet Portrait in Situ
Kirstie took a really lovely photo of the portrait as soon as it arrived. As you can see the frame matches beautifully with Kirstie's home decor. Don't forget to read the testimonial above too - wonderful! I am so pleased that both Kirstie and Gordon were delighted.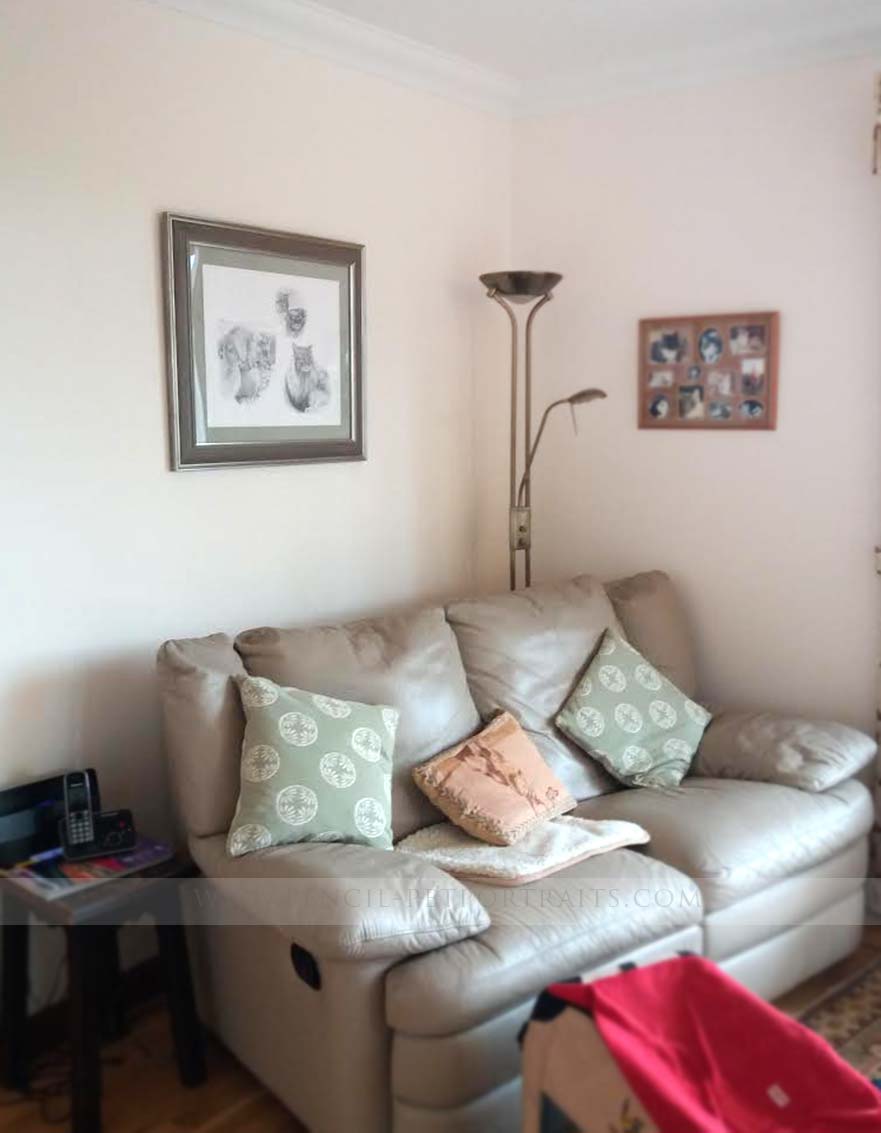 The Cat Portrait with Archie
I always email my clients a final photo of the drawing to make sure that it doesn't require any any tweaks made. Archie wanted to be in on all of the action and you can see a photo of him below along with reading an email from Kirstie.
Hi Melanie,
What can I say? You are truly gifted! Your drawing needs no tweeking and we love it. Of course Archie had to come and inspect your handiwork as the attached shows.
Best wishes and love
Kirstie x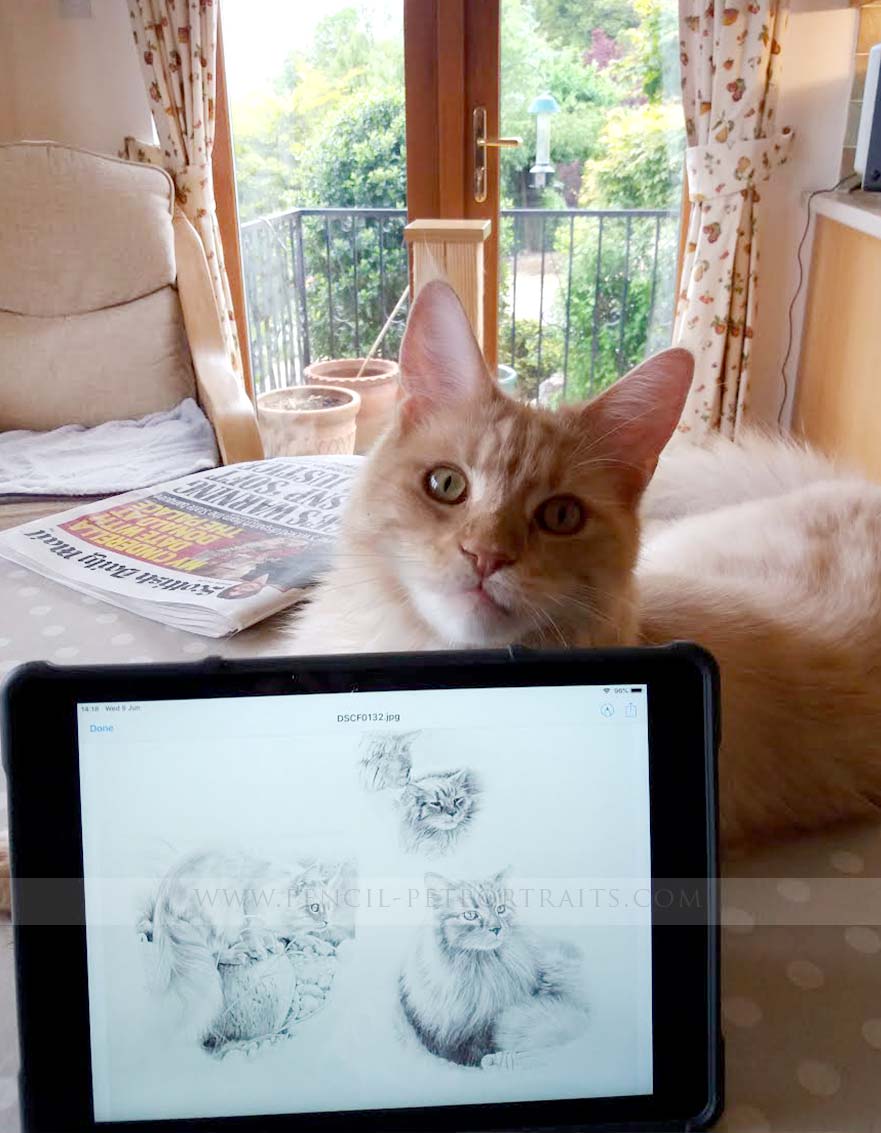 Cat Montage Pet Portraits
If you have a mischievous cat - or cats, similar to Kirstie, I would love to hear about them! Why not try to take some photos of them over a few days, as spreading out the photo-shoot is often a really good way of capturing them. Send me your photos, I am really looking forward to working with you. Why not contact me via my contact page as there are lots of way to get in touch. I am looking forward to starting your portrait soon!